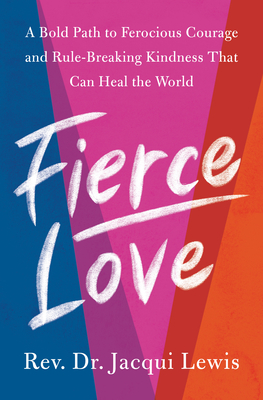 Fierce Love
A Bold Path to Ferocious Courage and Rule-Breaking Kindness That Can Heal the World
Hardcover

* Individual store prices may vary.
Other Editions of This Title:
Digital Audiobook (11/8/2021)
Paperback, Large Print (12/21/2021)
Description
A healing antidote to our divisive culture, full of evocative storytelling, spiritual wisdom, and nine essential daily practices—by the first female, Black senior minister at the historic Collegiate Churches of New York

"Fierce Love teaches us that with spiritual faith we can transcend the darkest moments and come through stronger."—Gabrielle Bernstein, #1 New York Times bestselling author of The Universe Has Your Back
 
We are living in a world divided. Race and ethnicity, caste and color, gender and sexuality, class and education, religion and political party have all become demographic labels that reduce our differences to simplistic categories in which "we" are vehemently against "them." But Rev. Dr. Jacqui Lewis's own experience—of being the first female and first Black minister in her church's history, of being in an interracial marriage, and of making peace with childhood abuse—illustrates that our human capacity for empathy and forgiveness is the key to reversing these ugly trends.

Inspired by the tenets of ubuntu—the Zulu philosophy that we are each impacted by the circumstances that impact those around us, and that the world won't get better until we all get better—Fierce Love lays out the nine daily practices for breaking through tribalism and engineering the change we seek. From downsizing our emotional baggage to speaking truth to power to fueling our activism with joy, it demonstrates the power of small, morally courageous steps to heal our own lives, our posse, and our larger communities. Sharing stories that trace her personal reckoning with racism as well as the arc of her journey to an inclusive and service-driven faith, Dr. Lewis shows that kindness, compassion, and inclusive thinking are muscles that can be exercised and strengthened. With the goal of mending our inextricable human connection, Fierce Love is a manifesto for all generations: a bighearted, healing antidote to our rancorous culture.
Praise For Fierce Love: A Bold Path to Ferocious Courage and Rule-Breaking Kindness That Can Heal the World…
"A powerful antidote to the tribalism that is wrecking our country and poisoning our souls, Fierce Love is a welcome moral North Star for readers everywhere."—Van Jones, New York Times bestselling author of Beyond the Messy Truth and CNN political contributor

"With this book, Jacqui Lewis made me see the world in a different way—as a place where we can live our lives fully, tell our stories honestly, and love one another fiercely."—Paul Tough, New York Times bestselling author of How Children Succeed

"I have never felt at home in any church as I have in Middle Church—a vibrant, multiracial, multicultural community in the heart of New York City. Now Rev. Dr. Jacqui Lewis gives us her ingredients to building a beloved community with fierce love. Drawing from raw, vulnerable, and brave coming-of-age stories, she invites us into her ministry to 'Love. Period.' This book is radical, just, and joyous. Just like Middle Church. Just like Jacqui Lewis." —Valarie Kaur, author of See No Stranger: A Memoir and Manifesto of Revolutionary Love

"Walks of faith need living words. Responsive, sanguine, breathing words. Fierce Love is that. Full of big, liberating, bold ideas, it is also a radiant work of testimony, revelation and guidance."—Aunjanue Ellis, actress and producer

"Each story in the book is a message of resilience and hope. Jacqui is a human angel whose commitment to love reminds us that miracles are real."—Gabrielle Bernstein, #1 New York Times bestselling author of The Universe Has Your Back

"This book is an heirloom quilt. Within its immense practicality, all-season warmth, and supreme comfort lies a patchwork of trustworthy, embodied and timeless wisdom that can only come from a seasoned leader like Rev. Dr. Jacqui Lewis. As I wrapped myself in its wisdom, Fierce Love reminded me that I am not alone as I seek personal and societal healing. Rather, a profound lineage of healers precedes, surrounds, and succeeds me.  As I followed Lewis's nine pragmatic steps, I was reminded of the liberating truth that, despite it all, loving fiercely is in my DNA, too."—Christena Cleveland, PhD, author of God Is a Black Woman

"Rather than a recipe for self-help, the approach is autobiographical, emphasizing how lives intertwine and actions impact one another, and urging readers to bring in ubuntu as an attitude to accomplish sexual, racial, and economic justice. There's not one single pathway here; rather it's a dynamic missive about how one woman has made a difference."—Publishers Weekly
Harmony, 9780593233863, 224pp.
Publication Date: November 9, 2021
About the Author
Reverend Jacqueline J. Lewis, PhD, is a public theologian and the first Black or female senior minister at the progressive, multicultural Collegiate Church in Manhattan, which dates to 1628. A graduate of Princeton Theological Seminary and Drew University, she is the creator of the MSNBC online show Just Faith and the PBS show Faith and Justice, in which she led important conversations about culture and current events. Raised mostly in Chicago, she now lives with her husband in Manhattan.