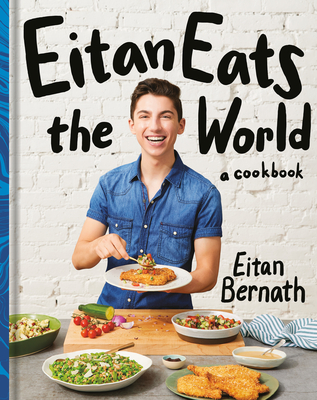 Eitan Eats the World
New Comfort Classics to Cook Right Now: A Cookbook
Hardcover

* Individual store prices may vary.
Description
85 fresh comfort food recipes highlighting the enthusiasm, creativity, and foolproof techniques of the TikTok cooking prodigy who "taught millions stuck at home during quarantine how to cook" (The New York Times), now the principal culinary contributor on The Drew Barrymore Show
 
"Eitan has set the bar when it comes to his cooking style. His skillset and joy make a perfect combination!"—Drew Barrymore

Every time twenty-year-old Eitan Bernath tastes something, he immediately thinks, How can I make this myself? From burgers to beer bread, tacos to (mushroom) cheesesteaks, and every kind of potato preparation you can imagine, Eitan has obsessively created and recreated all the amazing flavors and textures he loves, and shares them with infectious energy and insatiable curiosity for millions of fans across social media.
 
In Eitan's debut cookbook, he channels his high-energy passion for all things delicious into eighty-five inventive and approachable recipes, paired with mouthwatering photography. They range from new twists on comfort food and classics (PB&J Pancakes, Double Grilled Cheese with Blueberry-Thyme Jam, Bourbon Brown Butter Chocolate Chunk Cookies) to his versions of dishes from around the world (Green Shakshuka, Chicken Kathi Roll, Beef Souvlaki) that he has meticulously studied with friends, neighbors, and other chefs.
 
Overflowing with positivity, creativity, and the "You can definitely do this!" attitude that catapulted Eitan into the media spotlight, Eitan Eats the World will charm and inspire readers to get in the kitchen and start having fun.
Praise For Eitan Eats the World: New Comfort Classics to Cook Right Now: A Cookbook…
"Eitan Bernath is a mas­ter at coax­ing fla­vors from food and con­fi­dence in cooks of all ages."—Jewish Book Council

"Eitan is an inspiration, and with this book, he's showing the world that the wünderkind is a wonderful cook. He's a young talent, but we can all learn something from Eitan both in and out of the kitchen—whether the subject is passion, persistence, or pizza!"—Adeena Sussman, author of Sababa: Fresh, Sunny Flavors from My Israeli Kitchen

"For me, it's always about chasing flavors, which is exactly the spirit Eitan Eats the World captures so perfectly. He is curious, unafraid to make mistakes, and makes you feel like you're on an exciting cooking adventure. It's impossible not to have fun on this culinary journey."—Marcus Samuelsson, chef, author, restaurateur

"Eitan's passion for cooking is so irresistible, it's impossible not to get excited about food with this book! The recipes in Eitan Eats the World strike such a delicious balance of creativity and comfort, and all of them are totally crave-able. Also: there's tahini puppy chow! YES PLEASE!!!"—Molly Yeh, cookbook author and Food Network host

"If you have watched Eitan's meteoric rise to fame then this book will be no surprise to you. His hard work, determination and positive attitude explode through these pages. If you are new to Eitan's world then buckle up, you will fall in love as you cook your way through this book."—Susie Fishbein author of the Kosher by Design Cookbook series

"Eitan's enthusiastic approach to cooking jumps off the page; it's impossible to read this book and not get excited about getting in the kitchen. Whatever your level of expertise, you'll learn something new—and have fun doing it."—Jet Tila, chef, cookbook author, and TV personality

"Eitan's signature smile that lights up the room (and your screens ;) ) is only matched by the delicious recipes in this book! . . . I can't for everyone to sink their teeth into his recipes!"—Danielle Renov, chef and author of Peas, Love & Carrots

"Eitan Eats the World is full of comforting and approachable recipes that not only speak to his Jewish background, but that take inspiration from cuisines around the world. Eitan's cookbook is a Kosher cook's dream!"—Jamie Geller, bestselling author, Founder, CEO Kosher Network International, Chief Media & Marketing Officer, Aish

"Forget what you think you know about cookbooks, Eitan Eats the World makes you feel like you're cooking alongside your best friend, not just reading off a page. Eitan has created a book that's as much fun as he is!"—Lily Singh Actress, producer, author and creator

"Just as we've known him to do on TikTok and across social media, Eitan has conjured up approachable and smart recipes with cravable flavors from all over the globe, and he did so Eitan-style—with charm."—Suzy Karadsheh, CEO, Founder, and author of The Mediterranean Dish
Clarkson Potter, 9780593235362, 240pp.
Publication Date: May 3, 2022
About the Author
Eitan Bernath is a self-taught cook and creator best known for his popularity on TikTok. His work has been recognized by The New York Times, People, New York, and Vanity Fair, among other national news outlets. Eitan has also been featured as the principal culinary director on The Drew Barrymore Show. He currently lives in Manhattan, New York, with his sassy cat, Cardi.