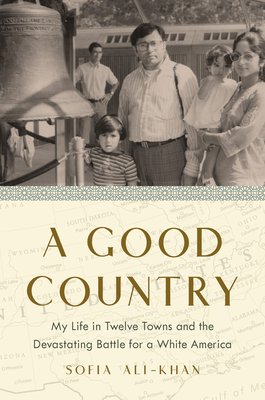 A Good Country
My Life in Twelve Towns and the Devastating Battle for a White America
Hardcover

* Individual store prices may vary.
Other Editions of This Title:
Digital Audiobook (7/4/2022)
Description
A leading advocate for social justice excavates the history of forced migration in the twelve American towns she's called home, revealing how White supremacy has fundamentally shaped the nation.

Sofia Ali-Khan's parents emigrated from Pakistan to America, believing it would be a good country. With a nerdy interest in American folk history and a devotion to the rule of law, Ali-Khan would pursue a career in social justice, serving some of America's most vulnerable communities. By the time she had children of her own—having lived, worked, and worshipped in twelve different towns across the nation—Ali-Khan felt deeply American, maybe even a little extra American for having seen so much of the country. 

But in the wake of 9/11, and on the cusp of the 2016 election, Ali-Khan's dream of a good life felt under constant threat. As the vitriolic attacks on Islam and Muslims intensified, she wondered if the American dream had ever applied to families like her own, and if she had gravely misunderstood her home. 

In A Good Country, Ali-Khan revisits the color lines in each of her twelve towns, unearthing the half-buried histories of forced migration that still shape every state, town, and reservation in America today. From the surprising origins of America's Chinatowns, the expulsion of Maroon and Seminole people during the conquest of Florida, to Virginia's stake in breeding humans for sale, Ali-Khan reveals how America's settler colonial origins have defined the law and landscape to maintain a White America. She braids this historical exploration with her own story, providing an intimate perspective on the modern racialization of American Muslims and why she chose to leave the United States. 

Equal parts memoir, history, and current events, A Good Country presents a vital portrait of our nation, its people, and the pathway to a better future.
Praise For A Good Country: My Life in Twelve Towns and the Devastating Battle for a White America…
"Sofia Ali-Khan's A Good Country beautifully weaves together history and deeply personal narrative as it unwinds the classic immigrant belief in the 'American Dream.' . . . Compelling, enjoyable, engaging, and so full of purpose and conviction."—R. Cielo Cruz, Southern racial justice activist, educator, and writer

"How can a book with such hard truths be so beautiful? Sofia Ali-Khan has woven the search for her identity and home with an exploration of racism and economic exploitation at the center of the American myth. This book should be in the curriculum for every high school senior."—Suzanne Pharr, co-founder of Southerners on New Ground (SONG) and author of Transformation: Toward a People's Democracy

"Readers of this powerful memoir will benefit from Ali-Khan's brave soul-searching, comprehensive research, and beautiful storytelling."—Priscilla Warner, New York Times bestselling author of The Faith Club

"A stunning and beautiful memoir of the author's experience as a Muslim woman in a post-9/11, post-Trump America. Interweaves the personal and the political . . . an enthralling illumination of how history persists to shape present-day relations."—Lisa Stampnitzky, PhD, lecturer in politics at the University of Sheffield and author of Disciplining Terror: How Experts Invented "Terrorism"

"Both memoir and historical narrative, A Good Country is an American story about an American dream reserved for White people living on stolen land. . . . Sometimes the journey to fighting oppression means escaping from an inhospitable if not burning house. Sofia Ali-Khan has arrived at the right time."—David A. Love, JD, professor, journalist, and contributing author to the New York Times bestseller Four Hundred Souls: A Community History of African America 1619–2019

Random House, 9780593237038, 432pp.
Publication Date: July 5, 2022
About the Author
Sofia Ali-Khan is a writer and an accomplished public-interest attorney. She has worked for Community Legal Services of Philadelphia, Prairie State Legal Services in Illinois, and the American Bar Association. She became a national leader on the right to language access and also practiced in the areas of welfare law, Medicaid access, immigration, and community economic development. She was a founding board member and activist with the Philadelphia chapter of the Council on American-Islamic Relations (CAIR). A second-generation Pakistani American born and raised in the United States, Ali-Khan now lives in Ontario, Canada, with her family.