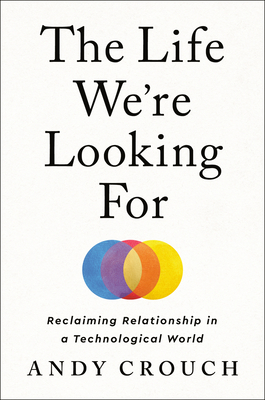 The Life We're Looking For
Reclaiming Relationship in a Technological World
Hardcover

* Individual store prices may vary.
Description
A deeply reflective primer on creating meaningful connections, rebuilding abundant communities, and living in a way that engages our full humanity in an age of unprecedented anxiety and loneliness—from the author of The Tech-Wise Family

"Andy Crouch shows the path to reclaiming a life that restores the heart of what it means to thrive."—Arthur C. Brooks, #1 New York Times bestselling author of From Strength to Strength

Our greatest need is to be recognized—to be seen, loved, and embedded in rich relationships with those around us. But for the last century, we've displaced that need with the ease of technology. We've dreamed of mastery without relationship (what the premodern world called magic) and abundance without dependence (what Jesus called Mammon). Yet even before a pandemic disrupted that quest, we felt threatened and strangely out of place: lonely, anxious, bored amid endless options, oddly disconnected amid infinite connections.

In The Life We're Looking For, bestselling author Andy Crouch shows how we have been seduced by a false vision of human flourishing—and how each of us can fight back. From the social innovations of the early Christian movement to the efforts of entrepreneurs working to create more humane technology, Crouch shows how we can restore true community and put people first in a world dominated by money, power, and devices.

There is a way out of our impersonal world, into a world where knowing and being known are the heartbeat of our days, our households, and our economies. Where our vulnerabilities are seen not as something to be escaped but as the key to our becoming who we were made to be together. Where technology serves us rather than masters us—and helps us become more human, not less.
Praise For The Life We're Looking For: Reclaiming Relationship in a Technological World…
"As I read this breathtaking book, I was surprised to find myself tearing up often, not because it is a book about tragedy or loss, but because Andy Crouch, perhaps more than any other writer of our day, perceives and names the deepest and most vulnerable longings of the human heart. The Life We're Looking For describes the confusion and contradictions of our cultural moment in clear and resonant ways and, more important, offers hope that we might find a beautiful way of living amidst them."—Tish Harrison Warren, author of Liturgy of the Ordinary and Prayer in the Night

"An artfully deep dive into the true nature of persons, and technology's impact upon us."—Dave Evans, co-author of Designing Your Life, co-founder of the Stanford Life Design Lab

"The Life We're Looking For is, and this is saying something, Andy Crouch's best book: a deeply moving meditation on the human need to find true personhood, which means, among other things, to know as we are known. Strong and cogent critiques of Mammon's empire—which, as Crouch shows, is where we live—are not unheard of, but a book that goes this deeply into the heart of things, into the heart of God, is a pearl of great price."—Alan Jacobs, author of How to Think and Breaking Bread with the Dead

"Technology is, and always has been, both an opportunity and a threat to human flourishing. Andy Crouch's short, insightful, profound book finds the middle way—the right way forward—through personhood, community, and love."—Tyler VanderWeele, director of the Human Flourishing Program at Harvard University

"In this truly brilliant book, Andy Crouch uncovers why more and more people feel themselves to be living in an impersonal, unsatisfying, and lonely world. Filled with insightful analysis and wise counsel, The Life We're Looking For takes us into the heart of a more meaningful, shared, and joyous life that is inspired by the love of God. Reading The Life We're Looking For, you will discover what it takes to be human."—Norman Wirzba, Duke Divinity School professor, author of This Sacred Life

"A thought-provoking look at the subtle, daily tradeoffs all of us make—between comfort and fulfillment, shallow connection and deep relationship—and how we can push back against the forces pulling us apart."—Ben Sasse, U.S. senator, author of Them

"With warmth and erudition, The Life We're Looking For engages readers in a personal meditation on the hidden costs of our technological dreams. What are we not seeing, hearing, tasting, experiencing because we have partnered with devices? Crouch asks us to summon the intelligence, resolve, and faith to regain lost ground."—Sherry Turkle, MIT professor, author of Reclaiming Conversation

"Crouch's trustworthy voice diagnoses our culture and gives a vision for us to redeem it. Crouch is a leader of leaders, and I'm grateful he stays out in front of the pack issuing wisdom."—Jennie Allen, bestselling author of Get Out of Your Head, founder of IF:Gathering

"A fascinating and eye-opening book on the need to discover what might, perhaps, be called the Holy Ghost in the machine."—Tom Holland, author of Dominion
Convergent Books, 9780593237342, 240pp.
Publication Date: April 19, 2022
About the Author
Andy Crouch is the author of four books; he is also a partner for theology and culture at Praxis, an organization that works as a creative engine for redemptive entrepreneurship. For more than ten years, Crouch was a producer and then executive editor at Christianity Today. His work and writing have been featured in The New York Times, The Wall Street Journal, Time, Best Christian Writing, and Best Spiritual Writing.