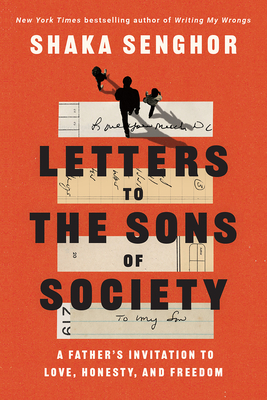 Letters to the Sons of Society
A Father's Invitation to Love, Honesty, and Freedom
Hardcover

* Individual store prices may vary.
Other Editions of This Title:
Digital Audiobook (1/17/2022)
Description
The New York Times bestselling author of Writing My Wrongs invites men everywhere on a journey of honesty and healing through this book of moving letters to his sons—one whom he is raising and the other whose childhood took place during Senghor's nineteen-year incarceration.

Shaka Senghor has lived the life of two fathers. With his first son, Jay, born shortly after Senghor was incarcerated for second-degree murder, he experienced the regret of his own mistakes and the disconnection caused by a society that sees Black lives as disposable. With his second, Sekou, born after Senghor's release, he has experienced healing, transformation, intimacy, and the possibilities of a world where men and boys can openly show one another affection, support, and love.

In this collection of beautifully written letters to Jay and Sekou, Senghor traces his journey as a Black man in America and unpacks the toxic and misguided messages about masculinity, mental health, love, and success that boys learn from an early age. He issues a passionate call to all fathers and sons—fathers who don't know how to show their sons love, sons who are navigating a fatherless world, boys who have been forced to grow up before their time—to cultivate positive relationships with other men, seek healing, tend to mental health, grow from pain, and rewrite the story that has been told about them.

Letters to the Sons of Society is a soulful examination of the bond between father and sons, and a touchstone for anyone seeking a kinder, more just world.
Praise For Letters to the Sons of Society: A Father's Invitation to Love, Honesty, and Freedom…
"Letters to the Sons of Society is a visceral and visual journey for the ages. These beautifully written letters are intimate, transparent, and vulnerable. Shaka Senghor's writing provides the perfect roadmap for us to remove the barriers and obstacles against our true feelings."—Kenya Barris, creator of black-ish

"Shaka Senghor takes us on an awe-inspiring and liberatory journey that transcends words. His latest literary work, cast in letters to his sons, leads us through a depth of unmatched vulnerability and allows us the gift of seeing who we have the opportunity to become."—Angela Rye, CEO of Impact Strategies and NPR political analyst

"Parenting and prison are never discussed together, but in his breakthrough new book, Shaka Senghor combines the two to produce a new understanding of both. In raising one son while in prison and a second as a free man, Senghor must confront his own life in order to explain it to his sons. In doing so, he delivers a masterpiece that will change the way you think and feel about almost everything."—Ben Horowitz, cofounder of Andreessen Horowitz

"As Black men, we just don't talk about certain things—especially the pain that we carry when we feel we are falling short as fathers. Senghor courageously sheds light on topics that have almost never been discussed in public. The integrity and transparency found in Letters to the Sons of Society make it a book that everyone needs to read."—Van Jones, author of Beyond the Messy Truth
Convergent Books, 9780593238011, 240pp.
Publication Date: January 18, 2022
About the Author
Shaka Senghor is a lecturer at universities, a leading voice on criminal justice reform, and the New York Times bestselling author of Writing My Wrongs: Life, Death, and Redemption in an American Prison. Senghor is a former MIT Media Lab Director's Fellow, a former fellow in the inaugural class of the W.K. Kellogg Foundation's Community Leadership Network, and a member of Oprah's SuperSoul 100. In the decade since his release from prison, he has started and worked with nonprofits seeking to lift people up, visited the White House, been interviewed by Trevor Noah and Oprah Winfrey, given award-winning TED talks, and tirelessly worked to help create the personal and societal change we need for a more inspired, just, fulfilling future.