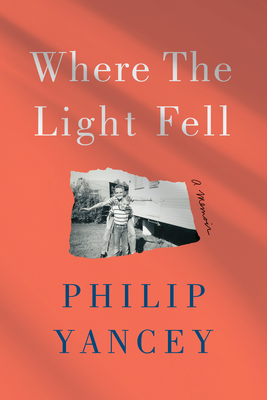 Where the Light Fell
A Memoir
Hardcover

* Individual store prices may vary.
Other Editions of This Title:
Digital Audiobook (10/4/2021)
Paperback (3/14/2023)
Description
In this searing meditation on the bonds of family and the allure of extremist faith, one of today's most celebrated Christian writers recounts his unexpected journey from a strict fundamentalist upbringing to a life of compassion and grace—a revelatory memoir that "invites comparison to Hillbilly Elegy" (Publishers Weekly, starred review).
 
"Searing, heartrending . . . This stunning tale reminds us that the only way to keep living is to ask God for the impossible: love, forgiveness, and hope."—Kate Bowler, New York Times bestselling author of Everything Happens for a Reason

Raised by an impoverished widow who earned room and board as a Bible teacher in 1950s Atlanta, Philip Yancey and his brother, Marshall, found ways to venture out beyond the confines of their eight-foot-wide trailer. But when Yancey was in college, he uncovered a shocking secret about his father's death—a secret that began to illuminate the motivations that drove his mother to extreme, often hostile religious convictions and a belief that her sons had been ordained for a divine cause.

Searching for answers, Yancey dives into his family origins, taking us on an evocative journey from the backwoods of the Bible Belt to the bustling streets of Philadelphia; from trailer parks to church sanctuaries; from family oddballs to fire-and-brimstone preachers and childhood awakenings through nature, music, and literature. In time, the weight of religious and family pressure sent both sons on opposite paths—one toward healing from the impact of what he calls a "toxic faith," the other into a self-destructive spiral.

Where the Light Fell is a gripping family narrative set against a turbulent time in post–World War II America, shaped by the collision of Southern fundamentalism with the mounting pressures of the civil rights movement and Sixties-era forces of social change. In piecing together his fragmented personal history and his search for redemption, Yancey gives testament to the enduring power of our hunger for truth and the possibility of faith rooted in grace instead of fear.

"I truly believe this is the one book I was put on earth to write," says Yancey. "So many of the strands from my childhood—racial hostility, political division, culture wars—have resurfaced in modern form. Looking back points me forward."
Praise For Where the Light Fell: A Memoir…
"[Raw], honest, beautifully written, and at times searing . . . We live in a world that is always clouded by ungrace, by strife and anger and division, according to Yancey, and Christians should be on the other side . . . The pain of [Yancey's] early life gives his words and his witness an authority and authenticity that he would otherwise not have. He has become, over time, a person to whom the wounded and the brokenhearted are drawn, compelled by his message of grace."—The Atlantic

"Where the Light Fell is in many ways a classic spiritual autobiography tracing one man's conversion from cynic to believer. But it's more. It's a searing family story as revelatory as gothic Southern fiction. It's an exposé. It's a social critique. It's a tragedy. It's a tale of redemption. . . . The memoir itself is an answer to the question that looms throughout: What do we do with the burdens, sins, and pain of our past?"—Christianity Today

"Searing. Heartrending . . . This stunning tale reminds us that the only way to keep living is to ask God for the impossible: love, forgiveness, and hope."—Kate Bowler, New York Times bestselling author of Everything Happens for a Reason

"Philip Yancey is not just one of my favorite Christian writers, but one of my favorite writers, period. He is fearless in addressing the toughest questions and hardest times, the crucifixions we will all know during this life, the hope and shapes and colors of resurrection."—Anne Lamott, New York Times bestselling author of Dusk Night Dawn

"An illuminating autobiography that could very well have been titled The Philip Yancey Philip Never Knew. Delicate, tender, humorous, and brutally honest, Where the Light Fell accomplishes quite significantly as the author's biography, but also as a biography of our nation grappling with her faith. At once pain-filled and healing, through this book we come to know a 'trickster' who falls into the 'mysterious power of words,' revealing the cracks and fragments of our culture at large, but reminding us afresh how grace can ultimately prevail over us."—Makoto Fujimura, founder of the International Arts Movement, artist, and author of Silence and Beauty and Art and Faith: A Theology of Making

"[A] graceful, illuminating memoir, a gift to [Yancey's] readers."—Booklist
 
"[A] gripping memoir . . . Yancey's eloquent descriptions of coming to faith and his exacting self-examination make this a standout. Exploring the corrosive role of fear in faith, Yancey's piercing and painful account invites comparison to Hillbilly Elegy."—Publishers Weekly (starred review)

"Where the Light Fell could be a Faulkner novel, with racist preachers, off-kilter parenting, tormented siblings, and religious hypocrisy right and left. It's not an overstatement to say that this stunning memoir might be the miracle we've all waited for. I believed every word."—Carolyn S. Briggs, author of Higher Ground
Convergent Books, 9780593238509, 320pp.
Publication Date: October 5, 2021
About the Author
Philip Yancey is the author of twenty-five books, including The Jesus I Never Knew, What's So Amazing About Grace?, and Soul Survivor: How Thirteen Unlikely Mentors Helped My Faith Survive the Church. Yancey's books have garnered thirteen Gold Medallion Book Awards from Christian publishers and booksellers. He currently has more than seventeen million books in print and has been published in over fifty languages worldwide. Yancey worked as a journalist and freelance author in Chicago for some twenty years, editing the youth magazine Campus Life while also contributing to a wide variety of publications including The New York Times, The Atlantic, and Christianity Today. He and his wife, Janet, live in the foothills of Colorado.