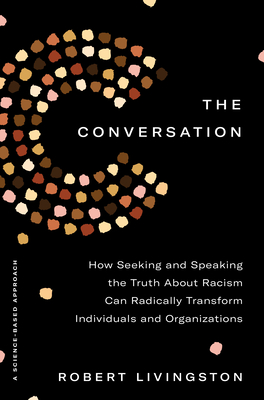 The Conversation
How Seeking and Speaking the Truth About Racism Can Radically Transform Individuals and Organizations
Hardcover

* Individual store prices may vary.
Other Editions of This Title:
Digital Audiobook (2/1/2021)
Description
A FINANCIAL TIMES BEST BOOK OF THE YEAR • An essential tool for individuals, organizations, and communities of all sizes to jump-start dialogue on racism and bias and to transform well-intentioned statements on diversity into concrete actions—from a leading Harvard social psychologist.

FINALIST FOR THE FINANCIAL TIMES AND MCKINSEY BUSINESS BOOK OF THE YEAR AWARD • LONGLISTED FOR THE PORCHLIGHT BUSINESS BOOK AWARD

"Livingston has made the important and challenging task of addressing systemic racism within an organization approachable and achievable."—Alex Timm, co-founder and CEO, Root Insurance Company

How can I become part of the solution? In the wake of the social unrest of 2020 and growing calls for racial justice, many business leaders and ordinary citizens are asking that very question. This book provides a compass for all those seeking to begin the work of anti-racism. In The Conversation, Robert Livingston addresses three simple but profound questions: What is racism? Why should everyone be more concerned about it? What can we do to eradicate it? 

For some, the existence of systemic racism against Black people is hard to accept because it violates the notion that the world is fair and just. But the rigid racial hierarchy created by slavery did not collapse after it was abolished, nor did it end with the civil rights era. Whether it's the composition of a company's leadership team or the composition of one's neighborhood, these racial divides and disparities continue to show up in every facet of society. For Livingston, the difference between a solvable problem and a solved problem is knowledge, investment, and determination. And the goal of making organizations more diverse, equitable, and inclusive is within our capability.

Livingston's lifework is showing people how to turn difficult conversations about race into productive instances of real change. For decades he has translated science into practice for numerous organizations, including Airbnb, Deloitte, Microsoft, Under Armour, L'Oreal, and JPMorgan Chase. In The Conversation, Livingston distills this knowledge and experience into an eye-opening immersion in the science of racism and bias. Drawing on examples from pop culture and his own life experience, Livingston, with clarity and wit, explores the root causes of racism, the factors that explain why some people care about it and others do not, and the most promising paths toward profound and sustainable progress, all while inviting readers to challenge their assumptions.

Social change requires social exchange. Founded on principles of psychology, sociology, management, and behavioral economics, The Conversation is a road map for uprooting entrenched biases and sharing candid, fact-based perspectives on race that will lead to increased awareness, empathy, and action.
Praise For The Conversation: How Seeking and Speaking the Truth About Racism Can Radically Transform Individuals and Organizations…
"A one-stop resource for anyone wanting to understand the causes and manifestations of racism. . . . There is nothing wishy-washy here: all assertions are backed up with research and explanations. . . . Just right for this moment. . . . invaluable . . . clear step-by-step advice."—Financial Times

"Dr. Robert Livingston is a leader in identifying steps to combat bias, and his work is a critical resource for those committed to expanding inclusion and belonging. At Airbnb we have been lucky to partner with him on these important efforts, and we know that The Conversation will be a tool for anyone seeking to advance equality."—Brian Chesky, CEO and co-founder, Airbnb

"An extraordinarily timely book. Just as companies and organizations in the U.S. and around the world are focusing anew on the entrenched bias in their culture, The Conversation comes along to offer a path forward. The Conversation is a major achievement."—Robin J. Ely, Diane Doerge Wilson Professor of Business Administration, Harvard Business School

"Livingston has made the important and challenging task of truly addressing systemic racism within an organization approachable and achievable. These aren't easy steps, but they are essential for businesses and leaders looking to make a powerful and necessary difference."—Alex Timm, co-founder and CEO, Root Insurance Company
 
"With clarity and wisdom, Livingston lays out why racism is a problem, why we should care, and what we can do about it. A rare book that is not just intelligent and entertaining, but also profound and humane."—Selin Kesebir, associate professor of organizational behavior, London Business School

"Livingston's book, just like his live presentations, is one of the most compelling articulations of the problems of racism and discrimination that I have encountered."—Laura W. Murphy, civil rights activist, consultant, and former director, ACLU Washington Legislative Office

"This book should be required reading for leaders and all those who share the goal of a more equitable future."—William P. Gipson, retired Chief Diversity & Inclusion Officer, Procter & Gamble

"After devoting decades of his life working to end systemic racism, Livingston speaks not only with authority but with a refreshing optimism."—David Gergen, CNN Political Analyst, Adviser to Four US Presidents, and Professor of Public Service at the Harvard Kennedy School

"A timely and much-needed guide for leaders who value inclusion and want to dismantle systemic racism . . . based on scientific research that is as relevant in the workplace as it is in our personal lives."—Rita Mitjans, retired chief diversity and social responsibility officer, ADP

"We all need to seek the truth and be willing to have the uncomfortable conversations necessary to transform ourselves and our organizations. Livingston's thoughtful and instructive book will help us all start these important conversations."—Mike Kaufmann, CEO, Cardinal Health
Currency, 9780593238561, 368pp.
Publication Date: February 2, 2021
About the Author
Dr. Robert Livingston is a social psychologist and one of the nation's leading experts on the science underlying bias and racism. His research has appeared in The New York Times, The Wall Street Journal, and Harvard Business Review. For two decades, he has served as a diversity consultant to scores of Fortune 500 companies, public-sector agencies, and non-profit organizations. He has held professorships at the University of Wisconsin-Madison, Northwestern University's Kellogg School of Management, and the University of Sussex. He currently serves on the faculty of the Harvard Kennedy School.