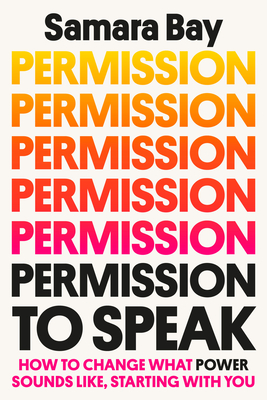 Permission to Speak
How to Change What Power Sounds Like, Starting with You
Hardcover

* Individual store prices may vary.
Other Editions of This Title:
Digital Audiobook (2/6/2023)
Description
Use your voice to lead us to a better future with this game-changing guide to redefining what power and authority sound like—from a speech expert who's worked with Hollywood's biggest stars, political powerhouses, and businesspeople shaking up the status quo.

Getting heard is a tricky business: It's what you say and how you show up, filtered through your audience's assumptions and biases—and maybe even your own. For women, people of color, immigrants, and queer folks, there's often a dissonance between how you speak and how we collectively think powerful people should speak: like the wealthy white men who've historically been in charge. But, fortunately, the sound of power is changing.

Permission to Speak is your tool kit for making that change. In this revolutionary take on how to use your voice to get what you want, sought-after speech coach Samara Bay offers a fresh perspective on public speaking and a new definition of what power sounds like: namely, you. Blending anecdotes with eye-opening research in leadership, linguistics, and social science, Permission to Speak shows you how to strike the right balance of strength and warmth to land your message; exactly what to do before a high-stakes scenario so that your voice, your mind, and your spirit are ready; and how to turn habits like vocal fry and upspeak into tools. Most important, you'll discover your voice story: why you talk the way you do, what's wonderful about it, and what you've outgrown.

Fiery, fun, and truly profound, Permission to Speak is a personal and cultural reckoning with what speaking in public is and what it can be. This book meets the moment and offers this provocation: When we change what power sounds like, we change who has it.
Praise For Permission to Speak: How to Change What Power Sounds Like, Starting with You…
"A totally beguiling and richly informative primer for anyone who struggles to say what they think out loud."—Soraya Chemaly, author of Rage Becomes Her: The Power of Women's Anger

"No one knows more about voice than Samara Bay. This is a brilliant, user-friendly guide to speaking up. I love it."—Viv Groskop, author of How to Own the Room

"Samara Bay's brilliant expertise helps us understand that when we find our permission to speak, we are able to step into our full power as women. She encourages us to abandon our formed habits, which are almost always serving someone else, and shows us what it means to use our narratives to be heroes who change the way we are heard in the world."—Eve Rodsky, New York Times bestselling author of Fair Play
 


Crown, 9780593238684, 288pp.
Publication Date: February 7, 2023
About the Author
Samara Bay is a communication expert whose clients range from candidates for the U.S. Congress to C-suite executives, international diplomats, and Hollywood celebrities. She is also the host of the podcast Permission to Speak. She lives in Los Angeles, California.