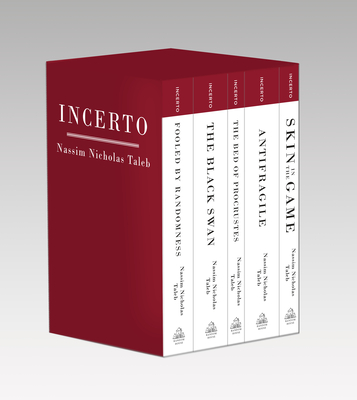 Incerto
Fooled by Randomness, The Black Swan, The Bed of Procrustes, Antifragile, Skin in the Game
Boxed Set

* Individual store prices may vary.
Other Editions of This Title:
Boxed Set (7/30/2019)
Paperback, French (9/10/2020)
Boxed Set (11/15/2016)
Paperback, French (5/17/2018)
Description
The landmark five-book series—all together in one boxed set

The Incerto is an investigation of opacity, luck, uncertainty, probability, human error, risk, and decision making when we don't understand the world, expressed in the form of a personal essay with autobiographical sections, stories, parables, and philosophical, historical, and scientific discussions, in non-overlapping volumes that can be accessed in any order. The main thread is that while there is inordinate uncertainty about what is going on, there is great certainty as to what one should do about it.

This boxed set includes:
FOOLED BY RANDOMNESS
THE BLACK SWAN
THE BED OF PROCRUSTES
ANTIFRAGILE
SKIN IN THE GAME
Praise For Incerto: Fooled by Randomness, The Black Swan, The Bed of Procrustes, Antifragile, Skin in the Game…
Praise for Nassim Nicholas Taleb
 
"The problem with Taleb is not that he's an asshole. He is an asshole. The problem with Taleb is that he is right."—Dan from Prague, Czech Republic (Twitter)
 
"The most prophetic voice of all . . . [Taleb is] a genuinely significant philosopher . . . someone who is able to change the way we view the structure of the world through the strength, originality and veracity of his ideas alone."—John Gray, GQ
 
"Taleb grabs on to core problems that others ignore, or don't see, and shakes them like an attack dog on a leg."—Greg from New York (Twitter)
 
"For my wife and me, Antifragile is an annual reread."—Colle from Richmond, Virginia (Twitter)
 
"I read Antifragile four times. First, to get the wisdom to survive. Second, as a memorial statement for Fat Tony. Third, as Das Kapital with correct mathematics. Fourth, as ethics to learn a good way to die."—Tamitake from Tokyo, Japan (Twitter)
 
"November . . . time for my annual reread of Antifragile."—Johann from Vienna, Austria (Twitter)
 
"[Taleb writes] in a style that owes as much to Stephen Colbert as it does to Michel de Montaigne."—The Wall Street Journal
Random House Trade Paperbacks, 9780593243657, 1872pp.
Publication Date: May 4, 2021
About the Author
Nassim Nicholas Taleb spent twenty-one years as a risk taker before becoming a researcher in philosophical, mathematical, and (mostly) practical problems with probability. Although he spends most of his time as a flâneur, meditating in cafés across the planet, he is currently Distinguished Professor at New York University's Tandon School of Engineering. His books, part of a multivolume collection called Incerto, have been published in forty-one languages. Taleb has authored more than fifty scholarly papers as backup to Incerto, ranging from international affairs and risk management to statistical physics. Having been described as "a rare mix of courage and erudition," he is widely recognized as the foremost thinker on probability and uncertainty. Taleb lives mostly in New York.
or
Not Currently Available for Direct Purchase