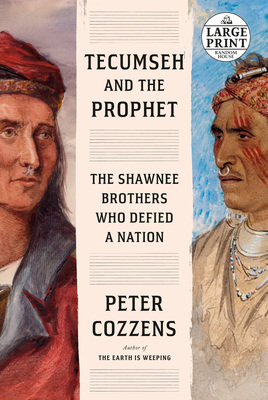 Tecumseh and the Prophet
The Shawnee Brothers Who Defied a Nation
Paperback

* Individual store prices may vary.
Other Editions of This Title:
Digital Audiobook (10/26/2020)
Paperback (8/3/2021)
Hardcover (10/27/2020)
Description
"An insightful, unflinching portrayal of the remarkable siblings who came closer to altering the course of American history than any other Indian leaders."⁠ —H.W. Brands, author of The Zealot and the Emancipator

The first biography of the great Shawnee leader to make clear that his misunderstood younger brother, Tenskwatawa, was an equal partner in the last great pan-Indian alliance against the United States.

Until the Americans killed Tecumseh in 1813, he and his brother Tenskwatawa were the co-architects of the broadest pan-Indian confederation in United States history. In previous accounts of Tecumseh's life, Tenskwatawa has been dismissed as a talentless charlatan and a drunk. But award-winning historian Peter Cozzens now shows us that while Tecumseh was a brilliant diplomat and war leader--admired by the same white Americans he opposed--it was Tenskwatawa, called the "Shawnee Prophet," who created a vital doctrine of religious and cultural revitalization that unified the disparate tribes of the Old Northwest. Detailed research of Native American society and customs provides a window into a world often erased from history books and reveals how both men came to power in different but no less important ways.

Cozzens brings us to the forefront of the chaos and violence that characterized the young American Republic, when settlers spilled across the Appalachians to bloody effect in their haste to exploit lands won from the British in the War of Independence, disregarding their rightful Indian owners. Tecumseh and the Prophet presents the untold story of the Shawnee brothers who retaliated against this threat--the two most significant siblings in Native American history, who, Cozzens helps us understand, should be writ large in the annals of America.
Praise For Tecumseh and the Prophet: The Shawnee Brothers Who Defied a Nation…
Winner of the Western Writers of America Spur Award for Best Biography
A Washington Independent Review Favorite Book
A Cowboys and Indians Editor's Pick

"Cozzens expertly mines the surprisingly varied array of sources for the brothers' early lives; he presents the fullest picture yet of who these men were before they achieved national fame. His book balances them more than any previous retelling of the story ever has. Tecumseh and the Prophet is as close to a fully realized popular biography of Tenkswatawa as is ever likely to be written … Tecumseh and the Prophet paints in vivid colors the grandest effort of Native Americans to retain their independence – and the political and spiritual leaders who tried to make it happen."
⁠—Steve Donoghue, Christian Science Monitor

"This... is no sentimental paean to an innocent martyr, no simplistic homage to a "noble savage"... Cozzens is a master storyteller; his books weave a wealth of intricate detail into gripping historical narrative... In this book descriptions of battles are especially enthralling; one can almost smell the gunpowder, the blood and the loamy forest floor."
⁠—Gerard DeGroot, The Times (UK)

"Tecumseh and the Prophet is a thorough profile of the notable Tecumseh and his Brother. Author Peter Cozzens sculpts his narrative deftly and compellingly. In relating the barbarity of the frontier wars, the author remains objective yet empathetic. Tecumseh and Tenskwatawa are fascinating figures, capable of greatness and leadership, yet destined for tragedy. A+ work."
⁠—Philip Zozzaro, San Francisco Book Review

"The strength of Cozzens' book is his ability to bring to life the thrilling adventures of Tecumseh and his people. Many a war yarn gets bogged down in minutiae, but the author animates these battles by sharing the human stories behind the fighting. By ably piecing together a history that is equal parts engaging and amply sourced, Cozzens has crafted a satisfying work that leads us to sympathize with his subjects without putting his finger on the scale to prove his point."
⁠—Chris Rutledge, Washington Independent Review of Books

"Superb…  With a deft command of published and manuscript sources, Cozzens leads readers through shifting loyalties on the Canadian/American frontier and paints a sympathetic portrait of two men united in a crusade to defend a people and a vanishing way of life... Cozzens's propulsive narrative and perceptive analysis of conflicting viewpoints, Indian and Anglo, sets a new standard for future biographies."
⁠—Western Writers of America

"Cozzens intertwines engaging prose with contemporary accounts to prove that devotion to Tecumseh's call to repel land encroachment came in part due to the clarity of Tenskwatawa's prophecy to abstain from alcohol and return to tribal teachings... Over 200 years after the brothers' deaths, Americans still revere the memory of Tecumseh's moral certainty through landmarks and schools bearing his name, but Tenskwatawa's legacy as a spiritual leader is largely overlooked. Cozzens' text reminds us that public memory should be amended."
⁠—Ryan Winn, Tribal College Journal

"Cozzens has a gift for depicting the intricacies of combat with both clarity and flair. ... the dual biography comes across as fair and impartial. Without sentimentality, and without overlooking the faults of its heroes, it presents a nuanced look at their attempt to halt the invasion of their lands."
⁠—Margaret Quamme, Columbus Dispatch

"Engrossing... Cozzens' biographyis solidly researched, fluently written, and bound to stand as the best history to date about the Shawnee brothers' lives and effort to rally pan-Indian resistance."
⁠—Booklist, starred

"Cozzens rightly rejects the old stories, arguing convincingly that Tenskwatawa successfully shaped a powerful spiritual doctrine out of nativist resistance."
⁠—Philip Deloria, The New Yorker

"Mr. Cozzens puts his narrative skills to great use. His compelling prose and deep research in both primary sources and histories of the period combine to place the reader on the ground with the Shawnee brothers... Sharply drawn."
⁠—Kathleen DuVal, The Wall Street Journal

"Award-winning historian Peter Cozzens admirably brings this lost world to life... Cozzens's descriptions of Tenskwatawa's spiritual agenda, centered on Indian independence and rejection of White culture, will remind readers that tribal leaders from Osceola to Sitting Bull attempted to preserve native culture with the weapons of war. The tragedy of their failure haunts America today."
⁠—Nancy Tappan, American History Magazine

"In 1768, the year of Tecumseh's birth, 60,000 Native Americans in the Great Lakes and Ohio Valley stood against a white colonial population of two million. As settlers crested the Appalachians, this imbalance only got worse. Against this epic backdrop, Peter Cozzens weaves his marvelous tale of the two Shawnee brothers who stood against the storm. Tecumseh and the Prophet tells a story of nation-defining events and larger-than-life leaders, and Cozzens' nuanced portrait stands as one of the best pieces of Native American history I have read."
⁠—S. C. Gwynne, author of New York Times best-sellers Empire of the Summer Moon, and Rebel Yell

"Cozzens... shows his skill at revealing the social and daily realities of late 18th- and early 19th-century life, including wonderfully vivid descriptions of pioneer conditions and Algonquin villages... A long overdue non-fiction account. Tecumseh's life and the wider struggle for the Great Lakes and Ohio River valley now has a current, solid work by an accomplished author."
⁠—Library Journal, starred

"An enthralling, deeply researched dual biography of Shawnee leader Tecumseh and his younger brother... Cozzens's cinematic narrative is steeped in Native American culture and laced with vivid battle scenes and character sketches. American history buffs will gain a new appreciation for what these resistance leaders accomplished."
⁠—Publishers Weekly

"Comprehensive... Blending historical fact with solid storytelling, Cozzens delivers a nuanced study of the great warrior and his times."
⁠—Kirkus



Random House Large Print, 9780593295465, 992pp.
Publication Date: October 27, 2020
About the Author
PETER COZZENS is the author or editor of sixteen acclaimed books on the American Civil War and the Indian Wars of the American West, and a member of the Advisory Council of the Lincoln Prize. In 2002 he was awarded the American Foreign Service Association's highest honor, the William R. Rivkin Award, given annually to one Foreign Service Officer for exemplary moral courage, integrity, and creative dissent. He lives in Kensington, Maryland.
or
Not Currently Available for Direct Purchase