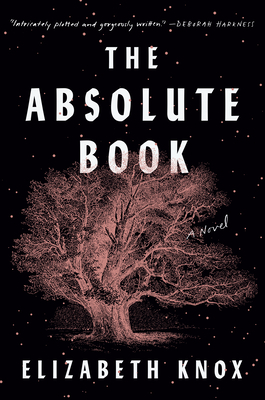 The Absolute Book
A Novel
Hardcover

* Individual store prices may vary.
Other Editions of This Title:
Digital Audiobook (2/8/2021)
Description
A bewitching epic fantasy about a revenge killing, a mysterious scroll box that has survived centuries of fires, and the book that changed everything

"Intricately plotted and gorgeously written, The Absolute Book is a cinematic tale that is by turns dark and dreamlike, yet ultimately hopeful." --Deborah Harkness, New York Times bestselling author of A Discovery of Witches

"An instant classic . . . It is everything fantasy should be." --The Guardian

Taryn Cornick believes that the past--her sister's violent death, and her own ill-conceived revenge--is behind her, and she can get on with her life. She has written a successful book about the things that threaten libraries: insects, damp, light, fire, carelessness and uncaring . . . but not all of the attention it brings her is good.

A policeman, Jacob Berger, questions her about a cold case. Then there are questions about a fire in the library at her grandparents' house and an ancient scroll box known as the Firestarter, as well as threatening phone calls and a mysterious illness. Finally a shadowy young man named Shift appears, forcing Taryn and Jacob toward a reckoning felt in more than one world.

The Absolute Book is epic, action-packed fantasy in which hidden treasures are recovered, wicked things resurface, birds can talk, and dead sisters are a living force. It is a book of journeys and returns, from contemporary England to Auckland, New Zealand; from a magical fairyland to Purgatory. Above all, it is a declaration of love for stories and the ways in which they shape our worlds and create gods out of mortals.
Praise For The Absolute Book: A Novel…
Praise for Elizabeth Knox and The Absolute Book

"Blends numerous genres with a skillful and inquiring hand . . . Reading [The Absolute Book] is like holding folds of shot silk to the light, finding green flash in something that looks purple, and appreciating how thoughtfully the warp and weft embrace each other. . . I'm in awe of . . . its precision and care, and its wry, understated humor."
—Amal El-Mohtar, The New York Times Book Review

"Majestic, brain-bending . . . Every once in a while, as a reader, you run into one of those books that is just too big for your mind to entirely take in. . . . It's quite bracing to come up against the hard edge of your own imagination as you try to pursue a visionary author through the limitless expanse of hers. This is all to say that the experience of reading the New Zealand writer Elizabeth Knox's contemporary fantasy novel The Absolute Book reminded me of how I felt reading Jonathan Strange & Mr. Norrell or The Left Hand of Darkness or His Dark Materials or, to move out of genre, Life After Life or The Underground Railroad. I felt that my position in relation to the book's capacious intellect and imagination and moral purpose was a vertiginous one. It was thrilling and frightening. . . . Each time I thought the book was done surprising me, Knox flexed her own golden gauntlet and opened another gate and flung me through it." 
—Dan Kois, Slate

"The Absolute Book has the feel of an instant classic, a work to rank alongside other modern masterpieces of fantasy such as Philip Pullman's His Dark Materials series or Susanna Clarke's Jonathan Strange & Mr. Norrell. It is everything fantasy should be: original, magical, well read. Its language is assured, lyrical yet never overwrought, and in its surprising twists of fate, its deft characterization and constant forward momentum, it is both accessible and compelling. At 600-plus pages, a book makes demands on the reader simply at the level of how much time they are prepared to devote to it. Yet that very ambition, the sweep and heft of its ideas, ensure that effort expended is amply rewarded." 
—The Guardian

"Full of intrigue, mystery, magic, and history, this is a fascinating read that, despite its length, is hard to put down."
—BuzzFeed

"At once sad and enticing."
—The Wall Street Journal

"A marvelous argument for stories. There are Norse gods, references to Merlin, a tour through purgatory and a strange parallel world where magic is real and humans are bit players in the clash of supernatural realms. Bewitching."
—The Times (London)

"At various points, The Absolute Book resembles a book about books, a psychological crime novel, a romance, a portal fantasy, a technothriller, a historical fantasy, and an allegory. . . . This surfeit of stories, this melding of modes and mixing of genres, is The Absolute Book's greatest strength. . . .  Exuberant and generous and original."
—Tor

"Knox's restrained, poetic writing works well with this ever-spiraling, mind-blowing optical illusion of a novel, which marries myths and lore from Celtic, Norse, and Judeo-Christian traditions with a variety of literary references. Weird and enigmatic, occasionally slow but never dull, this grand ode to Story itself is one that begs for a reread."
—Booklist (starred review)

"This darkly luminous fantasy reads like a mystery, thoroughly and wonderfully transporting readers to another world."
—Kirkus Reviews

"An astonishing novel from an author I have long loved, The Absolute Book catches the reader up on the very first page and carries them away in an exhilarating rush."
—Kelly Link, author of Get in Trouble

"Gorgeous . . . The payoffs and reveals are mind-blowing."
—Laini Taylor, author of Daughter of Smoke and Bone

"Elizabeth Knox has the most original and lateral literary mind in New Zealand." 
—Metro

"Explosive and surprising . . . quite brilliant."
—The Spinoff (NZ)

"The Absolute Book's power is in the skill and pace of Knox's storytelling, the perfect spinning of the intricate plot, the sharp dialogue and luminous evocation of place. Knox's landscapes are vivid and beautiful, both the earthly and the otherworldly. I was carried along without objection, and the great pleasure for me, along with the simple one of wanting to know what would happen next, was the feeling that my realist mind had been flattened out - that I had, temporarily, due to the intensity and momentum of the narrative, made some kind of mental shift, lost the compulsion to search for psychological depth (always a source of disquiet) and gone back to an earlier imaginative state, one that pulsed with mysterious possibility." 
—Charlotte Grimshaw, Noted (NZ)
Viking, 9780593296738, 640pp.
Publication Date: February 9, 2021
About the Author
Elizabeth Knox is the author of seventeen books, including the novels The Vintner's Luck, Dreamhunter, and Dreamquake, which received awards from the ALA, CCBC, Booklist, and the New York Public Library. An Arts Foundation Laureate, an officer of the New Zealand Order of Merit, and the recipient of the Prime Minister's Award for Fiction, she lives with her husband and son in Wellington, New Zealand, where she teaches a course on world building at Victoria University.