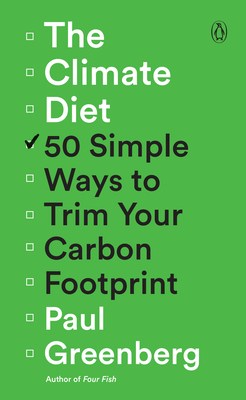 The Climate Diet
50 Simple Ways to Trim Your Carbon Footprint
Paperback

* Individual store prices may vary.
Description
A celebrated writer on food and sustainability offers fifty straightforward, impactful rules for climate-friendly living

"Some strong and rational suggestions for reducing your personal impact here--and when you're eating smart, you'll have the energy to do the movement building we need to change systems too! This book integrates the individual and the societal in a powerful way."--Bill McKibben

We all understand just how dire the circumstances facing our planet are and that we all need to do our part to stem the tide of climate change. When we look in the mirror, we can admit that we desperately need to go on a climate diet. But the task of cutting down our carbon emissions feels overwhelming and the discipline required hard to summon. With The Climate Diet, award-winning food and environmental writer Paul Greenberg offers us the practical, accessible guide we all need. It contains fifty achievable steps we can take to live our daily lives in a way that's friendlier to the planet--from what we eat, how we live at home, how we travel, and how we lobby businesses and elected officials to do the right thing. Chock-full of simple yet revelatory guidance, The Climate Diet empowers us to cast aside feelings of helplessness and start making positive changes for the good of our planet.
Praise For The Climate Diet: 50 Simple Ways to Trim Your Carbon Footprint…
"[The Climate Diet] will help get America thinking as a new presidential administration moves in with climate change as a core concern. . . . This is no cookbook but rather an accessible pocket guide to the climate-focused lifestyle and reducing one's carbon footprint. . . . The author drives home a salient point: Whatever the role of governments in curtailing carbon use, it's up to each citizen to make their own sensible choices. . . . A quick and timely read. . . . A solid manifesto for the climate-focused life." —Kirkus
Penguin Books, 9780593296769, 176pp.
Publication Date: April 13, 2021
About the Author
Paul Greenberg is the author of the James Beard Award-winning bestseller Four Fish, American Catch, and The Omega Principle, and a regular contributor to The New York Times. His writing has also appeared in The New Yorker, National Geographic, and many other publications. He has been a correspondent for PBS's Frontline and lectured widely on ocean issues at institutions ranging from TED to Google to the U.S. Senate. He lives in New York.