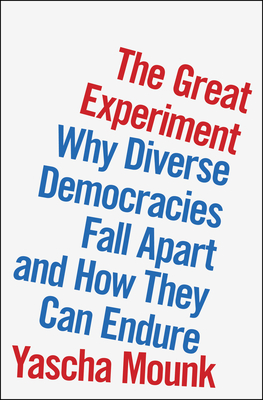 The Great Experiment
Why Diverse Democracies Fall Apart and How They Can Endure
Hardcover

* Individual store prices may vary.
Description
From one of our sharpest and most important political thinkers, a brilliant big-picture vision of the greatest challenge of our time—how to bridge the bitter divides within diverse democracies enough for them to remain stable and functional

Some democracies are highly homogeneous. Others have long maintained a brutal racial or religious hierarchy, with some groups dominating and exploiting others. Never in history has a democracy succeeded in being both diverse and equal, treating members of many different ethnic or religious groups fairly. And yet achieving that goal is now central to the democratic project in countries around the world. It is, Yascha Mounk argues, the greatest experiment of our time.

Drawing on history, social psychology, and comparative politics, Mounk examines how diverse societies have long suffered from the ills of domination, fragmentation, or structured anarchy. So it is hardly surprising that most people are now deeply pessimistic that different groups might be able to integrate in harmony, celebrating their differences without essentializing them. But Mounk shows us that the past can offer crucial insights for how to do better in the future. There is real reason for hope.

It is up to us and the institutions we build whether different groups will come to see each other as enemies or friends, as strangers or compatriots. To make diverse democracies endure, and even thrive, we need to create a world in which our ascriptive identities come to matter less—not because we ignore the injustices that still characterize the United States and so many other countries around the world, but because we have succeeded in addressing them.

The Great Experiment is that rare book that offers both a profound understanding of an urgent problem and genuine hope for our human capacity to solve it. As Mounk contends, giving up on the prospects of building fair and thriving diverse democracies is simply not an option—and that is why we must strive to realize a more ambitious vision for the future of our societies.
Praise For The Great Experiment: Why Diverse Democracies Fall Apart and How They Can Endure…
"In this brave and necessary book, Yascha Mounk honestly confronts the challenges to democracy posed by diverse, multiethnic societies, while at the same time refusing to give in to fashionable pessimism. He argues that we can and should find ways to build common ground, using good-faith patriotism to build consensus. Anyone interested in the future of liberal democracy, in the US or anywhere else, should read this book." —Anne Applebaum, staff writer for the Atlantic and Senior Fellow, SNF Agora Institute, Johns Hopkins University

"The Great Experiment confronts the intense challenges faced today by diverse societies in creating norms and institutions that allow their citizens to live peacefully with one another.  It moves from insightful analysis of our current crisis to practical suggestions on how to mitigate conflicts over race and identity—a blueprint for a more optimistic future." —Dr. Francis Fukuyama, Director of Stanford's Ford Dorsey Master's in International Policy and author of The Demand for Dignity and the Politics of Resentment and The End of History and the Last Man

"A convincing, humane, and hopeful guide to the present and future by one of our foremost democratic thinkers." —George Packer, author of The Unwinding and Last Best Hope

"Liberal democracies beat authoritarianism in the 20th century, but are growing more unstable in the 21st. In The Great Experiment, Yascha Mounk shows us our history, our psychology, our self-inflicted wounds, and our best hope for creating stable democracies that benefit from diversity. This magnificent book increases our odds of success." —Jonathan Haidt, author of The Righteous Mind and professor at NYU-Stern School of Business

"[A] hopeful meditation on a multicultural world . . . Writing with insight, nuance, and sympathy to all sides." —Publishers Weekly

"Can diverse democracies flourish? The Great Experiment is a bold and necessary counter-argument to nativists, populists and pessimists." —Helen Lewis, Staff Writer, The Atlantic
Penguin Press, 9780593296813, 368pp.
Publication Date: April 19, 2022
About the Author
Yascha Mounk is a writer and academic known for his work on the rise of populism and the crisis of liberal democracy. Born in Germany to Polish parents, Mounk received his BA in history from Trinity College, University of Cambridge, and his PhD in government from Harvard University. He is now a Professor of the Practice of International Affairs at Johns Hopkins University and the founder of Persuasion. Mounk is also a contributing editor at The Atlantic and a senior fellow at the Council on Foreign Relations.