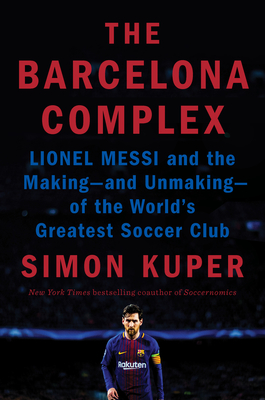 The Barcelona Complex
Lionel Messi and the Making--and Unmaking--of the World's Greatest Soccer Club
Hardcover

* Individual store prices may vary.
Other Editions of This Title:
Digital Audiobook (8/16/2021)
Paperback (8/16/2022)
Description
With rare and unrivaled access, bestselling coauthor of Soccernomics and longtime Financial Times journalist Simon Kuper tells the story of how FC Barcelona became the most successful club in the world—and how that era is now ending

FC Barcelona is not just the world's highest grossing sports club, it is simply one of the most influential organizations on the planet. At last count, it had approximately 214 million social media followers, more than any other sports club except Real Madrid CF—and by one earlier measure, more than all thirty-two NFL teams combined. It has more in common with multinational megacompanies like Netflix or small nation-states than it does with most soccer teams. No wonder its motto is "More than a club." But it was not always so. In the past three decades, Barcelona went from a regional team to a global powerhouse, becoming a model of sustained excellence and beautiful soccer, and a consistent winner of championships. Simon Kuper unravels exactly how this transformation took place, paying special attention to the club's two biggest stars, Johan Cruyff and Lionel Messi, who is arguably the greatest soccer player of all time. Messi joined Barça at age thirteen and, more than anyone, has been the engine and standard-bearer of Barcelona's glory. But his era is coming to an end—and with it, a once-in-a-lifetime golden run. This book charts Barça's rise and fall.

Like many world-beating organizations, FC Barcelona closely guards its secrets, granting few outsiders access to the Camp Nou, its legendary home stadium. But after decades of writing about the sport and the club, Kuper was given access to the inner sanctum and the people behind the scenes who strive daily to keep Barcelona at the top. Erudite, personal, and capturing all the latest upheavals, his portrait of this incredible institution goes beyond soccer to understand FC Barcelona as a unique social, cultural, and political phenomenon.
Praise For The Barcelona Complex: Lionel Messi and the Making--and Unmaking--of the World's Greatest Soccer Club…
"Founded in 1899, the FC Barcelona soccer club (also known as Barça) from Spain's Catalonia region is one of the sport's most famous franchises, with a rich history of dynamic coaches and managers, as well as superstars like Johan Cruyff and Lionel Messi. Who better to explore this legacy than veteran British sports journalist Kuper (Soccernomics, 2009). His account delivers an insider's view of FC Barcelona… Kuper vividly captures the unique cultural phenomenon that is FC Barcelona. A must for soccer fans." —Booklist

"Kuper translates his decades of coverage of the world's highest-grossing sports club into a fascinating record of its legacy. . . . Brilliantly captures the business of sports. [The Barcelona Complex] is likely to be the definitive account of the business side of the famous club." —Publishers Weekly

"Essential reading for anyone interested in innovation or high performance. . . . [The Barcelona Complex] is both a debunking and a restoration. . . . Kuper diverts our eye away from the dazzling but familiar skyline and instead takes us inside the cathedral close." —New Statesman

"This is a masterfully written history of the world's greatest football club. Més Que Un Book." —Gary Lineker

"[R]eaders need not follow the sport to enjoy [The Barcelona Complex]. . . . A smart, engaging look at soccer as both game and business." —Kirkus (starred review)

"Brilliant. Simon Kuper is one of the smartest minds in soccer, and his three decades of covering Barça and his tremendous access produce a book that is clear-eyed about Barça's greatness and more recent decline." —Grant Wahl, Sports Illustrated writer, author of The Beckham Experiment and Masters of Modern Soccer

"This is a book worthy of the club it chronicles. With virtuosic reporting, joyous storytelling, and complete authority, Kuper has added another classic to the canon of great soccer books, a genre he practically invented. And by providing such a vivid behind-the-curtain view into the operations of one the world's most successful institutions, he's also written an unlikely guide to managing talent." —Franklin Foer, bestselling author of How Soccer Explains the World
 
"What is the point of football, Simon Kuper asks? It makes our lives a little happier than they would be without it. And the point of this book? It makes our lives even happier. Kuper has written a great story, a history and a biography, a work of philosophy and gossip, that is the best book about sport, any sport, that I have read in a long time. An outright joy. An instant classic." —Bill Buford, author of Among the Thugs and Heat
 
"Kuper writes with both awe and insight about one of the world's most fabled teams. This book is packed full of endearing details and stories and the characters are lovable, fallible, and honest. It feels like being let inside the dream. In an era where monstrous contracts and commercialization have killed off some of the game's innocence, it is good to immerse yourself in a Barcelona that was, in large part, the team we wish all professional teams were—a neighborhood team composed of boyhood friends who love to play and love their club." —Gwen Oxenham, author of Under the Lights and In the Dark

"Simon's writing has been an indispensable part of football's landscape for the better part of the last three decades. His access to Barça has enabled him to tell a story that no one else can about the biggest club in the world and its biggest star. This book both chronicles and analyzes an era in football history that we're lucky to have witnessed, and that may never be matched." —Billy Beane, legendary general manager of the Oakland A's and subject of Michael Lewis' Moneyball
 
"Simon Kuper is an incredible storyteller. He sees football as a mirror which reflects the world around it. In the same way as Barça claim to be 'more than a club,' this is more than a football book. It explores visionary creativity through Cruyff, the limitations of genius through Messi, and human decision-making lived out under conditions of hysterical pressure. A must-read that is about football in the same way Animal Farm is a tale of horses and pigs." —Roger Bennett, author of Men in Blazers Present Encyclopedia Blazertannica
Penguin Press, 9780593297711, 416pp.
Publication Date: August 17, 2021
About the Author
Simon Kuper is a journalist who writes for the Financial Times and publishes in newspapers and magazines around the world. He is one of the world's leading writers on soccer. His book Football Against the Enemy won the William Hill Sports Book of the Year award. His works are also widely read in translation. Born in Uganda, Kuper spent most of his childhood in the Netherlands and now lives in Paris.