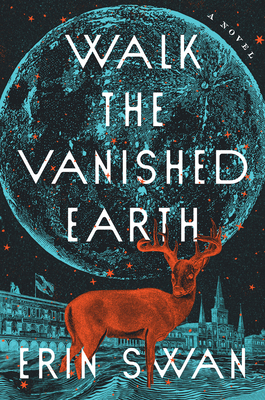 Walk the Vanished Earth
A Novel
Hardcover

* Individual store prices may vary.
Other Editions of This Title:
Digital Audiobook (5/30/2022)
Description
"This rich, endlessly engaging novel is, one hopes, the first in a long career for an author who has the talent and imagination to write whatever she wants." --The New York Times

In the tradition of Station Eleven, Severance and The Dog Stars, a beautifully written and emotionally stirring dystopian novel about how our dreams of the future may shift as our environment changes rapidly, even as the earth continues to spin.

The year is 1873, and a bison hunter named Samson travels the Kansas plains, full of hope for his new country. The year is 1975, and an adolescent girl named Bea walks those very same plains; pregnant, mute, and raised in extreme seclusion, she lands in an institution, where a well-meaning psychiatrist struggles to decipher the pictures she draws of her past. The year is 2027 and, after a series of devastating storms, a tenacious engineer named Paul has left behind his banal suburban existence to build a floating city above the drowned streets that were once New Orleans. There with his poet daughter he rules over a society of dreamers and vagabonds who salvage vintage dresses, ferment rotgut wine out of fruit, paint murals on the ceiling of the Superdome, and try to write the story of their existence. The year is 2073, and Moon has heard only stories of the blue planet—Earth, as they once called it, now succumbed entirely to water. Now that Moon has come of age, she could become a mother if she wanted to–if only she understood what a mother is. Alone on Mars with her two alien uncles, she must decide whether to continue her family line and repopulate humanity on a new planet.
A sweeping family epic, told over seven generations, as America changes and so does its dream, Walk the Vanished Earth explores ancestry, legacy, motherhood, the trauma we inherit, and the power of connection in the face of our planet's imminent collapse.
This is a story about the end of the world—but it is also about the beginning of something entirely new. Thoughtful, warm, and wildly prescient, this work of bright imagination promises that, no matter what the future looks like, there is always room for hope.
Praise For Walk the Vanished Earth: A Novel…
A Must-Read Summer Book at BookRiot, Lit Hub, The Millions, and Gizmodo

"The shifting planets and timelines bring to mind the novels of Ursula K. Le Guin, N.K. Jemisin and David Mitchell... Swan has fashioned a deeply original story that reflects on America's founding myths, the climate damage wrought by all of us, and the many unknowns of the century ahead." —Chicago Review of Books

"Swan creates characters so fully lived in, with such detail and heart, that I would have read more if given the chance. As it is, I read the entire book in three days, gripped by the story. It is not an escape, but what is in the world we live in? This planet exhausts him,' writes Swan of one character. Readers will recognize this feeling, exhausted by the constant onslaught of personal, political, and environmental disasters. What would it look like, Swan appears to be asking, if we could imagine something beyond the 'regular litany of horrors?' Can we create something new, beautiful, and lasting in the wake of the world? Swan's novel suggests we don't have any other choice but to try." --Ploughshares

"Swan's ambitious debut spans two centuries, following one family over generations as Earth undergoes massive, catastrophic climate change...Grand in scope and jumping around in time, Swan's first novel offers a unique multigenerational saga against the backdrop of our changing planet." -- Booklist (starred review)

"This debut has a lot going for it. For one, the writing is beautiful. And, things like disability and mental illness are represented sensitively through fully formed characters. It also presents an interesting examination of motherhood and what it means...This is a story about the end of the world—but it is also about the beginning of something entirely new. Thoughtful, warm, and wildly prescient, this work of bright imagination promises that, no matter what the future looks like, there is always room for hope." -- BookRiot

"Erin Swan's debut novel enthralled me from the first page. Walk the Vanished Earth is weird, wonderful and beautifully written; I never knew what would happen next, but was deeply satisfied by each turn of the story.  A floating city! Seven generations of a single family line! Life on Mars! I highly recommend this novel."
—Ann Napolitano, bestselling author of Dear Edward

"Walk the Vanished Earth is a beautiful achievement.  A story of mothers and daughters, climate collapse, improbable love, space travel, disaster and redemption, destiny and choice – it's nearly impossible to describe all the notes Erin Swan hits in this astonishing debut.  Swan writes in spare, elegant prose that conjures an 1880s Kansas prairie just as vividly as a futuristic colony on Mars.  Both timely and timeless, this novel will stay with me for a long time to come."
—Tara Conklin, New York Times bestselling author of The Last Romantics

"The quintessential multigenerational family epic for the 21st century, a story at once singular and speculative and yet also universal and immediate. Swan offers a gorgeously rendered parable about how blood ties destroy us--and at the same time how they help us excavate hope from hopelessness, purpose from ruin."
—Juliet Grames, author of The Seven or Eight Deaths of Stella Fortuna

"Walk the Vanished Earth is a dazzling novel of the future and the past.  In the very best way, I never knew where Erin Swan would take me next but I always wanted to follow her, whether it was to a Piggly Wiggly in Kansas City or to a floating city among the rooftops or a garden on Mars.  Her characters are passionate and unforgettable and her prose is dazzling.  A stunning debut."
—Margot Livesey, author of The Boy in the Field

"Walk the Vanished Earth is one of the most startlingly original and riveting books I've read in a long time. Erin Swan's gaze at the heaven and hell we humans create wherever we go is brutal and unwavering. What a thrilling, inventive, and gorgeously written debut!"
—Helen Schulman,  author of Come with Me

"In her elegant and elegiac Walk the Vanished Earth, Erin Swan keeps her heart and imagination balanced between the past and the future. Whether she's writing about Kansas or Mars, she absorbs you not only in the plight of individual mothers and children, but in all of the children of Mother Earth. This is climate fiction at its finest and most thoughtful." 
—Kathleen Rooney, author of Cher Ami and Major Whittlesey

"Walk the Vanished Earth soars past familiar alternate history and post-apocalyptic narratives to create something altogether new: an oracle's dream of the apocalypse we live in now, a tender study of human ambition and frailty, and a gorgeous, gripping, truly innovative work of art."
—Kim Fu, author of The Lost Girls of Camp Forevermore

"Walk the Vanished Earth is a sweeping and astonishing exploration of what hope looks like in times of uncertainty, in the midst of devastation. Massive and ambitious in scope, but executed with precision and intimacy, Swan's debut considers legacy and how trauma, both human and environmental, ripples through generations, through existence. In the end we're left considering fate, agency, destruction, and what endures."
—Meredith Westgate, author of The Shimmering State

"Erin Swan braids a strange and glorious vision that sweeps across arcs of time and galaxy without ever losing sight of the human heart. In this gorgeously written chronicle, the characters, earth, and new planets alike must wrangle their dreams born of tragedy, and transmute them into hope. This is like a Cormac McCarthy desert tale meets Margaret Atwood's attentiveness to the failures of capitalism and human desire, but with a startling clarity all her own. She offers us a survival beyond climate change that will buoy you up by the end, without ever flinching from horror."
—Brenda Peynado, author of The Rock Eaters
Viking, 9780593299333, 384pp.
Publication Date: May 31, 2022
About the Author
Erin Swan is a writer of fiction and nonfiction whose work has been published in such literary journals as Portland Review, The South Carolina Review, and Inkwell Journal. A graduate of the MFA program at the New School, she lives in Brooklyn and teaches English at a public high school in lower Manhattan. This is her first novel.