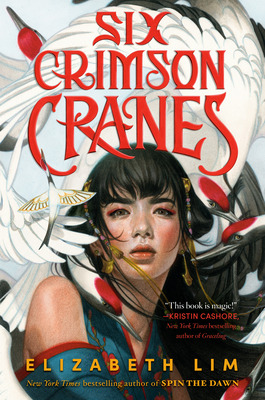 Six Crimson Cranes
Library Binding

* Individual store prices may vary.
Other Editions of This Title:
Hardcover (7/6/2021)
Description
A princess in exile, a shapeshifting dragon, six enchanted cranes, and an unspeakable curse... Drawing from fairy tales and East Asian folklore, this original fantasy from the author of Spin the Dawn is perfect for fans of Shadow and Bone.

"A dazzling fairytale full of breathtaking storytelling." --Stephanie Garber, New York Times bestselling author of Caraval

Shiori'anma, the only princess of Kiata, has a secret. Forbidden magic runs through her veins. Normally she conceals it well, but on the morning of her betrothal ceremony, Shiori loses control. At first, her mistake seems like a stroke of luck, forestalling the wedding she never wanted. But it also catches the attention of Raikama, her stepmother.

A sorceress in her own right, Raikama banishes the young princess, turning her brothers into cranes. She warns Shiori that she must speak of it to no one: for with every word that escapes her lips, one of her brothers will die.

Penniless, voiceless, and alone, Shiori searches for her brothers, and uncovers a dark conspiracy to seize the throne. Only Shiori can set the kingdom to rights, but to do so she must place her trust in a paper bird, a mercurial dragon, and the very boy she fought so hard not to marry. And she must embrace the magic she's been taught all her life to forswear--no matter what the cost.

Weaving together elements of The Wild Swans, Cinderella, the legend of Chang E, and the Tale of the Bamboo Cutter, Elizabeth Lim has crafted a fantasy like no other, and one that will stay with readers long after they've turned the last page.

"A richly imagined landscape . . . vibrant, fast-paced."
—Publishers Weekly, starred review

Praise For Six Crimson Cranes…
"A dazzling fairytale full of breathtaking storytelling. Six Crimson Cranes elegantly weaves between whimsical and heart pounding as it takes readers on a magical adventure full of entwined fates, surprising curses, and beautiful mythology. It also has a very sexy dragon." " --Stephanie Garber, New York Times bestselling author of Caraval

"This book is magic! The writing will transport you, and you will love Shiori. I myself loved her from the moment she jumped out the window to escape her betrothal ceremony—which was the very first scene." —Kristin Cashore, New York Times bestselling author of Graceling

"A stunning remake of a fairytale. Six Crimson Cranes is the perfect blend of whimsy and ferociousness, with twists and turns that will tug at your heartstrings." —Chloe Gong, New York Times bestselling author of These Violent Delights


"A resilient heroine, a cast of imaginative characters, and creative plot turns make this gem of a novel sparkle." --Stacey Lee, award-winning author of The Downstairs Girl

"A gorgeous version of an old fairy tale, told with flair and originality. A must-read for lovers of folkloric fantasy." —Juliet Marillier, award-winning author of Daughter of the Forest and Wildwood Dancing
​
"An unputdownable, sweeping fairytale that thrills as much as it delights. Lim is a master storyteller which is apparent with every magical turn of the page." —Kerri Maniscalco, #1 New York Times bestselling author of The Kingdom of the Wicked

"Six Crimson Cranes is a fairytale that feels at once both epic and intimate. Shiori's quest to save her brothers, her kingdom, and herself is heartfelt, riveting, and as magical as the talents the princess tries so hard to hide." —Sarah Henning, bestselling author of Sea Witch and The Princess Will Save You

"Seamlessly intertwining western and East Asian folklore, Lim embroiders a richly imagined landscape in this vibrant, fast-paced duology starter."--Publishers Weekly, starred review 

"Part exciting adventure, part thoughtful coming-of-age novel, this story retells and overturns familiar tropes."--Kirkus

Knopf Books for Young Readers, 9780593300923, 464pp.
Publication Date: July 6, 2021
About the Author
ELIZABETH LIM grew up in the San Francisco Bay Area, where she was raised on a hearty diet of fairy tales, myths, and songs. Before becoming an author, Elizabeth was a professional film and video game composer, and she still tends to come up with her best book ideas when writing near a piano. An alumna of Harvard College and the Juilliard School, she now lives in New York City with her husband and her daughter.

Spin the Dawn (book 1 in the Blood of Stars duology) was her first original novel, and Unravel the Dusk is her second. She is also a contributor to the New York Times Bestselling "A Twisted Tale..." series.

Visit her at elizabethlim.com
Follow her on Twitter at @LizLim
Follow her on Instagram at @elimpix