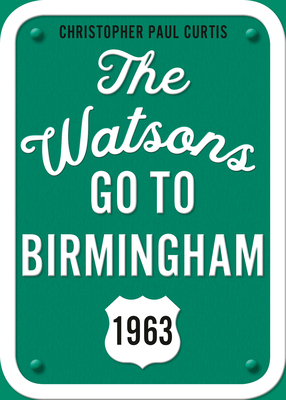 The Watsons Go to Birmingham--1963
25th Anniversary Edition
Paperback

* Individual store prices may vary.
Other Editions of This Title:
Digital Audiobook (7/4/2000)
Paperback (9/8/1997)
Paperback (8/6/2013)
Mass Market (12/12/2000)
Hardcover (9/1/1995)
Paperback, Large Print (4/1/2018)
Prebound (9/1/1997)
Paperback (1/1/1995)
Hardcover, Large Print (3/8/2017)
CD-Audio (5/10/2005)
Prebound (9/8/1997)
Hardcover (12/1/2004)
Description
Celebrate the 25th anniversary of the Newbery and Coretta Scott King Honoree about an unforgettable family on a road-trip during one of the most important times in the civil rights movement. This special edition makes a perfect gift and includes bonus content.

When the Watson family—ten-year-old Kenny, Momma, Dad, little sister Joetta, and brother Byron—sets out on a trip south to visit Grandma in Birmingham, Alabama, they don't realize that they're heading toward one of the darkest moments in America's history. The Watsons' journey reminds us that even in the hardest times, laughter and family can help us get through anything.
 
"A modern classic." —NPR

"Marvelous . . . both comic and deeply moving." —The New York Times

"One of the best novels EVER." —Jacqueline Woodson, Newbery Honor and National Book Award–winning author of Brown Girl Dreaming
 
Bonus Content
• New foreword and afterword from the author
• Map of the Watsons' journey
• Original manuscript pages and letter from the Newbery committee
• Personal essays celebrating the book's legacy by award-winning authors Jacqueline Woodson,
Varian Johnson, and Kate DiCamillo
Praise For The Watsons Go to Birmingham--1963: 25th Anniversary Edition…
AN ALA TOP TEN BEST BOOK
AN ALA NOTABLE CHILDREN'S BOOK
AN IRA YOUNG ADULT'S CHOICE
A NEW YORK TIMES BOOK REVIEW BEST BOOK
NAMED TO MULTIPLE STATE AWARD LISTS

"This is a book that changes lives. It certainly changed mine." --Kate DiCamillo, two-time Newbery Medalist

"I identify with so much in Christopher Paul Curtis's engrossing classic, The Watsons Go to Birmingham--1963." --David Barclay Moore, winner of the Coretta Scott King John Steptoe Award for New Talent

"An exceptional first novel."—Publishers Weekly, starred review

"Superb . . . a warmly memorable evocation of an African American family." —The Horn Book Magazine, starred review

"Ribald humor . . . and a totally believable child's view of the world will make this book an instant hit."—School Library Journal, starred review
Yearling, 9780593306499, 256pp.
Publication Date: November 3, 2020
About the Author
Christopher Paul Curtis won the Newbery Medal and the Coretta Scott King Award for his bestselling second novel, Bud, Not Buddy. His first novel, The Watsons Go to Birmingham—1963, was also singled out for many awards, and has been a bestseller in hardcover and paperback. His most recent novels for Random House include The Mighty Miss Malone, Mr. Chickee's Messy Mission, Mr. Chickee's Funny Money, and Bucking the Sarge.

Christopher Paul Curtis grew up in Flint, Michigan. After high school he began working on the assembly line at the Fisher Body Plant No. 1 while attending the Flint branch of the University of Michigan. He is now a full-time writer, and lives with his family in Windsor, Ontario.
1. At what point in the novel does Curtis introduce the conflict to create the tension in this story?
2. What is the climax, or the turning point, of The Watsons Go to Birmingham—1963, change the outcome of the plot?
3. How does the church bombing change Kenny and Byron's relationship?
4. How does Mrs. Watson sense that something is wrong between the Kenny and Rufus? Kenny thinks that Rufus changed while the Watsons were away. Do you think it's Rufus or Kenny who changed?
5. Why does Mrs. Watson think that Grandma Sands is the person who can change Byron's behavior? Describe Kenny's reaction when he meets his grandmother for the first time. Why does Kenny think that Byron will win the battle with Grandma Sands? At what point does he realize that he is wrong?
6. Kenny worries that he won't ever know how to be a grown-up. Mr. Watson assures his son that he'll have lots of time to practice before he actually becomes a grown-up. Describe his baby steps and giant steps toward becoming a man.
7. Kenny struggles to understand how anyone could bomb a church and kill four little girls. Discuss the following comment from Byron: "I don't think they're sick at all, I think they just let hate eat them up and turn them into monsters." How does Byron's perception of the bombers apply to those responsible for violent acts in our current society?
8. Kenny tells Byron, "I'm not scared, I'm just real, real ashamed of myself." Why is he ashamed? How does Byron help Kenny come to terms with his shame?
9. The novel is told in first person from Kenny's point of view. How does Curtis use dialogue to reveal what other characters are thinking?