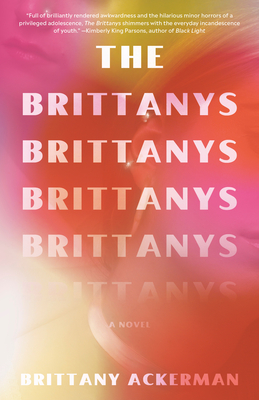 The Brittanys
A Novel
Paperback

* Individual store prices may vary.
Other Editions of This Title:
Digital Audiobook (6/14/2021)
Description
Bursting with bittersweet nostalgia, a funny, poignant, perfectly voiced debut that captures what it's like to be a teenage girl—"full of brilliantly-rendered awkwardness and the hilarious minor horrors of a privileged adolescence, The Brittanys shimmers with the everyday incandescence of youth" (Kimberly King Parsons, author of Black Light).


They're not the most popular freshmen at their Florida prep school, but at least everyone knows their name(s). The Brittanys.

Brittany Rosenberg: drives her golf cart around her subdivision to meet boys.

Brittany Gottlieb: insists you can't lose your virginity if you haven't gotten your period. (She heard it somewhere!)

Brittany Tomassi: is from New York.

Brittany Jensen: once threw her tampon into a stranger's swimming pool. A brash, bold, unapologetic tomboy. And the greatest person in the whole wide world.

At least as far as the fifth Brittany--our narrator--is concerned. Even within their friend group, she and Jensen are a duo: with their matching JanSport backpacks, Tiffany chokers, and Victoria's Secret push-up bras, they are unstoppable. And now that they're finally growing up, they're going to do everything: dye their hair, attend no-parent parties, try pot . . . maybe even lose their virginities. 2004 is totally going to be their year!

Except Jensen's interests may be diverging from her friends'. And within our narrator's own family--in the lives of her exhausted mother and beloved, genius older brother--life-changing events may be taking shape. Events that only years later, looking back, she has the perspective to see.

A VINTAGE ORIGINAL
Praise For The Brittanys: A Novel…
"I've never read any book that captures so perfectly all the sweet and bitter and mess and tenderness and hard lessons in being fourteen. Nor the highly specific, totally unfakeable feeling of the year 2004. Brittany Ackerman must have kept the most detailed diary. Her voice in The Brittanys, naive yet seeing all, looking both forward and backward, always figuring and looking for wisdom. I found every page of this book to be the perfect mix of entertaining, satisfying, questioning, and moving. It glows with Ackerman's love for her characters. I could have stayed inside it forever."
—Sarah Gerard, author of True Love

"A richly nostalgic portrait. . . . It is the poignant female relationships—between best friends and mothers and daughters—that reveal the story's true soul. . . . Ackerman locates an achingly realistic but unsentimentally clear-eyed portrait of the youthful relationships that end but are never truly over. A raw, funny and bittersweet novel about the awkward tenderness of adolescence."
—Alice Martin, Shelf Awareness (starred review)

"A bittersweet, funny, and totally nostalgic foray into the minds of teenage girls and their secrets, betrayals, and dreams. . . . Ackerman nails it all. If you have ever been a teenage girl, you will instantly find yourself quaking in your imaginary Nikes, your fictional wrong-color JanSport weighing you down like an anvil. . . . If you've run out of episodes of Pen15 or can't stand another binge-watch of Gossip Girl, this is a perfect palate cleanser."
—Rebecca Munro, Bookreporter

"The Brittanys will take you right back to life in the early 2000s with Tiffany necklaces and Victoria's Secret everything. Can you say nostalgia?!"
—Elizabeth Ann Entenman, HelloGiggles, "The 10 Best New Books to Add to Your June Reading List"

"Some of my fondest summer memories are of hanging out aimlessly in my high school BFF's basement and 'discussing plans for the rest of our lives,' as the narrator of The Brittanys puts it—which is probably why I found this year-in-the-mind-of-a-fourteen-year-old-girl (in 2004, no less) to hit that summer-reading sweet spot. . . . The relationship between the narrator Brittany and Brittany Jensen is at the heart of things, and what a fickle, vulnerable, overflowing heart it is."
—Eliza Smith, Literary Hub, "38 Novels You Need to Read This Summer"

"The cult classic movie Heathers will come to mind. Set in an elite Florida prep school, the novel portrays what it's like to be a teenage girl in a tight-knit group and what happens when one of them diverges from the flock." 
—Palm Beach Daily News, "2021 Summer Reading List"

"Full of brilliantly-rendered awkwardness and the hilarious minor horrors of a privileged adolescence, The Brittanys shimmers with the everyday incandescence of youth—car rides and homework, tampons and eyeliner, questionable fashion choices. Ackerman writes convincingly and empathetically about fourteen-year-old girls caught in that painful, exhilarating span of becoming. For anyone who has ever dyed their own hair, worn an absurd outfit, had a crush on someone ridiculous, or said the wrong thing—in other words, for anyone who was once a teenager—this book is for you."
—Kimberly King Parsons, author of Black Light

"The Brittanys. Teenage girls who really have everything: youth, beauty, swimming pools, and private school. And so much pressure. I read Brittany Ackerman's page-turning debut novel The Brittanys with my heart on my sleeve." 
—Marcy Dermansky, author of Very Nice

"Honest, funny, and totally engrossing, The Brittanys chronicles the freshman year of one of five Brittanys at a suburban prep school in the early 2000s. Author Brittany Ackerman's most impressive feat is transforming the unspectacular, everyday events and humiliations of teenagehood into a fascinating and heartfelt narrative. Somehow, she's captured that special blend of nostalgia and cringe that you can otherwise only find by flipping through a high school yearbook."
—Maria Adelmann, author of Girls of a Certain Age

"Sharply detailed but hauntingly universal, The Brittanys encapsulates a moment in time for those who have lived it and introduces those who haven't to an entire world underneath the carefully manicured surface of suburban teenage girlhood. The details Ackerman chooses to leave out are just as important and telling as the ones her narrator obsesses over, creating an achingly solipsistic narrative. Ackerman deftly captures that exquisite contradiction of female adolescence, the simultaneous yearning both to stand out and to disappear."
—Eleanor Kriseman, author of The Blurry Years
Vintage, 9780593311738, 272pp.
Publication Date: June 15, 2021
About the Author
BRITTANY ACKERMAN's debut essay collection, The Perpetual Motion Machine, was the winner of Red Hen Press's Nonfiction Award. She has a creative writing MFA from Florida Atlantic University, and has attended the Writing by Writers Methow Valley Workshop and the Mont Blanc Workshop in Chamonix, France, as well as a residency at the Wellstone Center in the Redwoods. The Brittanys is her first novel.