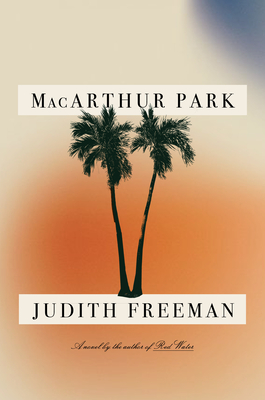 MacArthur Park
A Novel
Hardcover

* Individual store prices may vary.
Other Editions of This Title:
Digital Audiobook (10/11/2021)
Description
A captivating, emotionally taut novel about the complexities of a friendship between two women—and how it shapes, and reshapes, both of their lives
 
"Filled with gorgeous prose and deep emotion . . . Explores what it means to be an artist, delves into the vicissitudes of life and death, and takes us on journey through the splendor (and sometimes ugliness) of the American West—with dollops of Flaubert, Faulkner, Chekhov, Collette, and Chandler along the way."—Lisa See, author of The Island of Sea Women

Jolene and Verna share complicated ties that have crystallized over time. Beginning when they were girls discovering their needs and desires, their ongoing stories have been inextricably linked. But when Verna marries Vincent, Jolene's ex-husband, their paths may have finally, permanently diverged.
 
A successful and provocative feminist artist, Jolene travels the world, attracting attention wherever she goes. Verna, a writer, works from her home near MacArthur Park in Los Angeles, where she and Vincent plan to spend the rest of their lives in a contemplative, intimate routine. Then Jolene asks one more favor of Verna—to take a road trip with her to their small hometown in Utah. It's a journey that will force them to confront both the truths and falsehoods of their memories of each other and of the very beginnings of their friendship, and to reckon with the meaning of love, of time itself, of the bonds that matter most to us, and with what we owe one another.
Praise For MacArthur Park: A Novel…
"Intelligent, challenging fiction [with] bravura descriptions of diverse American landscapes . . . Freeman asks us to understand that committed relationships necessarily involve conflict and compromise." —Kirkus Reviews

"Explore[s] the tension between women's obligations and freedoms [in] clear, melodic prose . . . As Elena Ferrante does in the Neapolitan Novels, Freeman delves here into the complexities of friendship . . . Why do we remain connected to friends who hurt us or misunderstand us? Freeman's been there also, and she writes beautifully from that uneasy space." —Alta, Heather Scott Partington

"Judith Freeman has long been one of our wisest and wiliest radicals. She's never written a book more daring than MacArthur Park, an audacious novel that is several books in one: a revealing piece of auto-fiction, a story about an alter-egoing female friendship, a portrait of a tricky marriage, a vivid road trip along little known Western highways, a debate between different visions of art (and womanhood!), and a rumination on the importance of finding somewhere to call home. As scrupulous and beautifully observed as all her work, this is one of those books that gets better and better as you go along."—John Powers, Critic at Large, Fresh Air with Terry Gross

"I'm a longtime fan of Judith Freeman's work, but I believe she's surpassed herself with MacArthur Park. It's as though she's distilled all she's learned and experienced in her life and turned it into a beautiful story of friendship."—Lisa See, author of The Island of Sea Women

"A wonderful and revealing book about the bond between two strong American women involved in a lifelong triangle and the different, sometimes conflicting, paths they take across time—and across the country—toward intimacy and real self-knowledge. Eccentric, readable, and beautifully crafted, this novel shows us what it means to be an artist and what it means to love other people, and a stream of bracing fun and wit burbles behind the book's powerful, contemporary American story.  Freeman, as always, captures nuance and character in swift, evocative strokes, and never flinches from taking a hard look at what the dark future holds and how we are to face it."—Amy Wilentz, author of The Rainy Season

"Like Crossing to Safety, Wallace Stegner's classic novel of life-long friendship in all its richness and complexity, Judith Freeman's MacArthur Park invites us into the deepest, truest, most contradictory chambers of the intimate, difficult, and surprising bonds between three beautifully drawn characters across the decades. You might not always like these three, but you will love them, as I do—for who they once were, who they have become, and who they may yet still be."—John Burnham Schwartz, author of The Red Daughter and The Commoner

"A fascinating novel built delicately on the shifting sands of interwoven destinies, MacArthur Park tells the tale of three flawed people intimately linked by love and mutual history. Judith Freeman's humanity and compassion are a marvel, as is her understanding of the deep roots of friendship and the patient unfolding of relationships."—Janet Fitch, author of The Revolution of Marina M.

"Judith Freeman's gift as a writer is weaving faces and places into the vivid landscapes she knows so well. This time she takes us from L.A's MacArthur Park to Utah through the rural west, while offering a glimpse of the feminist art world in a moving and complex story about childhood best friends, and the lover who later comes between them. MacArthur Park is a poetic and mysteriously wondrous tale of marriage and friendship."—Tina Barney, photographer

"Judith Freeman's luminously written tale of two friends on a journey toward self-resolution shines with grace, wisdom, and compassion. I was so entranced by the inner and outer worlds Freeman creates, I didn't want this heart-opening book to end."—Barbara Feldon, actor/author of Living Alone & Loving it!

"Judith Freeman's spellbinding, exquisitely written new novel about a long marriage and a longer, difficult friendship, stands as proof that the examined life is well worth the telling. This is a book that a young novelist, no matter how dazzling, could never produce: MacArthur Park is emotionally mature, steeped in experience, and luminous from a lifetime of paying fierce, close attention to the world and its maddening humans. A beauty of a book."—Michelle Huneven, author of Blame

"There are books you read and feel enlightened and content when you are done. Then there are other novels that, upon finishing, you are pulled to reread almost immediately.  Judith Freeman's MacArthur Park is in that second category, a book so nuanced yet so rich in emotional and sensory detail that you want to begin again.  It is  the story of a lifelong friendship between two very different creative women, a flamboyant, self-centered artist and an earnest, late-blooming writer, whose relationship is complicated and deepened when the writer marries her friend's ex-husband. The women's final road trip from Los Angeles to their small hometown in Utah is brilliant and quietly devastating."—Anne Taylor Fleming, author of Marriage: A Duet and As If Love Were Enough
 

Pantheon, 9780593315958, 384pp.
Publication Date: October 12, 2021
About the Author
JUDITH FREEMAN is the author of four novels (Red Water, The Chinchilla Farm, Set for Life, and A Desert of Pure Feeling), a collection of stories (Family Attractions), a biography of Raymond Chandler (The Long Embrace), and a memoir (The Latter Days). She lives in California and Idaho.