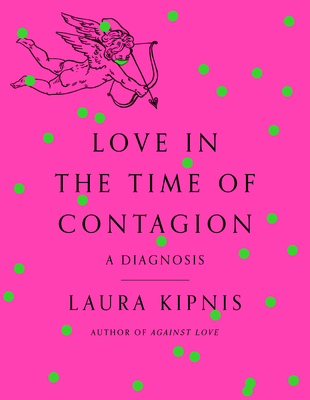 Love in the Time of Contagion
A Diagnosis
Hardcover

* Individual store prices may vary.
Other Editions of This Title:
Digital Audiobook (2/7/2022)
Description
In this timely, insightful, and darkly funny investigation, the acclaimed author of Against Love asks: what does living in dystopic times do to our ability to love each other and the world?

COVID-19 has produced new taxonomies of love, intimacy, and vulnerability. Will its cultural afterlife be as lasting as that of HIV, which reshaped consciousness about sex and love even after AIDS itself had been beaten back by medical science? Will COVID end up making us more relationally conservative, as some think HIV did within gay culture? Will it send us fleeing into emotional siloes or coupled cocoons, despite the fact that, pre-COVID, domestic coupledom had been steadily losing fans?

Just as COVID revealed our nation to itself, so did it hold a mirror up to our own relationships. In Love in the Time of Contagion, Laura Kipnis weaves (often hilariously) her own (ambivalent) coupled lockdown experiences together with those of others, and sets them against a larger backdrop: the politics of the virus, economic disparities, changing gender relations, and the ongoing institutional crack-ups prompted by #MeToo and Black Lives Matter, as she maps their effects on the everyday routines and occasional solaces of love and sex.
Praise For Love in the Time of Contagion: A Diagnosis…
"Riveting about what we have used the pandemic to do to, and for, ourselves Kipnis's book is genuinely enlivening about a terrible thing. This may be just the kind of wit and wisdom we need to do more than merely survive our bad times."
—Adam Phillips, author of Attention Seeking

"Cultural critic and essayist Kipnis explores how Covid-19 and the socio-economic turbulence of the recent years have reshaped concepts of dating, love, sex, and interpersonal closeness…In this witty four-essay collection, she explores how the pandemic, in tandem with such preexisting crises as political polarization, accelerating economic disparities, and racial and sexual injustice, has permanently altered intimate relationships . . . Fearless and sharply observed, this book suggests that future post-pandemic challenges will have less to do with its biological legacy to humanity and more to do with the impact of a virus on interpersonal closeness. Provocative and darkly humorous."
—Kirkus Reviews
Pantheon, 9780593316283, 224pp.
Publication Date: February 8, 2022
About the Author
LAURA KIPNIS is a cultural critic and former video artist. The author of seven previous books, her writing has also appeared in The New York Review of Books, The Guardian, Slate, The Atlantic, Harper's, Playboy, The New York Times Magazine, The New York Times Book Review, and Bookforum. Kipnis is a professor at Northwestern University, where she teaches filmmaking.