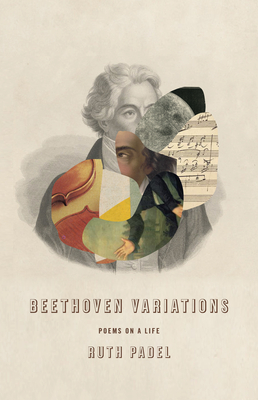 Beethoven Variations
Poems on a Life
Hardcover

* Individual store prices may vary.
Other Editions of This Title:
Digital Audiobook (4/19/2021)
Description
"Padel's imagery and imagination took me deeper into Beethoven than many biographies I've read." —Anthony Tommasini, The New York Times

A fascinating poetic journey into the mind and heart of a musical genius, from the author of the celebrated Darwin: A Life in Poems

Ruth Padel's new sequence of poems, in four movements, is a personal voyage through the life and legend of one of the world's greatest composers. She uncovers the man behind the music, charting his private thoughts and feelings through letters, diaries, sketchbooks, and the conversation books he used as his hearing declined. She gives us Beethoven as a battered four-year-old, weeping at the clavier; the young virtuoso pianist agonized by his encroaching deafness; the passionate, heartbroken lover; the clumsy eccentric making coffee with exactly sixty beans. Padel's quest takes her into the heart of Europe and back to her own musical childhood: Her great-grandfather, who studied in Leipzig with a pupil of Beethoven's, became a concert pianist before migrating to Britain; her parents met making music; and Padel grew up playing the viola, Beethoven's instrument as a child. Her book is a poet and string player's intimate connection across the centuries with an artist who, though increasingly isolated, ended even his most harrowing works on a note of hope.
Praise For Beethoven Variations: Poems on a Life…
"Padel's imagery and imagination took me deeper into Beethoven than many biographies I've read . . . [The] poems are informed by her lifelong immersion in music, starting from her youth, when her father, a psychoanalyst and cellist, conscripted her into a family ensemble . . . Padel knows her history. But a poet is free to inhabit her subject and elaborate on the record. And she describes Beethoven's music vibrantly." —Anthony Tommasini, The New York Times

"With a conversational intimacy, much like the composer's chamber works, it is the orchestration of one life through the prism of another, structured around Padel's expansive empathy. Padel's light touch recharges the reader's perception of the unfolding drama of the composer's life." –Los Angeles Review of Books

"As fine a distillation of Beethoven's biography as can be imagined: beautifully written, factual but elegant, touching, and funny too . . . Padel also includes a list of selected musical works, and it could serve perfectly for anyone wanting to listen to Beethoven's most enduring pieces and to encounter, as she puts it in a poem, 'the unquenchable spirit / that powers every note he [wrote].'" —Bruce Whiteman, The Hudson Review

"Two lives drawn beneath the lens, the composer's and her own, interacting in ways that can be bold and, finally, breathtaking. On the Eroica Padel is spectacular. The composer is 'fire-dust, gold-flight / winching upwards into pure light' as he drives 'forward into a new-world dawn / thrilling with dissonance, calling up wild-steel angels.'" –Paul Griffiths, Times Literary Supplement

"Profound reflections on Beethoven's life and music." --Catholic New York

"Poetry, biography, music and memoir collide in this wonderful collection, a tender and evocative portrait of the man and his music" –Tatler (Best Books of 2020)

"Balancing a historian's fidelity to archives and a musician's passion for composition, Padel offers a lavish poetic biography of Beethoven . . . Aficionados of classical music may draw inspiration from this ambitiously conceived and realized reconsideration of Beethoven's genius." —Publishers Weekly
 
"How to uncover from biographical details the mystery that is music? With precision,
heart-breaking beauty and lyric insight, Ruth Padel performs a miracle: Beethoven
comes alive before us, the son of a drunk, who became a genius, and lost everything,
and found his way back to the center. And here we are, following Padel's own genius
for composing the music of a story via lyrical means. You will find your heart shored up
/ by meeting the trapped brilliance of his eyes, she writes. Indeed." —Ilya Kaminsky,
author of Deaf Republic
 
"Poetry, biography, music and memoir collide in this wonderful collection from Ruth
Padel . . . A tender and evocative portrait of the man and his music, and most of all the
profound ways it affects listeners and performers." —Francesca Carington, Tatler
 
"What a wonderful and unusual idea. Ruth Padel writes with true passion; her love for,
and understanding of, the man and his music shine through each poem." —Steven
Isserlis, cellist
 
"Beethoven Variations is absolutely wonderful! Steeped in the music, and in aspects of his life we maybe never think about—a fascinating summation of Beethoven!" —Sean Rafferty, In Tune, Radio 3
 
"Beethoven's music encompasses the entire blinding spectrum of human thought and
emotion, from violent to ethereal, from chaos to sublimity. Ruth Padel's poems
encompass that uncontainable spirit to an astounding degree, and preserve the primal
shock of our first hearing." —Alex Ross, author of The Rest is Noise, music critic of The New Yorker
Knopf, 9780593317723, 144pp.
Publication Date: February 2, 2021
About the Author
RUTH PADEL has written twelve collections of poetry, including the best-selling Darwin: A Life in Poems. She was the first resident writer at the Royal Opera House, Covent Garden, and the first money she ever earned--five pounds--was as a student playing viola in Westminster Abbey. She is a fellow of the Royal Society of Literature and Professor of Poetry at King's College London.