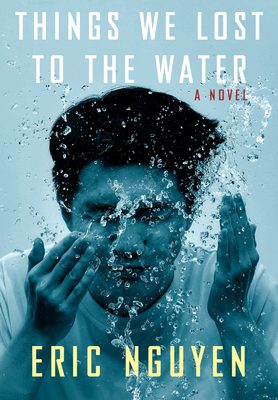 Things We Lost to the Water
A novel
Hardcover

* Individual store prices may vary.
Description
A stunning debut novel about an immigrant Vietnamese family who settles in New Orleans and struggles to remain connected to one another as their lives are inextricably reshaped.

When Huong arrives in New Orleans with her two young sons, she is jobless, homeless, and worried about her husband, Cong, who remains in Vietnam. As she and her boys begin to settle in to life in America, she continues to send letters and tapes back to Cong, hopeful that they will be reunited and her children will grow up with a father.

But with time, Huong realizes she will never see her husband again. While she attempts to come to terms with this loss, her sons, Tuan and Binh, grow up in their absent father's shadow, haunted by a man and a country trapped in their memories and imaginations. As they push forward, the three adapt to life in America in different ways: Huong gets involved with a Vietnamese car salesman who is also new in town; Tuan tries to connect with his heritage by joining a local Vietnamese gang; and Binh, now going by Ben, embraces his adopted homeland and his burgeoning sexuality. Their search for identity--as individuals and as a family--threatens to tear them apart, un­til disaster strikes the city they now call home and they are suddenly forced to find a new way to come together and honor the ties that bind them.
Praise For Things We Lost to the Water: A novel…
An Atlanta Journal-Constitution, The Millions, We Are Bookish, and Nerd Daily Most Anticipated Book of the Year

"This is an elemental book, of water, for sure, but also of other elements of life, including love and loss. Vietnamese people know all about these elements, coming from a country whose entire length is bordered by a sea, and from a history saturated with loss. Love is one element that has enabled their survival, but sometimes at a cost. Eric Nguyen's powerful novel ripples and gleams with the unpredictable flow and surge of love, which, like water, can drown us or sustain us. From a war to a hurricane, from an ocean to a flood, Things We Lost to the Water proves itself to be a novel that sustains us." 
—Viet Thanh Nguyen, Pulitzer Prize-winning author of The Sympathizer

"Exquisitely well-written, Things We Lost to the Water is a tender, haunting story of loss, love, family and survival. A moving and powerful debut."
—Charles Yu, National Book Award-winning author of Interior Chinatown

"Nguyen's Things We Lost to the Water is a novel full of tenderness and courage. The family at its center hums with love and strength, and their journey to and within New Orleans brings a fresh perspective to that most iconic city. Nguyen will broaden the reader's understanding of migration, perseverance, and what it means to be American. This is exactly the sort of novel we need right now."
—Kawai Strong Washburn, author of Sharks in the Time of Saviors
 
What a book! Eric Nguyen has written one of the best debut novels in years. In precise, exquisite sentences, Nguyen details the emotional lives of three family members over decades of struggle, survival, joy. Things We Lost to the Water is a masterpiece, an arrival, an expression of love, from a beautiful and necessary new voice. 
—Matthew Salesses, author of The Hundred-Year Flood

"A devastatingly beautiful debut novel of secrets, deceits, and survivals. An extraordinary tale of a mother and her two sons, torn apart by the storms of Vietnam, to be tested again by the hurricanes of New Orleans. The end has me weeping from joy, sorrow and hope. Eric Nguyen's talent radiates via his urgent prose and his ability to sketch the fine line between loyalty and betrayal, between what brings us together and what breaks us apart. Things We Lost to the Water is a powerful, stunning, and necessary read!"
— Nguyễn Phan Quế Mai, author of The Mountains Sing 

In Things We Lost to the Water, Eric Nguyen not only uses water to great effect but the prose itself feels like water: clear, powerful, and life-giving. While reading we believe that being loved and being flawed are not incompatible, nor belonging and being estranged. Nguyen helps us understand that we can all float if we let go of having to swim the same way to the same rhythm—we will find our own level in our own time. This is a beautiful book!
—Nicola Griffith, author of Hild

"Debut author Nguyen movingly portrays the way adopted homes can become as cherished and familiar as ancestral ones . . . but also the truth that new loves can never quite heal old wounds . . . An engrossing, prismatic portrait of first- and second-generation Vietnamese American life."
—Kirkus Reviews
Knopf, 9780593317952, 304pp.
Publication Date: May 4, 2021
About the Author
ERIC NGUYEN earned an MFA in Creative Writing from McNeese State University in Louisiana. He has been awarded fellowships from Lambda Literary, Voices of Our Nation Arts (VONA), and the Tin House Writers Workshop. He is the editor in chief of diaCRITICS.org. He lives in Washington, DC. Things We Lost to the Water is his first novel.