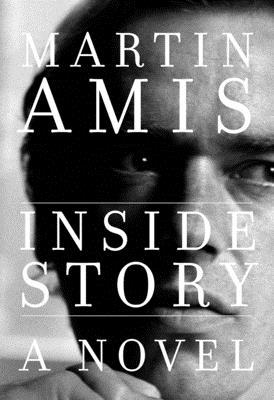 Inside Story
A novel
Hardcover

* Individual store prices may vary.
Description
"The Mick Jagger of literature . . . Amis is the most dazzling prose stylist in post-war British fiction." —Mick Brown, The Daily Telegraph

"[A] charismatic compound of fact and fiction . . . Martin Amis has retained the power to surprise." —Parul Sehgal, The New York Times

From one of the most highly acclaimed writers at work today: his most intimate and epic work yet--an autobiographical novel of sex and love, family and friendship.

This novel had its birth in the death of Martin Amis's closest friend, the incomparable Christopher Hitchens, and it is within that profound and sprawling friendship that Inside Story unfurls. From their early days as young magazine staffers in London, reviewing romantic entanglements and the latest literary gossip (not to mention ideas, books, and where to lunch), Hitch was Amis's wingman and adviser, especially in the matter of the alluringly amoral Phoebe Phelps--an obsession Amis must somehow put behind him if he is ever to find love, marriage, a plausible run at happiness.

Other figures competing as Amis's main influencers are his literary fathers—Kingsley, of course; his hero Saul Bellow; the weirdly self-finessing poet Philip Larkin—and his significant literary mothers, including Iris Murdoch and Elizabeth Jane Howard. Moving among these greats to set his own path, Amis's quest is a tender, witty exploration of the hardest questions: how to live, how to grieve, and how to die. In search of his answers, he surveys the horrors of the twentieth century, and the still-unfolding impact of the 9/11 attacks on the twenty-first--and considers what all of this has taught him about how to be a writer.

The result is a love letter to life--and to the people in his life--that achieves a new level of confidentiality with his readers, giving us the previously unseen portrait of his extraordinary world.
Praise For Inside Story: A novel…
"Inside Story is a book of gloriously unchecked preoccupations: sex, Saul Bellow, literature, sex, Philip Larkin, anti-Semitism, aging, smoking, sex, Christopher Hitchens, terrorism, suicide. Did I mention sex? . . . Amis's recollections of flirting and seductions in 1970s London are like strikes of lightning, vivid glimpses of a young writer on the make . . . Fans will revel in the excess and piling up of Amis's sentences, which are both wired and ruthlessly controlled." —Taylor Antrim, Vogue

"A five-course meal of a book—with frequent palate cleansers of Amis-bouches. It's a memoir tucked inside an endearingly discursive novel." —David Friend, Vanity Fair ("The 15 Best Books of 2020")

"The great lines come flying at you, as always, volleyed out of the cleft of the book and into the magic space beneath your raised eyebrows . . . and there are good jokes, too . . . [Amis] wants to lance the moment with language, and he wants his language to live forever . . . I put the book down in a mood of deep and disquieted self-consideration. How do I measure up to all this? Not the writing, but the level of perception, the level of interrogation, the level of work, the level of living. And then the mood passed, and as a reader I felt—like an absolution—the gaze of the author, and his understanding. That's greatness. That lasts." —James Parker, The Atlantic

"Warm, generous and deeply moving, whether on the subject of fatherhood, love or friendship (particularly with Christopher Hitchens). This is not only the best book Amis has written in years; it is up there with Money and London Fields as the finest work he's produced." —Alex Preston, The Observer

"One of [Amis's] liveliest and most entertaining works . . . Amis writes with real feeling." --Kurt Wenzel, The East Hampton Star

"Now 71, this once-young buck of the British literary scene cannot help but look death, mortality and the meaning of life squarely in the face. And he does so with a singular panache and much offhanded wit . . . [Inside Story] caps Amis' estimable literary career with cheeky candor and more than a touch of razzle-dazzle." —Robert Weibezahl, BookPage

"Brilliant . . . Abounds with entertaining anecdotes . . . [Amis] explores the rich terrain of how matters of the heart (and loins) inform art . . . Stylistically, Inside Story is most reminiscent of Dylan's Chronicles, a master artist following his muse to create a genre-defying and career-defining work." —Bill Kelly, Booklist (starred review)

"Hitchens lived his life as extravagantly as he loved it, and Amis's elegant tribute to his friend is a monument to both of them." —Kyle Smith, New Criterion

"Deeply engaging . . . Resembles Sebald's influential genre-straddlers with the inclusion of photos . . . The book is almost everywhere wonderfully readable, rich in the familiar Amis pleasures of wit, insight, and well-formed anecdotes . . . An intriguing, often brilliant addition to a storied career." —Kirkus Reviews (starred review)

"Consistently intelligent and compulsively readable . . . Amis again proves himself to be as savvy a thinker as he is a writer as he applies his insight and curiosity as a novelist to this stylish and genuine account of his development as a writer. The result reaches the heights of his finest work." —Publishers Weekly (starred review)

"One of the best qualities of the book is its regard for the reader . . . Inside Story contains wonderful considerations of what it is to be a writer, the importance of reading while writing, and writing while reading. It offers, in a way, what Amis's parents gave him: an insight into the lives of writers . . . His love for literature is earnestly shared [and] a lifetime of scholarship is reflected in the quality of the writing." —Sinead O'Shea, The Millions
Knopf, 9780593318294, 560pp.
Publication Date: October 27, 2020
About the Author
MARTIN AMIS is the author of fourteen previous novels, the memoir Experience, two collections of stories, and seven nonfiction books. He lives in Brooklyn.