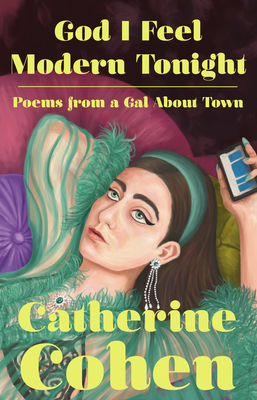 God I Feel Modern Tonight
Poems from a Gal About Town
Hardcover

* Individual store prices may vary.
Other Editions of This Title:
Digital Audiobook (2/1/2021)
Description
Poems of heartbreak and sex, self-care and self-critique, urban adventures and love on the road from the millennial quarantine queen and comedy sensation.
 
in L.A. we got naked and swam in the ocean
we ate cured meats and carrots
& sat in the back of a red pickup truck
like we were in a film where two old friends fight
& wrestle their way into a hug
heave-sobbing as the dust settles
I want to be famous for being the first person
who never feels bad again
 
In these short, captivating lyrics, Catherine Cohen, the one-woman stand-up chanteuse who electrified the downtown NYC comedy scene in her white go-go boots, and who has been posting poignant, unfiltered poems on social media since before Instagram was a thing, details her life on the prowl with her beaded bag; she ponders guys who call you "dude" after sex, true love during the pandemic, and English-major dreams. "I wish I were smart instead of on my phone," Cat Cohen confides; "heartbreak, / when it comes, and it will come / is always new." A Dorothy Parker for our time, a Starbucks philosophe with no primary-care doctor, she's a welcome new breed of everywoman--a larger-than-life best friend, who will say all the outrageous things we think but never say out loud ourselves.
Praise For God I Feel Modern Tonight: Poems from a Gal About Town…
"An unflinching collection that explores sex, ego, art, bodies, millennial ennui, and longing." —Arianna Rebolini, Buzzfeed

"Cat's poetry is the perfect manifestation of her singular persona. It's outrageously funny, bold, unafraid, absurd, unadorned and somehow consistently profound. I belly-laughed involuntarily throughout, was repeatedly moved, and mostly marveled at her deliciously unique voice." —Ben Platt
 
"This book is a party & at the party you meet somebody who is hilarious & charming (but also hot & smart!) & the reason you're together is because you're both a little sad in a modern way plus the outlet is there & your phones are both at 12 percent. After reading this I wrote seven million things I've always been meaning to but hadn't yet because I felt I didn't have permission & that is what these poems gave me: permission to be the freaky little bitch I've always been, searching endlessly for something more." —Melissa Lozada-Oliva, author of Peluda
 
"Does anyone chronicle and lampoon millennial ennui as hilariously, as vulnerably and as bitingly as Cat Cohen? NFW TBH. I'm a stan!" —Alan Cumming, author of Not My Father's Son
Knopf, 9780593318331, 80pp.
Publication Date: February 2, 2021
About the Author
Catherine Cohen, a native of Houston, Texas, is a comedy sensation who has a residency at Joe's Pub and hosts a weekly show at Club Cumming in NYC; she also cohosts the popular podcast about dating, boys, and sex, Seek Treatment. She has been featured in The New York Times, Vogue, and The Village Voice, and was named Best Newcomer at the Edinburgh Fringe Festival in 2019. Her many film and TV credits include a role in Michael Showalter's The Lovebirds and Season 3 of High Maintenance on HBO. Follow her while you're young @catccohen on Instagram.