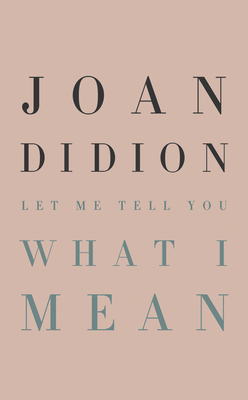 Let Me Tell You What I Mean
Hardcover

* Individual store prices may vary.
Other Editions of This Title:
Paperback, Large Print (2/9/2021)
Description
*A New York Times Best Seller*
 
From one of our most iconic and influential writers: a timeless collection of mostly early pieces that reveal what would become Joan Didion's subjects, including the press, politics, California robber barons, women, and her own self-doubt.
 
A Most Anticipated Book of 2021 from Vogue, TIME, Bustle, The New York Times and many more. 

These twelve pieces from 1968 to 2000, never before gathered together, offer an illuminating glimpse into the mind and process of a legendary figure. They showcase Joan Didion's incisive reporting, her empathetic gaze, and her role as "an articulate witness to the most stubborn and intractable truths of our time" (The New York Times Book Review).

Here, Didion touches on topics ranging from newspapers ("the problem is not so much whether one trusts the news as to whether one finds it"), to the fantasy of San Simeon, to not getting into Stanford. In "Why I Write," Didion ponders the act of writing: "I write entirely to find out what I'm thinking, what I'm looking at, what I see and what it means." From her admiration for Hemingway's sentences to her acknowledgment that Martha Stewart's story is one "that has historically encouraged women in this country, even as it has threatened men," these essays are acutely and brilliantly observed. Each piece is classic Didion: incisive, bemused, and stunningly prescient.
Praise For Let Me Tell You What I Mean…
"Didion's remarkable, five decades-long career as a journalist, essayist, novelist, and screen writer has earned her a prominent place in the American literary canon, and the twelve early pieces collected here underscore her singularity. Her musings—whether contemplating "pretty" Nancy Reagan living out her "middle-class American woman's daydream circa 1948" or the power of Ernest Hemingway's pen—are all unmistakably Didionesque. There will never be another quite like her." —O Magazine

"[These] essays are at once funny and touching, roving and no-nonsense. They are about humiliation and about notions of rightness. About mythmaking, fiction writing, her "failed" intellectualism and the syntactic insides of Hemingway's craft. . . . From the outset Didion's nonfiction has shown no obligation to the whopping epiphanic. Realizations occur, but she relates them without splendor, as if she's extracting a tincture. . . . Reading newly arranged Didion [. . .] feels like reaching that dip in a swimming pool where the shallow end suddenly becomes the deep end. The bottom drops out, and you are forced to kick a little, to tread. This is why we return to her work again and again. But Didion cares less for timelessness than for the evanescence of language, mistrusting pink icing or anything else that might launder truth. Undergirding the entire collection is a regard for ephemerality. Of glory, and of the era when fashion photographers called their spaces "the studio." Of fairy tales and failed attempts at quietude, of a child's memory soup of imagination. . . . Didion's pen is like a periscope onto the creative mind — and, as this collection demonstrates, it always has been. These essays offer a direct line to what's in the offing." --Durga Chew-Bose, The New York Times Book Review
 
"The book traces her journey and development as a writer of magisterial (a word she would never use) command and finely measured style. She brought new eyes to the American scene, whether charting the disconnect between traditional and hippie media or with piercing observations of boldfaced names including Ernest Hemingway, Nancy Reagan and Martha Stewart. She intuited the fragmentation that would breed an internet world, and she sensed danger in the shallow myth-making of celebrity journalism. . . . The incomparable journalism and self-reflection that accompanied every stage of her success would build her legacy. . . . The new book captures the essence of Didion in countless lapidary sentences, especially in the 1998 essay "Last Words," which deconstructs the lean, "deceptively simple" opening paragraph of Hemingway's A Farewell to Arms. . . . She would come to match that economy with unwavering vision, setting a standard for those who have inhaled Didion not just as a writer's writer, but also as a soul – still-centered, self-haunted – of modern experience."  --Matt Damsker, USA Today (★★★★ out of four)

"There's plenty of journalistic gold in Let Me Tell You What I Mean. . . . What's particularly salient is her trademark farsightedness, which is especially striking decades later. . . . The relevance of her observations in today's fractured world of fringe media is uncannily prescient." --Heller McAlpin, NPR
 
"[This collection] brings together previously uncollected pieces in a prismatic retrospective; the critic Hilton Als charts the arc of her career in a rich foreword. . . . As usual, Didion exceeds our expectations. . . . [The essays] follow the chronology of Didion's publication in journals and magazines, but it shifts back and forth in time as she contemplates the thread of her own life against the tapestry of postwar America. . . . She jars us beyond the comfort zones of platitudes and groupthink. . . . Didion the literary critic is a marvel: Her dissection of Hemingway's opening sentence in A Farewell to Arms is a masterpiece in its own right. . . . The Didion of Let Me Tell You What I Mean is [. . .] a revelation, as the woman behind the curtain steps forward, more intimate somehow, with flashes of feminist feeling." --Hamilton Cain, O Magazine
 
"Didion's decades-long attempt to chronicle the images around her is now indelible, both for shifting the literary canon's idea of what personal reportage could be, and for the snapshots of a particular American experience captured in her prose. With her newest collection of earlier published essays, Let Me Tell You What I Mean, Didion's ever-expanding influence is worth reconsidering. . . . It's surprisingly easy to find oneself in Didion's sway, even unintentionally. Her range is varied but returns again and again to certain tropes and topics: laconic aloofness, the female heroine as distanced observer, the futility of meaning, the myth of narrative cohesion, grief, Los Angeles, New York, foreign reporting, political conventions, the wounded woman, the post-wounded woman. For contemporary authors, touching on any of these puts one in conversation with Didion [but]. . . . those making the Didion comparisons often misunderstand her—her style is not as easily copied as some might think. Her apparent passivity has a specific intention that goes beyond listlessness." --Antonia Hitchens, The Wall Street Journal
 
"Let Me Tell You What I Mean works like a skeleton key to unlock Didion's continued significance in American culture. What has made her so lasting and important to so many? Why are we still talking about her and reading her and teaching her writing in classrooms? The book unpacks this legacy subtly, in a way as twofold as its title: Because she means things, and because she means something. . . .  She is the writer who can practically disembowel a politician or pundit's bad reasoning, take apart a brainless movie or book, or reduce a pompous public figure to a hollow shell, and that's why writers love her or fear her. Words are her scalpels." --Alissa Wilkinson, Vox
 
"Joan Didion's prose remains peerless. . . . Reading [her new collection], you're once again reminded that the observations and subjects might not be unique, but that the angles from which Didion looked at everything are totally different from anyone else's." --Bret Easton Ellis, The Los Angeles Magazine
 
"How does Joan Didion do it? Her words are still weapons, but the diamond-encrusted kind, as beautiful as they are deadly, and, more important, they are entirely at her command. Let Me Tell You What I Mean, a collection of essays spanning essentially the last third of the twentieth century, is a tiny jewel box of a book, and you could read it for the prose alone—no one places a so like Joan Didion—but the real magic is that she pulls it off: she tells you what she means, and every injury is on purpose. There is a generosity to that, I think, and it feels like a gift just to understand what someone else meant even if one cannot hope to return the favor."  --Hasan Altaf, The Paris Review Daily

"In this new collection, the famed essayist demonstrates her longstanding mastery of the form. . . . In six decades of reporting with meticulous, nuanced notice, Didion has montaged in words myriad mortals, monuments, and movements. For this book, she moved her scrutinizing eye over Nancy Reagan, Tony Richardson, and Martha Stewart, William Randolph Hearst, Ernest Hemingway, and Gamblers Anonymous, to generate a fair-minded assessment. . . . Joan Didion merits a luminous legacy in American letters on par with Mark Twain, Walt Whitman, and Frederick Douglass, Emily Dickinson, Carson McCullers, and Eudora Welty." --The Washington Independent Review of Books
 
"Over the past half-century, few authors have been as consistently impressive as Joan Didion, whose new book . . . amply demonstrates the author's deceptively straightforward prose, simultaneously spare, elegant, and incisive. . . . Both a practical entry point for neophytes and a celebration for longtime fans, Let Me Tell You What I Mean is yet another winner from an essential writer." --Kirkus Reviews ("Why Joan Didion Is Still Essential")
 
"With the release of 12 never-before-collected essays in Let Me Tell You What I Mean, Joan Didion reminds readers that she's been right about everything all along. . . . It's that storied ability to seek out the ruthless truth in her disparate subjects that has become her signature. . . . In nearly every paragraph [. . .] are hallmarks of what Als calls "the Didion gaze" — the callbacks and repetitions, the clean snap of a telling detail, the almost pathological aversion to sentiment and cliché . . . [Didion is] a visionary who for more than half a century has shown us how to look through a glass darkly, and see anew." --Entertainment Weekly ("The Center Will Still Hold: On the enduring legacy of Joan Didion")
 
"[Didion's essay] "Why I Write" constitutes a deeper drive than the parsing and ordering of observations; Didion's why subsumes an existential inquiry into the compulsion to write anything at all, questioning the source of inspiration and asking who, or what, is ultimately in control. In the essay, Didion describes a particular "shimmer" that would form around images in her mind, creating a frame of sorts that pulled her in, impelled her to set down words as a means of telling the scene into being. . . . Reading Let Me Tell You What I Mean with an eye toward the shimmer, I believe it is possible to identify which pictures, crystalline and resonant, drew Didion closer and compelled her to string words together until the molecules manifested a new truth." --Steffie Nelson, The Los Angeles Times
 
"In our own chaotic era, with the center again failing to hold, [these essays] offer an opportunity . . . to see afresh the writer who preceded the icon, the one who stood outside the culture, looking in. . . . The misuse of language is a frequent subject of Didion's, especially the kind of useless verbiage that comes out of politicians' mouths. . . . In "Last Words," Didion's stunning appreciation of Hemingway and the best essay in Let Me Tell You What I Mean, she reveals her approach to reporting, writing and, in fact, living." --Jessica Ferri, The Los Angeles Times
 
"Didion is a chronicler of our world, a writer who dissolves shared delusions to present cold reality with style. . . . [This collection] spotlights moments in Didion's progression as wordsmith and reporter alongside moments in culture." --TIME
 
"Didion presents a dozen eclectic essays. . . . They are quintessential Didion. . . . Didion's stories are personal, brilliant, and fascinating with her usual honesty." --The Florida Times Union ("Essay collection presents Joan Didion at her best")

"[A] dozen arresting, mind-tuning, previously uncollected essays in this exhilarating and instructive gathering spanning several decades . . . [Writing is] a voyage of discovery for Didion, conducted via meticulous observation and assiduous questioning of what she thinks and how her investigations make her feel. We see this at work in her responses to a reunion of the WWII 101st Airborne Division during the Vietnam War and a photo shoot with Nancy Reagan, and in profiles of Robert Mapplethorpe and Martha Stewart. Didion is both porous and steely, self-deprecating and in command. With a perceptive foreword by Hilton Als, who discerns the "uncanny" in Didion's exacting work, this an illuminating and inspiring addition to the influential Didion canon." —Donna Seaman, Booklist

"Unquestionably, Joan Didion has been the voice of a generation . . . But she has also been the voice of those who've followed—you can hear her concision; her taste in the spare, shimmery detail; her lean, muscular sentences; and her dogged questioning of perceived truths . . . Didion is the model and exemplar, but she's also just the best writer there is at melding the personal and the political, and bundling all the lit match-sticks of modern life into journalistic form."  —Christopher Bollen, Interview Magazine ("Ladies and Gentlemen, the Great Joan Didion")

"What you notice in Didion's nonfiction is how her clarity becomes even sharper when disquiet rattles the cage of the quotidian . . . What Didion sought was naturalness of expression as controlled by a true understanding of one's craft, the better to describe the ineffable, the uncanny in the everyday." —Hilton Als, from the foreword of Let Me Tell You What I Mean 

"A slender, highly satisfying collection . . . In an appreciative introduction, New Yorker theater critic Hilton Als praises Didion as "a carver of words in the granite of the specific." Stylistic precision and the "energy and shimmer" of her prose are fully evident in this volume of previously uncollected pieces . . . All reveal the author's shrewd, acerbic critical eye . . . Didion's rejection from Stanford elicited an essay about college as consumption, and her skewering of consumption and artifice recur as themes—for example, in her observation of the ways women stage themselves for portrait photographs. Several particularly revealing essays focus on writing." —Kirkus  
  
"This wide-ranging essay collection from Didion showcases her strengths as a short form writer . . . The pieces trace Didion's development as an essayist and offer glimpses of late-20th-century social history . . . As always, the writing is captivating . . . Didion fans new and old will be delighted." —Publishers Weekly 

"This slim volume of uncollected nonfiction is full of small pleasures: Didion's trademark anti-sentimentality, for one; her rhythmic prose; her ruthlessness (see her assessments of gambling addicts, hippies, Nancy Reagan); her wit. In the charming "Telling Stories" we also get self-effacement: a piece about why she never made the grade as a young short story writer...complete with rejection notices compiled by her agent." —Taylor Antrim, Vogue

"[These essays] provide a new view into the essayist's mind at work. Didion ruminates on her most familiar subjects—politics, California and writing itself—in a voice that is refreshing, critical and ahead of its time." —TIME  
 
"Back in 1968, Joan Didion identified a problem with the mainstream media. . . . Didion's critique seems more prescient than ever. . . . [This collection] is sure to be of interest to Didion completists and fans of such cultural touchstones as Slouching Toward Bethlehemand The Year of Magical Thinking. . . [These essays] make it clear why she has been an essential voice in American arts and letters for more than half a century." --Ann Levin, Associated Press
 
"Fruitful. . . . [Let Me Tell You What I Mean] offers some familiar pleasures. The earliest columns, from the late sixties, remain crisp and engaging on the page." --Nathan Heller, The New Yorker

"These 12 pieces make an excellent introduction to Didion's gimlet eye on American life. With a foreword by critic Hilton Als, Let Me Tell You What I Mean includes the essay "Why I Write," profiles of such disparate figures as Robert Mapplethorpe and Nancy Reagan, and a consideration of Hearst Castle." —Bethanne Patrick, The Washington Post 
 
"Didion's remarkable, five decades-long career as a journalist, essayist, novelist, and screen writer has earned her a prominent place in the American literary canon, and the twelve early pieces collected here underscore her singularity. Her musings—whether contemplating "pretty" Nancy Reagan living out her "middle-class American woman's daydream circa 1948" or the power of Ernest Hemingway's pen—are all unmistakably Didionesque. There will never be another quite like her." —O Magazine

"One of the most legendary figures in all of literature and journalism, Joan Didion's new collection deserves attention, in part, because it is from Joan Didion. But there's reason for additional excitement: These essays are gathered from the very beginning of her long career, which started back in the 1960s. Covering many seemingly disparate topics—WWII, Martha Stewart, the function of the press—this collection promises to reveal a side of Didion that's both familiar and strikingly fresh." —Elle 
 
"In her new collection of essays, acclaimed author and National Book Award-winner Joan Didion explores the little corners of life as a young writer. Taken mostly from her early work, these pieces, which have never been collected before, are the delightful little nuggets of illumination Didion's fans have come to expect from the beloved writer." —Bustle 
 
"Prepare yourselves for 12 previously uncollected essays by Joan Didion. Drawn mostly from the earlier years of her more than five-decades-long career, these essays include interludes at a Gamblers Anonymous meeting and a reunion of World War II veterans in Las Vegas, as well as thoughts about meetings with the likes of Nancy Reagan, Robert Mapplethorpe, and Martha Stewart." —Fortune 
 
"You don't need to tell us to read Joan Didion twice ... [This collection] is just what you need to start the year off right." —HelloGiggles 

"Never miss an opportunity to read this author of novels and nonfiction, who has the eye of a detective, the heart of a romantic and the soul of a skeptical truth-teller." —The Detroit Free Press
Knopf, 9780593318485, 192pp.
Publication Date: January 26, 2021
About the Author
JOAN DIDION is the author of five novels, ten books of nonfiction, and a play. Her book, The Year of Magical Thinking, won the National Book Award in 2005. She lives in New York.