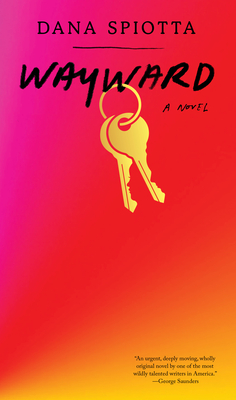 Wayward
A novel
Hardcover

* Individual store prices may vary.
Other Editions of This Title:
Digital Audiobook (7/5/2021)
Paperback, Large Print (8/3/2021)
Description
A NEW YORK TIMES NOTABLE BOOK OF THE YEAR • A "furious and addictive new novel" (The New York Times) about mothers and daughters, and one woman's midlife reckoning as she flees her suburban life.

"A virtuosic, singular and very funny portrait of a woman seeking sanity and purpose in a world gone mad." —The New York Times Book Review

"Riddled with insights into aging, womanhood, and discontent, Wayward is as elegant as it is raw, and almost as funny as it is sad." —Philadelphia Inquirer
 
"A comic, vital new novel" —The New Yorker
 
Samantha Raymond's life has begun to come apart: her mother is ill, her teenage daughter is increasingly remote, and at fifty-two she finds herself staring into "the Mids"—that hour of supreme wakefulness between three and four in the morning in which women of a certain age suddenly find themselves contemplating motherhood, mortality, and, in this case, the state of our unraveling nation.

When she falls in love with a beautiful, decrepit house in a hardscrabble neighborhood in Syracuse, she buys it on a whim and flees her suburban life—and her family—as she grapples with how to be a wife, a mother, and a daughter, in a country that is coming apart at the seams.

Dana Spiotta's Wayward is a stunning novel about aging, about the female body, and about female complexity in contemporary America. Probing and provocative, brainy and sensual, it is a testament to our weird times, to reforms and resistance and utopian wishes, and to the beauty of ruins.
Praise For Wayward: A novel…
A Best Book of the Summer: USA Today, Town & Country, The Philadelphia Inquirer, BuzzFeed, Real Simple, The Millions, and more

"Furious and addictive . . . Sam [is] an ideal guide, rash, funny, searching, entirely unpredictable, appalled at her own entitlement and ineffectuality—drawn with a kind of skeptical fondness . . . So much contemporary fiction swims about in its own theories; what a pleasure to encounter not just ideas about the thing, but the thing itself—descriptions that irradiate the pleasure centers of the brain, a protagonist so densely, exuberantly imagined, she feels like a visitation."
—Parul Sehgal, The New York Times

"Dana Spiotta is one of the most alert, ambitious, nuanced, and, yes, smartest of our contemporary novelists . . . Spiotta's novels, always rich with ideas and atmosphere, often focus on the arts . . . Here, architecture connects to Wayward's larger meditations about impermanence and decay — human, structural and even national." 
—Maureen Corrigan, Fresh Air

"Thrilling . . . Spiotta's novels are unfailingly dense with life—the textures, digressions, and details thereof—and Wayward is no exception. The novel is at once satirical and earnest: Sam asks what she can do to atone for her thoughtless privilege, what role she might play as an agent of change. There's much comedy in the asking, but the novel makes clear that the answers aren't straightforward. Spiotta offers grand themes and beautiful peripheral incidents . . . she writes with sly humor and utter seriousness; a rare articulation of midlife now. For this reader, there is uncommon pleasure in the paradoxes of this climacteric tale."
—Claire Messud, Harper's Magazine

"Exhilarating. . . Wayward reads like a burning fever dream. A virtuosic, singular and very funny portrait of a woman seeking sanity and purpose in a world gone mad."
—Joanna Rakoff, The New York Times Book Review

"A comic, vital new novel . . . if Wayward has competition in the category of best American novel devoted to the subject of perimenopause, I am not aware of it . . . [Spiotta] is satirizing her own demographic, and with verve. Her novel is laced with cranky comic passages on the nostalgic manias for crafting and mommy blogging, and on addictions to social media, personal fitness, and self-improvement—trappings of comfortable, contemporary womanhood . . . When a wife, not her husband, is the one to indulge a midlife crisis and abandon her family, her behavior is either derided as selfish or championed as subversive. A good novel shouldn't ask us to choose between those readings, and Spiotta has written a very good novel."
—Alexandra Schwartz, The New Yorker

"Masterful . . . a mordant, coruscating indictment of these times, liberal politics, affluenza, self improvement and social identity . . . Wayward explores the ironies and frailties of modern life, the human tendency to constantly gaze inward to become better, to move further . . . [Spiotta] swings for the fences."
—Karen Heller, The Washington Post

"With each novel, [Spiotta] tethers herself to a moment in time, devising original interviews and transcripts from the period with such verisimilitude that it can take a moment for the reader to realize these too are part of the author's magic trick . . . Spiotta is unsurprisingly great on the brute facts of middle age . . . The beauty of Wayward is how well it captures the lifetime it takes for mothers to really see their daughters and vice versa." —Sloane Crosley, The New York Review of Books

"Beautiful . . . breathtaking . . . a strikingly intelligent book, sometimes funny, sometimes painful . . . A brilliant novel with love—never a simple subject — at its core."
—Michael Schaub, Minneapolis Star Tribune

"Defiantly, poignantly a novel of middle age . . . One of the many strengths of Wayward is its unflinching portrayal of anger both personal and collective."
—Michele Filgate, Los Angeles Times

"Wayward is about rescuing your life from the mess you've made of it so far, while your body goes haywire … Simmering under Spiotta's deceptively breezy, fluid description of everyday life in 2017 Syracuse are large and perplexing questions about the eternal interplay of idealism and pragmatism, of the longing for a better world and the reality of human frailty. . . Sam dissects many flavors of contemporary delusion and distraction with consummate precision."
—Laura Miller, Slate

"This is story about female desire and fulfillment, a woman realizing she's fallen into roles she resents and giving in to the impulse to abandon them. Spiotta glides through her journey with sparkling prose, delving into the contradictions and complexities of being an aging woman—and raising a daughter who will one day do the same—in today's America."
—Arianna Rebolini, BuzzFeed's "28 Summer Books To Get Excited About"

"Spiotta writes beautifully about parenthood, aging, and other calamities that come with being alive in an unforgettable meditation on the indignities of life in the modern age."
—Town & Country

"Wayward is a strikingly human and affecting story… gloriously cool, deftly assembled, brimming with mood… a hymn to iconoclasm, a piercing novel about what we lose and gain by when we step out of life's deepest worn grooves."
—Vogue's "Best Books to Read in 2021"

"Spiotta mines [her] material with laser precision and wit." 
—People

"Spiotta helps us feel the weight that patriarchy places on younger and older women alike . . . By exploring Sam's specific experience as a middle-aged liberal gentrifier, Spiotta does succeed in illuminating one corner of American life—no small feat for any novel." —The Nation

 "Riddled with insights into aging, womanhood, and discontent, Wayward is as elegant as it is raw, and almost as funny as it is sad.  Spiotta will kick your heart's ass."
—Patrick Rapa, Philadelphia Inquirer

"Wayward takes on marriage and motherhood — and shatters our safe, tidy concepts of each. Razor-sharp . . . Wayward stands tall in its representation of these harried times."
—Alexis Burling, San Francisco Chronicle

"An engrossing, interior mother-daughter story that expands into a sharp social commentary."
—Kirkus [starred review]

"At once a love letter to the Salt City and a smart and introspective device for illuminating the present through the very recent past . . . Sam immerses herself in feminist resistance, [but] her malaise is as potent as her yearning for activism. While trying to salvage a relationship with her daughter, she desperately searches for meaning in a world headed toward uncertain ruin."
—Library Journal [starred review]

"A wonderfully mischievous and witty story . . . A knockout."
—Publishers Weekly [starred review]

"What a thrilling experience to take a wayward journey along with Dana Spiotta's heroine, in the social landscape of America when America is probing its future, in a woman's complex internal landscape as she forges forward. Wayward is a fiercely funny and deliciously subversive novel."
—Yiyun Li

"An urgent, deeply moving, wholly original novel by one of the most wildly talented writers in America. This is Spiotta's best book yet, rich with all the joyful immersion-in-culture that characterized her earlier work, and of which she is a master, but with, it seems to me, more heart, hope, and urgency. There's not a smarter, more engaging, more celebratory writer working today than Dana Spiotta, and here she shows us to ourselves with stunning, sometimes lacerating, honesty, but also with a feeling of genuine hope for us, i.e., with kindness. I finished the book last night and woke this morning both fonder of, and more terrified for, America."
—George Saunders

"A dazzling lightning bolt of a novel which illuminates the sometimes exhilarating, sometimes heartbreaking moments of connection and disconnection in our lives. What begins as a vertiginous leap into hilarious rabbit holes ends as a brilliant meditation on mortality and time. How does she do it? Only Dana Spiotta knows. I'm just happy to see her work her magic."
—Jenny Offill
Knopf, 9780593318737, 288pp.
Publication Date: July 6, 2021
About the Author
DANA SPIOTTA is the author of Innocents and Others, which won the St. Francis College Literary Prize and was short-listed for The Los Angeles Times Book Prize; Stone Arabia, which was a National Book Critics Circle Award finalist; Eat the Document, which was a National Book Award finalist; and Lightning Field. Spiotta was a Guggenheim Fellow, a New York Foundation for the Arts Fellow, and she won the 2008-9 Rome Prize from the American Academy in Rome. In 2017, the American Academy of Arts and Letters awarded her the John Updike Prize in Literature. Spiotta lives in Syracuse and teaches in the Syracuse University MFA program.