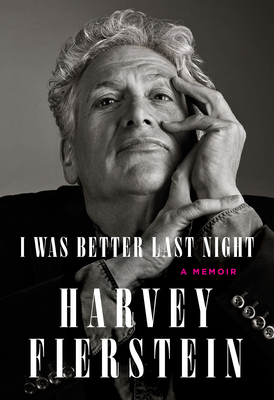 I Was Better Last Night
A Memoir
Hardcover

* Individual store prices may vary.
Other Editions of This Title:
Digital Audiobook (2/28/2022)
Description
NEW YORK TIMES BEST SELLER • A poignant and hilarious memoir from the cultural icon, gay rights activist, and four-time Tony Award–winning actor and playwright, revealing never-before-told stories of his personal struggles and conflict, of sex and romance, and of his fabled career

Harvey Fierstein's legendary career has transported him from community theater in Brooklyn, to the lights of Broadway, to the absurd excesses of Hollywood and back. He's received accolades and awards for acting in and/or writing an incredible string of hit plays, films, and TV shows: Hairspray,  Fiddler on the Roof, Mrs. Doubtfire, Independence Day, Cheers, La Cage Aux Folles, Torch Song Trilogy, Newsies, and Kinky Boots. While he has never shied away from the spotlight, Mr. Fierstein says that even those closest to him have never heard most of the tales—of personal struggles and conflict, of sex and romance, of his fabled career—revealed in these wildly entertaining pages.
 
I Was Better Last Night bares the inner life of this eccentric nonconforming child from his roots in 1952 Brooklyn, to the experimental worlds of Andy Warhol and the Theatre of the Ridiculous, to the gay rights movements of the seventies and the tumultuous AIDS crisis of the eighties, through decades of addiction, despair, and ultimate triumph.
 
Mr. Fierstein's candid recollections provide a rich window into downtown New York City life, gay culture, and the evolution of theater (of which he has been a defining figure), as well as a moving account of his family's journey of acceptance. I Was Better Last Night is filled with wisdom gained, mistakes made, and stories that come together to describe an astonishingly colorful and meaningful life. Lucky for us all, his unique and recognizable voice is as engaging, outrageously funny, and vulnerable on the page.
Praise For I Was Better Last Night: A Memoir…
A New York Times Staff Critics Pick of the Year • A Best Book of the Year from Smithsonian Magazine

"A raw, funny and fabulous memoir . . . Fierstein shares his life less in conventional chapters than in colorful patches: 59 of them, stitched together with photos and a plush index. The sum of this is warm and enveloping and indeed two-sided: One is a raw, cobwebby tale of anger, hurt, indignation and pain; flip it over and you get billowing ribbons of humor, gossip and fabulous, hot-pink success . . . With a dramaturge's expert timing, Fierstein saves the most difficult anecdote of his upbringing for near the end, like the classic 11 o'clock number in musical theater. A story about his mother's reaction to his accidental coming-out, it's a pin prick to the heart. Actually it makes the heart a pin cushion." --Alexandra Jacobs, The New York Times

"I love this book. Harvey Fierstein turns a phrase into a novel and the personal into the universal. The day for this book has come." --Gloria Steinem

"I am in awe of Harvey's theatrical history. From being among the vanguard of New York's Experimental Theatre, through Warhol, to Broadway musicals. Who can touch that? His memoir is extraordinary, and he is in a class by himself." --Patti LuPone

"Harvey's book is a perfect reflection of him; full of heart, chutzpah, great stories, and tons of belly laughs. And wigs." --Andy Cohen

"Harvey is the king and queen of Broadway. He can take you on a journey with his words and he is hysterical." --Henry Winkler

"This is a beautiful memoir - full of humor and heart - I read it in 2 days - smiling laughing and wiping away tears - don't miss this book - a great read from a wonderful man - I love Harvey Firestein." -- Rosie O'Donnell

"Harvey Fierstein is a true American original who has blazed his own trail through popular culture for half-a-century. His memoir is every bit as witty and brave and big-hearted as the man himself."  --Armistead Maupin

"A poignant reflection on a decades-long career as a playwright and actor that will make you laugh and cry in turn." --Fi O'reilly, npr

"Yes, this is a "warts and all" book. It's also funny, touching, informative, fascinating, and important. Fierstein writes with great honesty and insight about theatre and also about being gay, AIDS, politics, and getting and staying sober. I Was Better Last Night is a must-read for everyone interested in theatre but also for everyone interested in history, gay rights, sobriety, and learning self-acceptance. It is a rich book...Fierstein knows how to write an autobiography. The people are vividly sketched, the stories are beautifully told, and the funny anecdotes are really funny. Fierstein's writing voice is so natural that the book feels like hanging out with a particularly eloquent friend. While parts are sad and parts are painful, the overall takeaway is of a life well and fully lived and honestly shared." --Wendy Caster, Talkin' Broadway

"Poignant and laugh-out-loud funny…With wisdom gained and mistakes made, the stories come together to describe an astonishingly colorful and meaningful life." --Denny Patterson, OutFront Magazine

"For lovers of theater, queer and hetero, "I Was Better Last Night" is a feast of memories.  For LGBTQ folk who lived through the early AIDS epidemic, 'Don't Ask, Don't Tell' – the fight for marriage equality – the memoir is the story of a queer hero. It's the tale of an icon who makes you laugh, cry and get angry (at homophobia)...Once you start "I Was Better Last Night," be prepared to let the vacuuming go, the bills to go unpaid, so you can burn the midnight oil…Fierstein's coming out story is gut-wrenching. His account of his friend Harvey being gay-bashed is terrifying.…Fierstein writes with raw honesty about his alcoholism (his long "love affair" with Southern Comfort), his heart surgery and his regrets. Reading "I Was Better Last Night" is like seeing a fabulous Broadway play on opening night."  --The Washington Blade

"Harvey Fierstein, the legendary actor of the stage and screen, opens up about his storied career in his memoir. Beginning with his childhood in Jewish Brooklyn, he takes us through his coming of age, finding his voice in the gay rights movement, making his Broadway debut in Torch Song Trilogy, and so much more. He doesn't shy away from his personal struggles, from getting sober to the AIDS crisis in NYC. The result? A moving and funny look back on a remarkable life." --Town & Country

"Scrumptious . . . The Harvey Fierstein glimpsed here is tantalizingly, defiantly, irreducibly complex. It's a pity Sondheim isn't around to offer the contradictory protagonist of this memoir the musical he deserves."--Charles McNulty, Los Angeles Times

"Fierstein… looks back on his show-biz travails and the struggle for gay rights in this raucous debut memoir. He recaps his parts in theater, movies, and TV…as well as lurid episodes from New York's gay demimonde of the 1970s and '80s, and a bout with alcoholism that ended with a suicide attempt. Readers will appreciate his blunt takes on anti-gay discrimination in matters small and large…Defined by a campy yet bittersweet comic sensibility, Fierstein's vivid writing about the pratfalls, exhilaration, and painstaking craft of a life in theater beguiles." --Publishers Weekly

"The actor and playwright looks back on his pioneering path…this personal history movingly charts the author's journey as a playwright and actor. Not content to revel in the success of his most famous roles on Broadway, Fierstein also gives insightful, unflinching glimpses into his artistic development and creative process. Among the strongest sections are the author's revelations about the evolution of his beloved Torch Song Trilogy, "proof of [the LGBTQ+ community's] struggle and a road map for how we got here." Fierstein is a pleasant guide throughout, glossing over his role in countless firsts—"first openly gay actor to play an openly gay lead in a Broadway show" and "first openly gay actor to play an openly gay role on a sitcom"—as he shares his personal, professional, and creative highs and lows. The author is particularly strong when he writes about his feelings of abandonment during the AIDS crisis of the early 1980s. In stark yet passionate sections, he evokes the fear as well as the deep kinship that arose in his community during this time, though he is unsparing in many of his assessments…Despite Fierstein's somberness when appropriate, he also excels at showcasing his quick wit. Interspersed with his creative and artistic journeys are hilarious stories of his encounters with celebrities…It all adds up to an encapsulation of Fierstein's philosophy that there is "no such thing as having lived too much." A poignant, clever, and entertaining look at an impressive, unique career." --Kirkus Reviews

"In this richly detailed book, award-winning playwright and actor Fierstein tells his life story… His memoir is filled with evocative characters and scenes, and his wit and way with dialogue shine…. Written with verve and enthusiasm, Fierstein's memoir will be a must-read for his fans and for theater lovers and anyone who appreciates pop culture." --James Collins, Library Journal
Knopf, 9780593320525, 400pp.
Publication Date: March 1, 2022
About the Author
HARVEY FIERSTEIN is the Tony Award-winning author of Torch Song Trilogy and La Cage aux Folles. His other theater writings include Kinky Boots, Newsies, Casa Valentina (all Tony-nominated), A Catered Affair (twelve Drama Desk nominations), and Bella Bella, and his theater performances include, Torch Song Trilogy and Hairspray (Tony Awards for both), Fiddler on the Roof, La Cage aux Folles, Gently Down the Stream, and A Catered Affair. His film and television appearances include Mrs. Doubtfire, The Good Wife, and Cheers (Emmy nominated), and he has voiced characters in the film Mulan, and the shows Big Mouth, The Dark Crystal, BoJack Horseman, and many more. He lives in a small fictional town in Connecticut with whatever animals will have him.