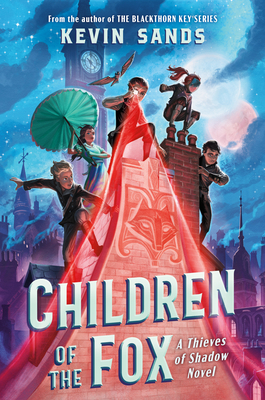 Children of the Fox (Thieves of Shadow #1)
Hardcover

* Individual store prices may vary.
Other Editions of This Title:
Digital Audiobook (10/4/2021)
Description
An NPR Best Book of the Year!

"This stunning tale of betrayal, trickery, and friendship takes the reader on a wild ride." —School Library Journal

Ocean's Eleven meets The False Prince in this thrilling heist story for young readers, in which five kids with unusual talents are brought together to commit an impossible crime. Failure is unacceptable ... but success could be deadly.

From the bestselling author of the Blackthorn Key series, this magic-infused fantasy brings together a ragtag group of kids to pull off a crime so difficult, countless adults have already tried and failed. Lured by the promise of more money than they've ever dreamed of, five young criminals are hired to steal a heavily guarded treasure from the most powerful sorcerer in the city. There's Callan the con artist, Meriel the expert at acrobatics (and knives!), Gareth the researcher, Lachlan who can obtain anything, and Foxtail, whose mysterious eyeless mask doesn't hinder her ability to climb walls like a spider. Though their shadowy backgrounds mean that they've never trusted anyone but themselves, the five must learn to rely on each other in order to get the job done.

But as Callan has been warned most of his life, it's best to stay away from magic. It can turn on you at any moment, and make you think you're the one running the con game, when in reality you're the one being fooled. Faced with these unsurmountable odds, can the friends pull off this legendary heist, or has their luck finally run out?
Praise For Children of the Fox (Thieves of Shadow #1)…
NPR Best Book of the Year
Amazon Best Book of the Month

★ "In a sharp-witted series opener, Sands crafts an adventure with mythological undertones and a heist framework. The protagonists' natural chemistry as they learn to collaborate and trust one another helps to ground the epic story, especially once it leans more heavily into fantasy elements, while Callan's narrative voice adds just the right amount of self-aware humor." 
—Publishers Weekly (starred review)

"Kevin Sands brings mystery, magic and a pretty major con-job to his first fantasy novel, a story where things are never quite as they seem. It's not easy to create an entirely new mythology, but Sands does a fine job with this first installment in his new series. Be prepared for an exciting read." 
—NPR

"This high-energy thriller is perfect for younger fans of Six of Crows, the movie Ocean's Eleven, and other inside-job narratives. Readers will be sure to delight in narrator Callan's sharp wit and snappy voice as they are introduced to the rest of the crew and their unusual skills. Cryptic messages, creepy characters, and unexpected but endearing friendships abound."
—Booklist

"Sands has created a rip-roaring story full of frantic twists and turns that leave readers questioning what is real and what is not. The magic is believable, and the world is easy to imagine. And one cannot help but root for these young protagonists whose lives have been so difficult and yet who manage to hope for a better future. A fabulous choice."
—School Library Journal

"In a world of Spellweavers and airships, a team comes together for a legendary heist...Callan is an excellent narrator, constantly observing body language for tells that reveal secrets as the kids plan an elaborate, multistage operation to break into a seemingly unbreakable location, all with a life-changing financial prize on the line."
—Kirkus Reviews
Viking Books for Young Readers, 9780593327517, 416pp.
Publication Date: October 5, 2021
About the Author
Since escaping from university with a pair of degrees in theoretical physics, Kevin Sands has worked as a researcher, a business consultant, a teacher, and a professional poker player. He lives in Ontario, Canada. He is the author of the bestselling Blackthorn Key series.