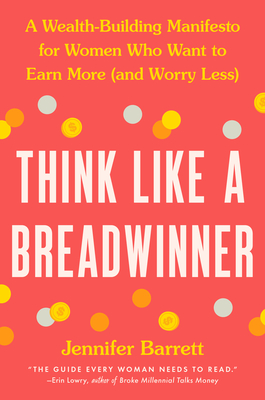 Think Like a Breadwinner
A Wealth-Building Manifesto for Women Who Want to Earn More (and Worry Less)
Hardcover

* Individual store prices may vary.
Other Editions of This Title:
Digital Audiobook (4/5/2021)
Description
A new kind of manifesto for the working woman, with tips on building wealth and finding balance, as well as inspiration for harnessing the freedom and power that comes from a breadwinning mindset.

Nearly half of working women in the United States are now their household's main breadwinner. And yet, the majority of women still aren't being brought up to think like breadwinners. In fact, they're actually discouraged--by institutional bias and subconscious beliefs--from building their own wealth, pursuing their full earning potential, and providing for themselves and others financially. The result is that women earn less, owe more, and have significantly less money saved and invested for the future than men do. And if women do end up the main breadwinners, they've been conditioned to feel reluctant and unprepared to manage the role.

In Think Like a Breadwinner, financial expert Jennifer Barrett reframes what it really means to be a breadwinner. By dismantling the narrative that women don't--and shouldn't--take full financial responsibility to create the lives they want, she reveals not only the importance of women building their own wealth, but also the freedom and power that comes with it. With concrete practical tools, as well as examples from her own journey, Barrett encourages women to reclaim, rejoice in, and aspire to the role of breadwinner like never before.
Praise For Think Like a Breadwinner: A Wealth-Building Manifesto for Women Who Want to Earn More (and Worry Less)…
Advance Praise for Think Like a Breadwinner

"Think Like A Breadwinner champions women and provides an insightful read for not just those female breadwinners but their male counterparts as well. . . . Jennifer Barrett's manifesto for working women transcends its goal by being more than a finance book, but a testament that anyone, anywhere, can achieve their goals with the right advice." --Ladders

"Jennifer Barrett knows that true independence is being able to provide yourself with the kind of life you want, now and in the future. In Think Like a Breadwinner, she provides the roadmap to get there, sharing guidance, tools and inspiring stories of breadwinner-minded women to allow you to stop worrying about money and start living your life to the fullest, every day." —David Bach, Cofounder of AE Wealth Management and #1 New York Times bestselling author of The Latte Factor and Smart Women Finish Rich

"Barrett's manifesto is a must read for any woman at any stage of her career. This book is about so much more than the power of money—it is about empowering yourself for a lifetime of success in all domains. It's never too late to think like a breadwinner." –Eve Rodsky, New York Times bestselling author of Fair Play

"The dynamics of power are changing for women—at work, in life, and in their partnerships. Jennifer Barrett's beautifully reported and written book shapes a new conversation about money, success and freedom that is a must-read for anyone who would like more of those things in their life!" —Ann Shoket, founder of New Power Media and author of The Big Life

"Think Like a Breadwinner is the roadmap women need to take charge of their financial futures. Jennifer Barrett empowers readers to be unabashedly confident while getting smart about their money behaviors, ultimately unlocking their fullest potentials and wildest dreams." —Reshma Saujani, CEO and author of Girls Who Code

"This is a book for anyone–single or partnered, at any stage of their career–who understands that a positive money mindset isn't only about cash in the bank. It's about leveraging what you've got to get you where you want to go." —Farnoosh Torabi, author of When She Makes More and host of the So Money podcast 

"Think Like a Breadwinner is the guide every woman needs to read in order to reframe her relationship with what it means to be a breadwinner. No matter your relationship status, Barrett encourages every woman to focus on being the breadwinner of her own life and in charge of her own financial future." —Erin Lowry, author of Broke Millennial Talks Money

"Ladies: It is time to retrain our brains. Jennifer Barrett has the stats and the solutions to get us all thinking like breadwinners. This book will teach you to see the joy in money, rather than the stress. It will crystalize why we need to build up our wealth, not build up our hopes for someone else to take care of us. This well-researched and compelling book could not come at a better time." --Bobbi Rebell, author of How to be a Financial Grownup
G.P. Putnam's Sons, 9780593327890, 352pp.
Publication Date: April 6, 2021
About the Author
Jennifer Barrett is the Head of Content at Fidelity Investments. Previously, she was the Chief Education Officer at the investing app Acorns, Personal Finance Editor at CNBC and a GM at Hearst Digital. A veteran financial journalist, she has written for publications such as The New York Times, The Wall Street Journal, Money, and Newsweek, where she was a staff writer and editor. She lives in Brooklyn with her husband and two sons.

or
Not Currently Available for Direct Purchase