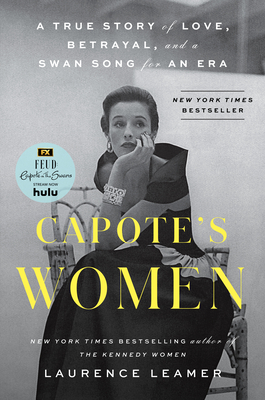 Capote's Women
A True Story of Love, Betrayal, and a Swan Song for an Era
Hardcover

* Individual store prices may vary.
Other Editions of This Title:
Digital Audiobook (10/11/2021)
Library Binding, Large Print (4/6/2022)
Description
*National Bestseller*
New York Times bestselling author Laurence Leamer reveals the complex web of relationships and scandalous true stories behind Truman Capote's never-published final novel, Answered Prayers—the dark secrets, tragic glamour, and Capote's ultimate betrayal of the group of female friends he called his "swans."

"There are certain women," Truman Capote wrote, "who, though perhaps not born rich, are born to be rich." Barbara "Babe" Paley, Gloria Guinness, Marella Agnelli, Slim Hayward, Pamela Churchill, C. Z. Guest, Lee Radziwill (Jackie Kennedy's sister)—they were the toast of midcentury New York, each beautiful and distinguished in her own way. Capote befriended them, received their deepest confidences, and ingratiated himself into their lives. Then, in one fell swoop, he betrayed them in the most surprising and startling way possible.

Bestselling biographer Laurence Leamer delves into the years following the acclaimed publication of Breakfast at Tiffany's in 1958 and In Cold Blood in 1966, when Capote struggled with a crippling case of writer's block. While en­joying all the fruits of his success, he was struck with an idea for what he was sure would be his most celebrated novel…one based on the re­markable, racy lives of his very, very rich friends.

For years, Capote attempted to write An­swered Prayers, what he believed would have been his magnum opus. But when he eventually published a few chapters in Esquire, the thinly fictionalized lives (and scandals) of his closest fe­male confidantes were laid bare for all to see, and he was banished from their high-society world forever. Laurence Leamer re-creates the lives of these fascinating swans, their friendships with Capote and one another, and the doomed quest to write what could have been one of the greatest novels of the twentieth century.
Praise For Capote's Women: A True Story of Love, Betrayal, and a Swan Song for an Era…
One of NY Post's 35 Best Book Gifts for Everyone on Your 2021 Holiday List
One of NY Post's Must-Have Books for Fall 2021
One of Town & Country's Must-Read Books of Fall
One of Wall Street Journal's 12 Books to Read for October 2021
One of Garden & Gun's Favorite Books of 2021
One of PopSugar's October Must-Reads

"Babe Paley, Slim Keith, C.Z. Guest...they were the stars of '50s and '60s society. They were also the women Truman Capote loved, flattered—and betrayed. A fascinating look at their world." —People

"Laurence Leamer deftly tells the stories of the stylish, glamorous women whose trust Capote cultivated and then betrayed. Mr. Leamer has delivered a fast-paced, sensitive tale of the swans, their tumultuous lives and their dismay at Capote's treachery." —Wall Street Journal

"In this delicious dissection of the writer and the women he befriended, Laurence Leamer uncovers what it meant to let Capote into your inner circle, how each of these women found friendship and frustration with him, and what happened when he committed the ultimate betrayal." —Town & Country

"Leamer gives a fascinating look at friendship and betrayal, and the great novel that never was." —New York Post

"In describing the background not only of Truman Capote himself, but also of the socialites he called swans, the author writes some very substantive social history of the mid-20th century....What we have here is far more—far better—than a gossipy beach read for the summer. The 'dish' is there, but so is the thoughtful analysis." —The East Hampton Star

"Capote's Women by Laurence Leamer is a fascinating nonfiction book about the greatest American novel that was never published." —PopSugar

"What Capote's Women captures is how these myriad and multilayered friendships came about and nourished him for so long, until his inner demons proved too damning for all but a few of his faithful." —BookReporter

"Highly engaging…What Leamer did in his best-selling The Kennedy Women he has now done for the (mostly) high-born women Capote cultivated, worshipped, and envied." —Air Mail
 
"Leamer can be critical when he wants, but he's always subtle and conscientious of the complexity of these women's circumstances. His subjects are treated with a delicacy and care that reveal a great sympathy and even occasional admiration." —Deep South Magazine  

"This is the story of an Icarus. You know how it's going to end, but you know that for a while the protagonist is going to soar. Capote's Women is about the flight." —AL.com

"Capote's Women is a fascinating read, of a time gone by." —Montecito Journal

"Capote's Women should be like catnip to celeb-watchers of a certain age but even if you're not, find it. If you're a Hollywood fan, you'll want to get a lock on it." —Macro News

"It seems we never tire of reading about Truman Capote and his fabulous Swans, and in Capote's Women, Laurence Leamer brilliantly shows us why. By weaving the details of Capote's life in and out of the fascinating origin stories of the most admired women of the 1950s and 1960s, Leamer reminds us that beauty, wealth and privilege—not to mention talent—aren't enough to guarantee a happy ending. But oh, what fun can be had along the way!"  —Melanie Benjamin, New York Times bestselling author of The Swans of Fifth Avenue

"Biographer Leamer (The Kennedy Women) showcases his knack for telling a rattling good tale in this vivid look at Truman Capote's failed attempt to write 'the greatest novel of the age.' . . . This juicy story delivers." – Publishers Weekly

"Engagingly gossipy, Leamer provides extensive behind-the-scenes peaks into Capote's tangled social life." –Kirkus Reviews

"Never has such terrific gossip been so well-packaged as in Laurence Leamer's beautifully written and superbly researched Capote's Women….Leamer bests Capote by telling the full juicy stories of these swans…Capote's Women not only spills all the page-turning scandals of his swans but also the compelling rise and fall of the diminutive gay author. This is celebrity gossip of the highest quality. This scintillating look behind the curtain at some of the richest and most powerful women in the world is fabulously entertaining." –Shelf Awareness (starred review)

"Leamer's portrait of New York's bold and beautiful is not a gushing ode to glamour but an unflinching character study...Lucky for us, Leamer's well-researched book is not focused on offering a cautionary tale, but peeling back the disguises we all use to camouflage our true selves from the public." —LitHub

"Chock full of dazzling details, Capote's Women is a dishy, delicious dive into the diminutive author's female friendships. From Gloria Guinness to Slim Keith, and Babe Paley to CZ Guest, Capote's "swans," as he dubbed them, were beautiful, elegant, rich, and complicated. Larry Leamer expertly weaves the lives of these fascinating women together with Capote's struggles to finish Answered Prayers, his self-described masterpiece. In reality, Capote's final work was a messy jumble of thinly veiled secrets that these women had told him in confidence, and a base attempt at naked career advancement. Was Capote driven to this treachery by his growing alcoholism, or was it his betrayal that drove him to drink? That is the question that propels the narrative—and compels the reader to turn each gossip-laden page, anticipation building to its ultimate, gratifying conclusion." —Julie Satow, author of The Plaza: The Secret Life of America's Most Famous Hotel

"This deep dive into the lives of the extraordinary women who were Truman Capote's 'swans' is an entertaining study of femininity, privilege, and heartbreak. The story of the meteoric rise—and tragic fall—of the infamous writer and his beautiful muses offers a captivating combination of first-rate gossip and solid social history. Fascinating!" —Deborah Davis, author of Party of the Century: The Fabulous Story of Truman Capote and His Black and White Ball and Gilded: How Newport Became America's Richest Resort

"In a swirl of money and yearning, Laurence Leamer stitches the story of Truman Capote's life and final book-that-never-was through the glamorous lives of the women who inspired it. The rich texture and lavish detail recall a time of beauty and longing, ambition and heartbreak, and its possibilities and limitations for New York's "swans." An engrossing evocation of an era." —Julia Cooke, author of Come Fly the World: The Jet-Age Story of the Women of Pan-Am
G.P. Putnam's Sons, 9780593328088, 368pp.
Publication Date: October 12, 2021
About the Author
Laurence Leamer is the New York Times bestselling author of Madness Under the Royal Palms and The Kennedy Women, among many other books. He lives in Washington, D.C., and Palm Beach, Florida.