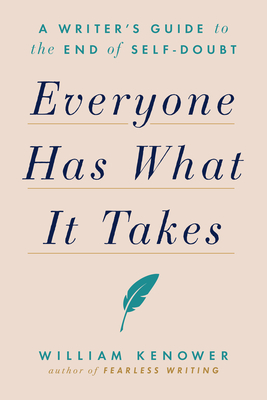 Everyone Has What It Takes
A Writer's Guide to the End of Self-Doubt
Paperback

* Individual store prices may vary.
Other Editions of This Title:
Digital Audiobook (12/13/2021)
Description
An insightful guide for any writer who's ever wondered if they're talented, creative, lovable, or worthy enough. Spoiler alert: You are.

As hard as the craft of writing is, the greatest challenges writers face are often within ourselves. Comparison, self-doubt, isolation, and other internal struggles can derail a writer's progress, at any stage in the writing life. Author, essayist, and speaker William Kenower knows these struggles first-hand, and hears them from writers everywhere he teaches and appears. In this candid and encouraging book, he dismantles the myth that some writers have talent and others don't, and shares relatable stories, wisdom, and best practices for reengaging with our passion, following our curiosity, and staying connected to what matters most.

If you've ever wondered whether you're "really" a writer, or should retreat to a safer, more conventional path, this enlightening and accepting book will spark renewed purpose and joy on your writing journey.
Praise For Everyone Has What It Takes: A Writer's Guide to the End of Self-Doubt…
"I wish I'd read Everyone Has What It Takes when I was starting my first book. Or my second. Or, for that matter, my hundredth magazine article. For me, as for most writers, self-doubt is never in short supply. Wisdom is. The wisdom of someone who's walked the whole discouraging, uplifting, terrifying, exciting road of a writer's life. Bill Kenower has that wisdom in abundance. Everyone Has What It Takes is a quietly powerful guide to both writing and life that will help you get past your psychological roadblocks and into your craft, whatever that may be. This book is a treasure."
—Martha Beck, New York Times bestselling author, sociologist and life coach

"I always look forward to hearing what William Kenower has to say about writing. In his latest book, Kenower explores what it means to be a successful creative as he examines the equality of personal talent. As usual, I felt energized and validated by his intellectual discussion of prose and life. Kenower reminds us to enjoy the whole writing journey, not just the high points. Everyone Has What It Takes will give your creative side a much-needed boost, which is good, because, as Kenower says, ' . . . the page is waiting for you.'"
—Windy Lynn Harris, author of Writing & Selling Short Stories & Personal Essays

"Like Elizabeth Gilbert in Big Magic, Bill Kenower teaches us that sometimes the simplest ideas are the most profound. Follow your curiosity. Lead your life. Write your books. In honest, accessible prose, Kenower takes us past craft and into the psyche, where all writing starts, and gives us the core lessons that every writer needs to hear, and probably every day."
—Erica Bauermeister, bestselling author of  The School of Essential Ingredients and The Scent Keeper

"William Kenower's encouraging new book, full of personal tales and relatable wisdom, urges you to throw out everything you think you know about becoming a successful writer. Instead, he exhorts, be curious, trust your words, say yes to opportunities and, most im-portant, keep writing what matters to you. A must-read for writers at all stages of the process."
—Jordan Rosenfeld, author of How to Write a Page-Turner

"William Kenower offers engaging personal stories from his personal experience about how, as writers, we often put ourselves on what I'd call a failure to thrive track. Then he expertly shows us how to reverse that toward pleasure and finding our own writing path."
—Sheila Bender, author of Writing Personal Essays

"In, Everyone Has What It Takes, Bill Kenower reminds us that with the right mind-set and attitude, we can create our own success with our writing. Using poignant stories from his life, Kenower shines light on the negative things we tell ourselves related to our creative life and illustrates a more positive approach for us to take. Inspiring and encouraging, this book should be part of every writer's library."
—Kerrie Flanagan, writing consultant and author of The Writer's Digest Guide to Magazine Article Writing and The Magazine Writing Blueprint

"William Kenower is the writing coach you've always wanted. In Everyone Has What It Takes, Kenower gives you the support you need to live your writing life without fear or worry. Through stories and examples, he shows you that you really do have what it takes to become a successful writer. I loved this book—it showed me a positive approach to writing that is less about competition and more about creativity and understanding. This book is about life, and the best way to live it—fully aware of who you are and who you want to be."
—Kate Ristau, author of Shadow Girl and Clockbreakers
Writer's Digest Books, 9780593330784, 240pp.
Publication Date: June 1, 2021
About the Author
William Kenower is the author of Fearless Writing: How to Create Boldly and Write With Confidence (Writers Digest Books, May 2017), and Write Within Yourself: An Author's Companion (Booktrope Editions, 2013), and the Editor-in-Chief of the popular online Author magazine. In addition to his books, William has published essays on writing and spirituality in the Huffington Post, Writer's Digest, Writer's Digest Online, The New York Times, and Tifferet Journal.
His video interviews with authors, which have received well over a million views, are widely considered the best of their kind on the Internet. He is also the host of Author2Author, a weekly podcast where he and a different author discuss the books we write and the lives they lead. Kenower is also a dynamic and in-demand public speaker and teacher, who delivers keynotes and lectures at writers conferences, spiritual MeetUps, Rotary clubs, and more.