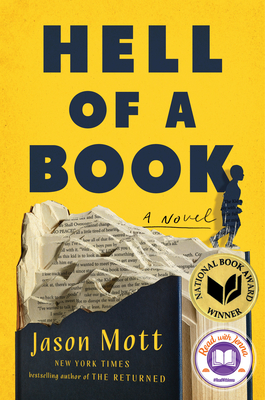 Hell of a Book
A Novel
Hardcover

* Individual store prices may vary.
Other Editions of This Title:
Digital Audiobook (6/28/2021)
Paperback (6/28/2022)
Paperback, Large Print (7/27/2021)
Description
***2021 NATIONAL BOOK AWARD WINNER***

***THE NATIONAL BESTSELLER***

Winner of the 2021 Sir Walter Raleigh Award for Fiction, Joyce Carol Oates Literary Prize Finalist, 2022 Chautauqua Prize Finalist, Willie Morris Award for Southern Writing Shortlist, and the 2021 Aspen Words Literary Prize shortlist

A Read With Jenna Today Show Book Club Pick!

An Ebony Magazine Publishing Book Club Pick! 

One of Washington Post's 50 Notable Works of Fiction | One of Philadelphia Inquirer's Best Books of 2021 | One of Shelf Awareness's Top Ten Fiction Titles of the Year | One of TIME Magazine's 100 Must-Read Books | One of NPR.org's "Books We Love" | EW's "Guide to the Biggest and Buzziest Books of 2021" | One of the New York Public Library's Best Books for Adults | San Diego Union Tribune—My Favorite Things from 2021 | Writer's Bone's Best Books of 2021 | Atlanta Journal Constitution—Top 10 Southern Books of the Year | One of the Guardian's (UK) Best Ten 21st Century Comic Novels | One of Entertainment Weekly's 15 Books You Need to Read This June | On Entertainment Weekly's "Must List" | One of the New York Post's Best Summer Reading books | One of GMA's 27 Books for June | One of USA Today's 5 Books Not to Miss | One of Fortune's 21 Most Anticipated Books Coming Out in the Second Half of 2021 | One of The Root's PageTurners: It's Getting Hot in Here | One of Real Simple's Best New Books to Read in 2021


An astounding work of fiction from New York Times bestselling author Jason Mott, always deeply honest, at times electrically funny, that goes to the heart of racism, police violence, and the hidden costs exacted upon Black Americans and America as a whole

In Jason Mott's Hell of a Book, a Black author sets out on a cross-country publicity tour to promote his bestselling novel. That storyline drives Hell of a Book and is the scaffolding of something much larger and more urgent: Mott's novel also tells the story of Soot, a young Black boy living in a rural town in the recent past, and The Kid, a possibly imaginary child who appears to the author on his tour.

As these characters' stories build and converge, they astonish. For while this heartbreaking and magical book entertains and is at once about family, love of parents and children, art and money, it's also about the nation's reckoning with a tragic police shooting playing over and over again on the news. And with what it can mean to be Black in America.

Who has been killed? Who is The Kid? Will the author finish his book tour, and what kind of world will he leave behind?  Unforgettably told, with characters who burn into your mind and an electrifying plot ideal for book club discussion, Hell of a Book is the novel Mott has been writing in his head for the last ten years. And in its final twists, it truly becomes its title.
Praise For Hell of a Book: A Novel…
Praise for Hell of a Book

"It is a story of love and family. It is powerful…poignant and beautiful and what makes me so excited is I cannot wait to be part of these conversations…It's a story of race, family, love, and justice. It's original and Jason Mott is a talent."—Jenna Bush Hager, "Read with Jenna"

"Hell of a Book more than lives up to its title. Playful, searching, raw, and necessary, this writing, this voice, this novel twisted me up and turned me inside out, dazzled me, surprised me and moved me."—Charles Yu, author of the National Book Award winner Interior Chinatown

"What a powerful, timely, and provocative novel. Jason's ability to take on deeply important themes with both poignancy and humor makes for an extraordinary emotional rollercoaster of a read, and I tore through this profoundly moving novel in a day but have been thinking about it ever since. Thank you, Jason Mott, for sharing this story with the world."—Abi Daré, New York Times bestselling author of The Girl with the Louding Voice

"Hell of a Book teetertotters real life and fiction in a dizzying yet dazzling exploration of exploration itself. Jason Mott brings much of what he's known for and a lot of what we do not expect to this inventive offering."—Kiese Laymon, author of How to Slowly Kill Yourself and Others in America

"At turns hilarious and moving, thoughtful and madcap, Hell of a Book manages simultaneously to address momentous issues and ask pressing questions, while somehow remaining light on its feet, which is a hell of an accomplishment."—Jonathan Evison, bestselling author of West of Here and Small World

"Mott's unflinching meditation on racism, violence, and navigating life as a Black man in America is a surreal and searing triumph."—Shelf Awareness for Readers (starred review)

"Hell of a Book is a masterwork of balance, as Mott navigates the two narratives and their delicate tonal distinctions. A surrealist feast of imagination that's brimming with very real horrors, frustrations, and sorrows, it can break your heart and make you laugh out loud at the same time, often on the same page. This is an achievement of American fiction that rises to meet this particular moment with charm, wisdom, and truth."—BookPage (starred review)

"Stunning…Mott's poetic, cinematic novel tackles what it means to live in a country where Black people perpetually 'live lives under the hanging sword of fear.'"—Publishers Weekly (starred review)

"A singular writer who refused to be boxed in and proves it again with yes, a hell of a book."—CBS Saturday Morning

"Maddening, disorienting, and illuminating."—Booklist

"A story that is at once a paean to familial love and friendship and a reckoning with racism and police violence. By turns playful and surprising and intimate, a moving meditation on being Black in America."—Kirkus

"Alternates between the perspective of a Black author on a book tour across the United States and a young Black boy living in the rural South, until their perspectives merge in surprising ways."—The New York Times Book Review's "Also Out Now"

"Hell of a Book is a love story, even if it's about a love that led to grief. Our narrator's heartbreak is what causes him to see the world through a broken lens, to the point that plot-oriented readers may find themselves frustrated. But the beauty of the novel is in the cracks that distort the plot. His conversations with The Kid lead to very real reckonings with his life, his skin color, his book. And at the end, when the narrator tries to come to terms with it all—both what's real and what's imagined—he realizes that being Black in America and existing is a journey of love."—Washington Post

"A surrealistic tale about a famous author on a book tour becomes an exploration of police violence and the havoc it wreaks."—Entertainment Weekly

"In a genre-bending work of metafiction, Jason Mott weaves together a first-person narrative about a famous author out on a book tour with an alternate story line about a (maybe) imaginary boy caught in the societal fallout of police brutality. The result blends satire and quietly devastating prose that reflects a loudly devastating reality. With Hell of a Book, Mott resists the urge to drown in rage and instead showers the reader with necessary truths."—Entertainment Weekly

"In increasingly intertwining narratives, a Black novelist with a penchant for noir dialogue and a shaky grip on reality tours his debut novel; a boy, bullied for his dark skin, comes of age."—Vanity Fair

"An intensely moving and thoughtful novel, and it's also a love story, though perhaps not in the way that you (or the narrator) might be expecting. Within the pages of this innovative example of postmodern storytelling, Mott also reveals the lasting scars of America's legacy of racism and celebrates those who find ways, against all odds, to overcome them."—BookReporter

"A timely and robust exploration of myriad forms of love and the precariousness of being Black in America. Mott masterfully threads two seemingly disparate narrativesone fantastical, the other all too familiar—into a labyrinthine surrealist tale that is by turns farcical and heartrending, tragic and redemptive."—The Charleston Post and Courier

"All three of Mott's novels to date...have revolved around elements or fantasy, the supernatural or the paranormal. Yet reality has a way of creeping in. In Hell of a Book, Mott demonstrates that fantasy, or magical realism, is sometimes the best way to confront it.... Mott treats us to a long, wild ride. In the process, he subtly delivers an old-fashioned philosophical novel, treating Black self-loathing, the issues of the Black Lives Matter movement, and the question of whether minority writers should only write about 'Black' issues. In the process, Mott lives up to his advertising—and earns a place on the shelf beside such African-American writers as Colson Whitehead and Octavia Butler."—Star News

"A powerfully envisioned and artfully crafted exploration of identity and love (in their many forms), and of the unrelenting perils of being Black in America. Mott masterfully weaves together two seemingly disparate narratives—one a fantastical book tour for an unnamed author, the other an all too familiar story of police violence in a Black community—into a labyrinthian surrealist tale that is by turns farcical and heartbreaking, tragic and redemptive."—Southern Review of Books

"For all its moments of levity, Mott has written a deadly serious story. By taking readers inside the psychic toll of racial trauma, Hell of a Book offers a disturbing portrait of a nation that's been lying to itself all its years. In this way, the novel feels like a plea—intense, moving, urgent, and vital."—Washington Independent Review of Books

"It should be one of your favorite books…Poignant and beautiful."—Zibby Owens, Good Day LA

"When you're reading this, you can't help but feel like you're in on an inside joke that keeps on getting funnier. Jason Mott truly has written one hell of a book."—Candice Carty-Williams, author of Queenie

"Recently named the 2021 National Book Award winner, Jason Mott's hilarious, anguished and aptly titled novel tells the story of a weary, bleary-eyed author who comes unstuck in reality while out on a book tour. Well, he's always been that way, but it's getting worse. Exhibit A: The part where he seems to have forgotten that he's Black. Exhibit B: The parts where he converses with a mystery child no one else can see. With America's weekly tragedy cycle as a backdrop, Hell of a Book is sometimes a devastating satire and sometimes just devastating."—The Philadelphia Inquirer

"A book that is both hilarious and horrifying, meditative and breathless, absurd, and, ultimately, true."—The Bitter Southerner

"Brilliant and inventive. What is most surprising, however, is how funny the novel is. Jason Mott, an already successful American novelist, has dared to bring anarchic farce, vertiginous layers of irony and often riotous hilarity to the Black Lives Matter movement. Striking...intelligent...ingenious."—The Sunday Times (UK)
Dutton, 9780593330968, 336pp.
Publication Date: June 29, 2021
About the Author
Jason Mott has published four novels. His first novel, The Returned, was a New York Times bestseller and was turned into a TV series that ran for two seasons. He has a BFA in Fiction and an MFA in Poetry, both from the University of North Carolina at Wilmington. His poetry and fiction have appeared in various literary journals, and his most recent novel, Hell of a Book, was named the winner of the National Book Award for Fiction, 2021.