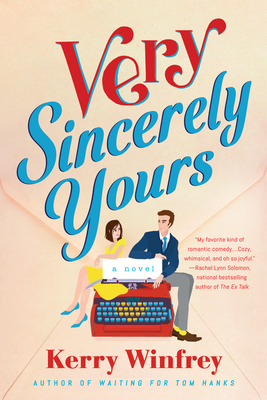 Very Sincerely Yours
Paperback

* Individual store prices may vary.
Other Editions of This Title:
Digital Audiobook (6/14/2021)
Library Binding, Large Print (8/1/2021)
Description
A charming and heartwarming new romantic comedy by the acclaimed author of Waiting for Tom Hanks, Kerry Winfrey.

Teddy Phillips never thought she would still be spending every day surrounded by toys at almost thirty years old. But working at a vintage toy store is pretty much all she has going on in her life after being unceremoniously dumped by her longtime boyfriend. The one joy that she has kept is her not-so-guilty pleasure: Everett's Place, a local children's show hosted by Everett St. James, a man whom Teddy finds very soothing . . . and, okay, cute.

Teddy finds the courage to write to him, feeling slightly like one of the children who write to him on his show. He always gives sound advice and seems like he has everything figured out—and he pretty much does: Everett has a great support system, wonderful friends, and his dream job. But there is still that persistent feeling in the back of his mind that something is missing.

When a woman named Theodora starts writing to Everett, he is drawn to her honesty and vulnerability. They continue writing to each other, all the while living their lives without meeting. When their worlds collide, however, they must both let go of their fears and figure out what they truly want—and if the future they want includes each other.
Praise For Very Sincerely Yours…
"Very Sincerely Yours is such a special, unique love story that made me laugh and warmed my heart. Kerry Winfrey creates the best casts of family and friends in her books, and the hero of this one, Everett St. James, is truly one of a kind—I've never seen anyone like him in romance. And the emails! *So* romantic. A delightful You've Got Mail-esque touch."—Sarah Hogle, author of You Deserve Each Other

"Kerry Winfrey charms again in the delightful romantic comedy Very Sincerely Yours. With a slow burn romance full of pitch perfect prose and brainy banter, it is impossible not to be swept up in the story of Theodora and Everett as they navigate love and life, desperately seeking the way to their happily ever after."—Jenn McKinlay, author of Paris is Always a Good Idea

"A sweet and fluffy rom-com...Winfrey lets their love blossom at a believable pace as they overcome emotional and professional obstacles with the help of their convincing sets of friends. With plenty of smile-worthy misadventures along the way, this light, down-to-earth romance is sure to charm."—Publishers Weekly

"Fans will be happy to settle into this cozy rom-com and its comfortably unfolding story."—Kirkus Reviews

"Readers will find themselves rooting for the pair of quirky lovers through their funny email exchanges to awkward in-person encounters and hoping that their quests to find themselves lead them down a path together."—USA Today

"A sweet and lighthearted rom-com that will appeal to readers who prefer stories that focus more on character than conflict...Very Sincerely Yours is a reminder of how important it is for you to focus on you—on the things that make you happy, that make you feel good, and on all your goals and hopes and dreams."—BookPage

"A sweet romance...This will hit a very sweet spot and encourage those who feel like they are stuck in a rut to bite the bullet and embrace whatever scares them witless as there is simply more to life than living to work and living to please others."—Harlequin Junkie

"A charming story as much about finding yourself as finding love. Mr. Rogers, but for adults."—Under the Covers Book Blog

"Very Sincerely Yours is one of the most delightful romantic comedies I've read so far this year.  It's a gem of a book that is sure to put a smile on your face."—The Booklish Libra
Berkley, 9780593333419, 384pp.
Publication Date: June 15, 2021
About the Author
Kerry Winfrey writes romantic comedies for adults and teens. She is the author of Love and Other Alien Experiences, Things Jolie Needs to Do Before She Bites It, Waiting for Tom Hanks, and Not Like the Movies. When she's not writing, she's likely baking yet another pie or watching far too many romantic comedies. She lives with her husband, son, and dog in the middle of Ohio.