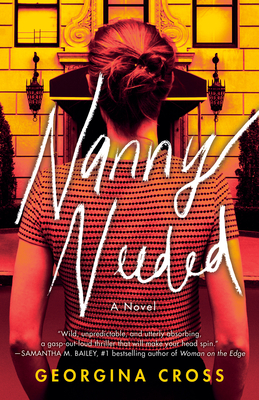 Nanny Needed
A Novel
Paperback

* Individual store prices may vary.
Other Editions of This Title:
Digital Audiobook (10/4/2021)
Description
A young woman takes a job as a nanny for an impossibly wealthy family, thinking she's found her entrée into a better life—only to discover instead she's walked into a world of deception and dark secrets.

"Wild, unpredictable, and utterly absorbing, Nanny Needed is a gasp-out-loud thriller that will make your head spin."—Samantha M. Bailey, #1 bestselling author of Woman on the Edge

Nanny needed. Discretion is of the utmost importance. Special conditions apply.

When Sarah Larsen finds the notice, posted on creamy card stock in her building's lobby, one glance at the exclusive address tells her she's found her ticket out of a dead-end job—and life.

At the interview, the job seems like a dream come true: a glamorous penthouse apartment on the Upper West Side of NYC; a salary that adds several zeroes to her current income; the beautiful, worldly mother of her charge, who feels more like a friend than a potential boss. She's overjoyed when she's offered the position and signs the NDA without a second thought.

But in retrospect, the notice in her lobby was less an engraved invitation than a waving red flag. For there is something very strange about the Bird family. Why does the beautiful Mrs. Bird never leave the apartment alone? And what happened to the nanny before Sarah? It soon becomes clear that the Birds' odd behaviors are more than the eccentricities of the wealthy.

But by then it's too late for Sarah to seek help. After all, discretion is of the utmost importance.
Praise For Nanny Needed: A Novel…
"This creepy and suspenseful tale takes hold of you from the first page and doesn't let go. When innocent Sarah is hired by the wealthy Bird family, she imagines the nanny position will be a piece of cake, a pastel pink one at that. The reality of the job is much more sinister. I loved every twisty, haunting moment. This is a fast, fun read."—Kaira Rouda, USA Today bestselling author of The Next Wife

"Nanny Needed has everything I look for in psychological suspense: unforgettable characters, palpable tension, and pages filled with mind-bending secrets. Clever and cunning, Georgina Cross has created a dark, twisty world that I stepped from shaken and out of breath. It grabbed me by the throat and still hasn't let go."—Heather Gudenkauf, New York Times bestselling author of This Is How I Lied

"Deliciously creepy and absolutely riveting, Nanny Needed is a gripping thriller about what happens when one woman's dream job turns into her waking nightmare. Full of dark secrets and surprising twists, nothing is as it seems amid these pages. Watch out . . . this one will take you for a massively entertaining ride!"—Christina McDonald, USA Today bestselling author of The Night Olivia Fell

"Nanny Needed is the gothic version of Nanny Diaries you never knew you needed. Devil Wears Prada via Hell. Fun, fast, and totally outrageous."—Eliza Jane Brazier, author of If I Disappear

"Nanny Needed is one of those stories that slowly slithers up your spine, wraps itself around your neck, and squeezes. Oh, it's quite gentle at first, but it suddenly gets tighter and tighter until you're left gasping for air. Twisty, eerie, and completely bingeworthy, this book makes you feel claustrophobic and tense, yet you're unable to stop reading. Things escalate. Bad stuff is coming. But you can't look away until you reach the truly surprising ending. I worked as an au pair many years ago. Thankfully the family was nothing like the Birds!"—Hannah Mary McKinnon, bestselling author of Sister Dear

"An inventive tale perfect for fans of Riley Sager and Sara Gran, Nanny Needed is a sly exploration of madness as it escalates to consume an entire family—and the nanny who must keep their secrets from the world. With intensely gothic vibes, this story is creepy, sinister, and unmissable."—J. T. Ellison, New York Times bestselling author of Her Dark Lies

"Gripping and suspenseful, with a delicious dose of Manhattan glamor and a shocker of an ending, Nanny Needed will keep you up way past your bedtime."—Michele Campbell, internationally bestselling author of The Wife Who Knew Too Much

"A deliciously twisted read . . . In Nanny Needed, nothing is as it seems. Not the idyllic apartment on the Upper West Side. Not the put together Mrs. Bird. Not the seemingly simple job description for a nanny. As the secrets and horrors of this wealthy family unfold, readers will question everyone and never guess the final, harrowing twist. . . . The next Riley Sager of suspense."—Rea Frey, author of Not Her Daughter
Bantam, 9780593355992, 368pp.
Publication Date: October 5, 2021
About the Author
The author of The Stepdaughter and The Missing Woman, Georgina Cross worked as a journalist and then spent nine years in business development for an aerospace and defense contractor before joining the Huntsville/Madison County Chamber of Commerce as the workforce director. She lives in Alabama with her husband and four sons.