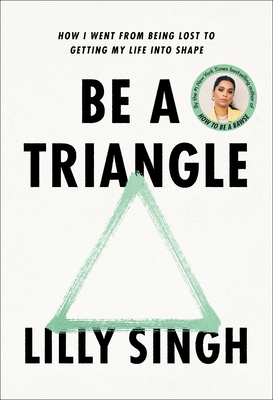 Be a Triangle
How I Went from Being Lost to Getting My Life into Shape
Hardcover

* Individual store prices may vary.
Other Editions of This Title:
Digital Audiobook (4/4/2022)
Description
From the New York Times bestselling author of How to Be a Bawse comes an "insightful and charmingly funny" (Rupi Kaur) primer on learning to come home to your truest and happiest self.

"I love Lilly's honest and helpful advice about achieving happiness."—Mindy Kaling, #1 New York Times bestselling author of Why Not Me?

"It's time to flip right side up. It's time for this book title to make sense. It's time to be a triangle."

Everyone—even world-famous actress, author, and creator Lilly Singh—knows that sometimes life just sucks. In this book, Singh provides a safe space where readers can learn how to create a sense of peace within themselves. Without sugarcoating what it's like to face adversity—including acknowledging her own intensely personal struggles with identity, success, and self-doubt—Singh teaches readers to "unsubscribe" from cookie-cutter ideals.

With her signature blend of vulnerability, insight, and humor, Singh instructs readers to "be a triangle," creating a solid foundation for your life, one that can be built upon, but never fundamentally changed or destroyed. As she puts it, we must always find a way to come home to ourselves: "we must create a place, a system of beliefs, a simple set of priorities to come back to should life lead us astray, which it definitely will."

Like a wise, empathetic friend who always keeps you honest, Singh pushes you to adjust your mindset and change your internal dialogue. The result is a deeply humane, entertaining, and uplifting guide to befriending yourself and becoming a true "miracle for the world."
Praise For Be a Triangle: How I Went from Being Lost to Getting My Life into Shape…
"The pleasure of reading this book is learning that the Lilly you think you know—the joyous, hilarious entertainer—had a sometimes bumpy road getting there. I love her honest and helpful advice about achieving happiness."—Mindy Kaling, #1 New York Times bestselling author of Why Not Me?

"Insightful and charmingly funny . . . I related to so many aspects of this book. It's a lesson in accepting yourself as you are, while believing you have the unlimited potential to become whatever you want to be."—Rupi Kaur, #1 New York Times bestselling author of milk and honey

"In Be a Triangle, Lilly Singh gets vulnerable, revealing the obstacles and insecurities she had to overcome to find happiness and contentment, while also empowering readers to do the same. This book will change your life."—Jay Shetty, #1 New York Times bestselling author of Think Like a Monk: Train Your Mind for Peace and Purpose Every Day

"When Pinky Chachi has cornered you at the family party to pressure you into meeting her 'cousin's friend's daughter's brother's nephew who is very handsome and started medical school two years back and drives a Mercedes, so you should connect with him and figure out what you want to do with your life before it's too late,' Lilly swoops in to save the day. 'You know what, Pinky Chachi?!,' she says. 'It's never too late for anything!' Lilly is the wise older sister, and her book is a great guide on how to ignore the Pinky Chachis in our worlds without negativity or anger, and instead focus on building the lives we want and finding the happiness that's possible."—Kal Penn, author of You Can't Be Serious
Ballantine Books, 9780593357811, 112pp.
Publication Date: April 5, 2022
About the Author
Actress, author, and creator Lilly Singh brings a message of positivity and mindfulness to her global audience. Singh has found worldwide fame through her comedic and inspirational content, amassing nearly 40 million followers across her social media channels alongside projects with major Hollywood studios via her production company Unicorn Island. A native of Toronto, Singh lives in Los Angeles. She is proudly of Punjabi descent.