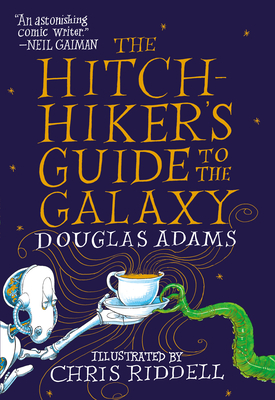 The Hitchhiker's Guide to the Galaxy
The Illustrated Edition
Hardcover

* Individual store prices may vary.
Description
This beautifully illustrated edition of the New York Times bestselling classic celebrates the 42nd anniversary of the original publication—with all-new art by award-winning illustrator Chris Riddell.
 
SOON TO BE A HULU SERIES • "An astonishing comic writer."—Neil Gaiman

Nominated as one of America's best-loved novels by PBS's The Great American Read

It's an ordinary Thursday morning for Arthur Dent . . . until his house gets demolished. The Earth follows shortly after to make way for a new hyperspace express route, and Arthur's best friend has just announced that he's an alien.

After that, things get much, much worse.

With just a towel, a small yellow fish, and a book, Arthur has to navigate through a very hostile universe in the company of a gang of unreliable aliens. Luckily the fish is quite good at languages. And the book is The Hitchhiker's Guide to the Galaxy . . . which helpfully has the words DON'T PANIC inscribed in large, friendly letters on its cover.

Douglas Adams's mega-selling pop-culture classic sends logic into orbit, plays havoc with both time and physics, offers up pithy commentary on such things as ballpoint pens, potted plants, and digital watches . . . and, most important, reveals the ultimate answer to life, the universe, and everything.

Now, if you could only figure out the question. . . .
Praise For The Hitchhiker's Guide to the Galaxy: The Illustrated Edition…
"Extremely funny . . . inspired lunacy . . . [and] over much too soon."—The Washington Post Book World

"Lively, sharply satirical, brilliantly written . . . ranks with the best set pieces in Mark Twain."—The Atlantic

"Irresistible!"—The Boston Globe

"With droll wit, a keen eye for detail and heavy doses of insight . . . Adams makes us laugh until we cry."—The San Diego Union-Tribune

"One of the greatest achievements in comedy. A work of staggering genius."—David Walliams

"Really entertaining and fun."—Michael Palin

"Fizzing with ideas . . . brilliant."—Charlie Brooker

"Weird and wonderful."—Eoin Colfer

"It changed my whole life. It's literally out of this world."—Tom Baker
Del Rey, 9780593359440, 320pp.
Publication Date: May 4, 2021
About the Author
Douglas Adams was born in 1952 and created all the various and contradictory manifestations of The Hitchhiker's Guide to the Galaxy: radio, novels, TV, computer games, stage adaptations, comic book, and bath towel. He was born in Cambridge and lived with his wife and daughter in Islington, London, before moving to Santa Barbara, California, where he died suddenly in 2001.

Chris Riddell, the 2015–2017 UK Children's Laureate, is an accomplished artist and the political cartoonist for the Observer. He has enjoyed great acclaim for his books for children. He has won a number of major prizes, including the 2001, 2004, and 2016 CILIP Kate Greenaway Medals. His book Goth Girl and the Ghost of a Mouse won the Costa Children's Book Award 2014. Riddell has been honored with an OBE in recognition of his illustration and charity work. He lives in Brighton with his family.