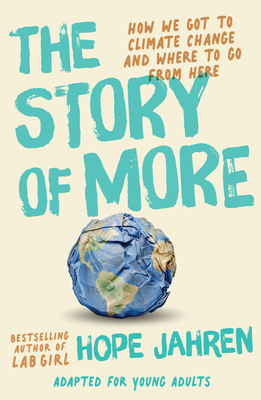 The Story of More (Adapted for Young Adults)
How We Got to Climate Change and Where to Go from Here
Library Binding

* Individual store prices may vary.
Other Editions of This Title:
Digital Audiobook (11/1/2021)
Digital Audiobook (3/2/2020)
Paperback (3/3/2020)
Hardcover (11/2/2021)
Paperback, Korean (9/7/2020)
Description
This young adult adaptation of acclaimed geochemist and geobiologist Hope Jahren's highly respected nonfiction work is the perfect book for those interested in learning about climate change and how they can contribute to creating a more sustainable future.

Hope Jahren, acclaimed geochemist and geobiologist, details the science behind key inventions, clarifying how electricity, large-scale farming, and automobiles have both helped and harmed our world.

Jahren explains the current and projected consequences of unchecked global warming, from superstorms to rising sea levels, resulting from the unprecedented amounts of greenhouse gases being released into our atmosphere. The links between human consumption habits and our endangered existence are very real, with consequences leading to a crossroads of survival and extinction.

Still, Jahren maintains that our ever-broadening science-based knowledge can help us counter this dilemma. The eye-opening information provided in The Story of More will help readers understand the path we must take. If we collectively make informed choices now, Jahren reassures us, our future can be as bright as we imagine it can be.
Praise For The Story of More (Adapted for Young Adults): How We Got to Climate Change and Where to Go from Here…
"[Hope Jahren] leads us on a journey across time and space, outlining thoughts and beliefs from Mesopotamia to her tiny Minnesota hometown. Along the way she discusses the impact of everything from population growth to Norwegian fishing to nuclear power. She takes this approach in order to present climate change as a result of broader dysfunctions having to do with consumption habits that, she says, don't even make us happy. . . . It's an argument that contrasts with the recent spate of climate books, which opt to pummel readers with facts and guilt. Jahren, who first came to prominence with the best-selling memoir "Lab Girl," instead writes delicately, like the whispery scrape of a skate tracing a figure on the ice." 
—The New York Times Book ​Review

"If there's one book all of us should read about the state of the environment, it's this one.​ . . . [Jahren] pulls off the feat of presenting climate change without emotional baggage through accessibility and humor." 
—The Washington Independent Review of Books

"Hope Jahren asks the central question of our time: how can we learn to live on a finite planet? The Story of More is thoughtful, informative, and—above all—essential."
—Elizabeth Kolbert, author of The Sixth Extinction
 
"A concise and personal yet universally applicable examination of a problem that affects everyone on planet Earth. . . . [Jahren] doesn't use scare tactics or shrill warnings. . . . She clearly shows how the amount of waste created by the privileged could provide plenty for those less privileged."
—Kirkus Reviews
 
"Hope Jahren is an awesome writer and scientist. Her new book, The Story of More, is captivating and compelling. She urges readers to be courageous dealing with global environmental changes and human population growth."
—Dudley Herschbach, Nobel Prize-winning chemist 
 
"The Story of More is a superb account of the deadly struggle between humanity and what may prove the only life-bearing planet within ten light years, written in a brilliantly sardonic and conversational style."
—E. O. Wilson
Delacorte Press, 9780593381137, 208pp.
Publication Date: November 2, 2021
About the Author
Hope Jahren is an award-winning scientist who has been pursuing independent research in paleobiology since 1996. She is the author of two works of nonfiction: The Story of More and the bestselling Lab Girl. Recognized by Time as one of the 100 most influential people in the world, Jahren is the recipient of three Fulbright Awards and served as a tenured professor at the University of Hawaii in Honolulu from 2008 to 2016, where she built the isotope geobiology laboratories. She currently holds the J. Tuzo Wilson professorship at the University of Oslo in Norway.