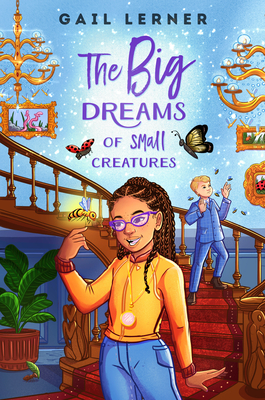 The Big Dreams of Small Creatures
Hardcover

* Individual store prices may vary.
Description
From Black-ish writer and director comes a whimsical and heartwarming tale where two unlikely allies band together to protect and defend the insect world from the worst enemy of all…humans.

Ten-year-old Eden's quiet life is upended when she saves a paper wasp nest from destruction and discovers, to her awe and amazement, that she and its haughty queen can talk to each other. This first conversation is the start of a grand adventure, leading Eden to The Institute for Lower Learning, a secret laboratory devoted to the peaceful coexistence of humans and insects. The Institute is more fantastic and idyllic than Eden could've imagined but hidden deep within its tunnels is an old secret that could spell the end for all insects on earth.

Nine-year-old August, an aspiring actor and bullied fourth-grader, is looking for that very secret after a few disastrous encounters have left him wanting to squash every annoying bug into oblivion. After all insects are small—he is big. And if there is anything he's learned from the bullies at school—it's that being bigger is what counts.

But in the world of the Institute where insects have a place of their own, both Eden and August discover being bigger isn't necessarily better and sometimes the most courageous thing to do is to set out to make a new friend.
Praise For The Big Dreams of Small Creatures…
Praise for The Big Dreams of Small Creatures:

"In the delightful new book The Big Dreams of Small Creatures by Gail Lerner, a young girl named Eden Evans discovers she can speak Wasp: Yes, she can actually speak to them, with the help of a kazoo, but I digress. From that miraculous discovery to the thrilling roller coaster ending, Eden and August, who is terrified of insects and wants to destroy them, find conflict and adventure and a whole new world in the coexistence between humans and insects. What an enchanting and wondrous book for young readers." —Jamie Lee Curtis, actress and bestselling children's book author

"From fumbling fourth-grader August to introspective, independence-loving Eden and their friends, both human and insect, Gail Lerner's characters are a delight, full of heart and humor. The Big Dreams of Small Creatures is a whimsical adventure highlighting the wonders of the natural world—and our sometimes complicated relationship with it—and the importance of kindness, compassion, and seeing things through another's eyes." —Robert Beatty, author of the bestselling Serafina series and Willa series
 
"An extraordinary and entertaining cast of characters on a remarkable eco-mission. Hopeful, upbeat, and triumphant. Our world literally needs this story in it." —Lisa McMann, New York Times bestselling author of The Forgotten Five: Map of Flames
Nancy Paulsen Books, 9780593407851, 368pp.
Publication Date: October 4, 2022
About the Author
Gail Lerner is a television and film writer/director. She has recently directed her first feature film, a reimagining of Cheaper by the Dozen, for Disney+, which will be released in February of 2022. Additionally, she has written and directed for Black-ish, Happy Endings, Ugly Betty, Grace and Frankie and Will & Grace. Her work has garnered her a Peabody Award, 6 NAACP Image Awards, and multiple Emmy and Golden Globe nominations. Her short film, Seraglio, which was co-written and co-directed with her dashing and talented husband, Colin Campbell, was nominated for a 2001 Academy Award. She holds an MFA in Theater Directing from Columbia University. This is her first novel.