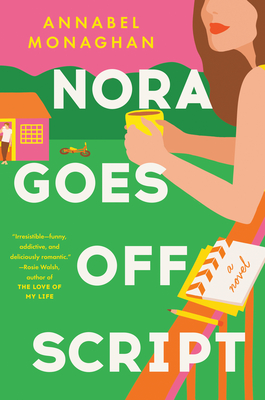 Nora Goes Off Script
Hardcover

* Individual store prices may vary.
Other Editions of This Title:
Library Binding, Large Print (6/29/2022)
Description
Evvie Drake Starts Over meets Beach Read in this heartwarming and hilarious novel about a divorced romance channel screenwriter whose script about her marriage's collapse just might help her reclaim her life and find love.

Nora's life is about to get a rewrite…

Nora Hamilton knows the formula for love better than anyone. As a romance channel screenwriter, it's her job. But when her too-good-to work husband leaves her and their two kids, Nora turns her marriage's collapse into cash and writes the best script of her life. No one is more surprised than her when it's picked up for the big screen and set to film on location at her 100-year-old-home. When former Sexiest Man Alive, Leo Vance, is cast as her ne'er do well husband Nora's life will never be the same.

The morning after shooting wraps and the crew leaves, Nora finds Leo on her porch with a half-empty bottle of tequila and a proposition. He'll pay a thousand dollars a day to stay for a week. The extra seven grand would give Nora breathing room, but it's the need in his eyes that makes her say yes. Seven days: it's the blink of an eye or an eternity depending on how you look at it. Enough time to fall in love. Enough time to break your heart.

Filled with warmth, wit, and wisdom, Nora Goes Off Script is the best kind of love story—the real kind where love is complicated by work, kids, and the emotional baggage that comes with life. For Nora and Leo, this kind of love is bigger than the big screen.
Praise For Nora Goes Off Script…
"Funny and good-hearted—a romance for romantics, a blending of the real and the deliciously unreal." —Linda Holmes, author of Evvie Drake Starts Over

"This perfectly-scripted love story left me feeling the way all the best romances do: filled with hope and the feeling that true love always wins. Nora Goes Off Script will be a reread, for sure."—Jill Santopolo, New York Times bestselling author of The Light We Lost

"Hallmark meets Hollywood in this gorgeous, fast, and poignant read that will keep you invested from the second you pick it up. A book to savor!" —Abby Jimenez, USA Today bestselling author of The Friend Zone

"Annabel Monaghan's first foray into women's fiction is the book every one of us needs right now. This delightful, marvelously meta story will charm even the most cynical of readers. With her trademark wit and snappy dialogue, Monaghan has crafted charismatic characters that readers will want to befriend in real life. Nora Goes Off Script is that perfect combination of a wildly clever premise, a captivating cast, and enough heart to make all of us fall in love." —Lynda Cohen Loigman, author of The Two Family House and The Wartime Sisters

"Funny, heartwarming, dreamy—everything I crave in a Hollywood rom-com is right here. I loved it so much I had to read the ending twice—once to see what happened and again to savor it."—KJ Dell'Antonia, author of The Chicken Sisters

"If you read one funny, feel good, page-turning book this year, make it this one. With her signature humor and snappy dialogue, Monaghan's absolute gem of a book keeps you guessing, turning pages and wishing the characters could walk off the page and come over for dinner. You don't have to be a hopeless romantic to love this book.  You just have to be ready for a story you don't want to end." —Lee Woodruff, New York Times bestselling author of Those We Love Most

"I absolutely love Nora Goes Off Script by Annabel Monaghan. I love Nora.  I love her voice. I love the romance. I love the pacing. I love that she's a mum. I love it all.…It's got the vibes of Beach Read by Emily Henry, with the escapist glamour of Hollywood. Absolutely nails the comedy, the romance, and the sparkle. My favorite read of this year, and soon to be yours!"—Lizzy Dent, author of The Summer Job

"Nora Goes Off Script is a pure delight - a spirited, funny tale of unexpected romance, small town family life, and a lingering houseguest who happens to be Hollywood's leading man. Monaghan has written a heartwarming romcom for the slightly cynical, a crisp, witty novel that is wish fulfillment at its most satisfying and a joy to devour in one sitting."—Amy Poeppel, author of Small Admissions

"With Nora Ephron-level wit and smarts, Annabel Monaghan performs something of a literary hat trick in Nora Goes Off Script. While sending-up the romance industry, she chronicles the very romantic (and oddly believable) love affair between a handsome film star and a divorced suburban mom and she turns tradition on its head. Because in this wise and funny novel, it's the Hollywood hero who needs rescuing and a grounded single mom who saves the day. Nora Goes Off Script is sexy, heart-warming, and intelligent, and I loved it!" —Karen Dukess, author of The Last Book Party

"Filled with hopefulness, wit, truths, and tons of heart, Nora Goes Off Script is everything a reader wants in a charming and laugh-out-loud romantic comedy. I loved hanging out with Nora… her quirks and kids, her insecurities and triumphs, her near-misses and home runs, and I even missed her the day after I finished the book. Monaghan has written a page-turner till the very end with a twist I never saw coming." —Susie Orman Schnall, author of We Came Here to Shine
G.P. Putnam's Sons, 9780593420034, 272pp.
Publication Date: June 7, 2022
About the Author
Annabel Monaghan is the author of two Young Adult novels and Does This Volvo Make My Butt Look Big?, a selection of laugh-out-loud columns that appeared in the Huffington Post, The Week, and The Rye Record. Nora Goes Off Script is her adult debut novel. She lives in Rye, New York, with her family.