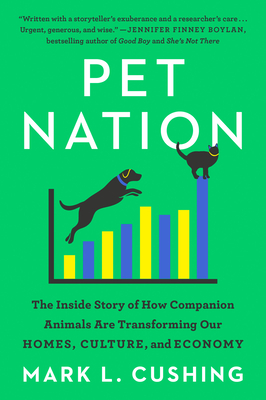 Pet Nation
The Inside Story of How Companion Animals Are Transforming Our Homes, Culture, and Economy
Paperback

* Individual store prices may vary.
Description
Now in paperback and with an update about pets during COVID.


In the last 20 years pets have gone from the backyard to sleeping on our beds, then showing up in every corner of America. Pet Nation tells the story of this seismic shift and the economic, media, legal, political, and social dramas springing from this cultural transformation.

Since 1998 the pet population in the U.S. has almost doubled -- about two-thirds of the country now owns a pet. No longer left to wander the neighborhood, dogs and cats eat special food, get individualized medical attention, and even fly in the cabin. As founder of the Animal Policy Group, Mark Cushing provides an inside look at the rise of Pet Nation, tracking the myriad ways pets are acquired (a "Canine Freedom Train" runs south to north), reporting on pet rights legislation (and the unseen problems that come with elevating their status), pet healthcare (revealing the truth and myths about large scale breeders), and discovering that despite what many organizations would have us believe, there is a shortage of dogs.

Insightful, surprising, and full of great stories, Pet Nation opens our eyes to the big changes happening in front of us right now. It shows us not only what our love of animals says about pets, it shows us what it says about ourselves.
Praise For Pet Nation: The Inside Story of How Companion Animals Are Transforming Our Homes, Culture, and Economy…
"Dogs and cats are as ubiquitous in social media as our children. The move of our pets from the backyard into our hearts is perhaps the biggest change affecting the modern family. Mark Cushing offers an eye-opening and well-researched account, showing how we're all the better for it." —Frans de Waal, New York Times bestselling author of Mama's Last Hug

"Pet Nation shows us a country transformed by the love of dogs and cats—and, in one case, a crab-eating raccoon. Written with a storyteller's exuberance and a researcher's care, Mark Cushing takes a deep dive into the loving and complex relationship between animals and their humans. Urgent, generous, and wise." —Jennifer Finney Boylan, bestselling author of Good Boy and She's Not There
 
"If you want to understand how America turned upside-down for pets, and have a great read doing it, then this is the book for you. Mark's style is always entertaining and informative, and the twists and turns of how this cultural transformation unfolded will keep you going to the last page." —Dr. Marty Becker, New York Times bestselling author and "America's Veterinarian"
 
"Four paws up for Pet Nation! Mark traces how pets went from the backyard to the bedroom and, in the process, taps into the power of the human-animal bond to bring people closer together in a world that seems resolved to drive folks apart." —Dr. Robin R. Ganzert, president and CEO of American Humane

"Mark Cushing brilliantly captures the history of our complex relationship with companion animals and forecasts a future in which pets play an increasingly important role in society, healthcare, our legal system, and the economy. This book will validate pet lovers, challenge critics, and warm the hearts of everyone who reads it." —Ernie Ward, award-winning veterinarian, author, entrepreneur, and cofounder of Wild Earth pet foods

"Meticulously researched and filled with fascinating esoterica ("Forty percent of TV commercials feature dogs. . . ."), Cushing makes the case that technology and pet culture grew up together in a symbiotic relationship that continues today. Whether you find dog brewpubs and cat cafes affirming or appalling, Pet Nation gives you a smart and unique glimpse into a cultural phenomenon that shows no signs of stopping." —Steve King, CEO of American Pet Products Association

"If Freakonomics met James Herriot in a twenty-first-century coffee shop, this is the book they would write! It's engaging, informative, interesting, and should be required reading for anyone who loves animals." —Dani McVety, DVM, founder and CEO of Lap of Love Veterinary Hospice
Avery, 9780593420645, 336pp.
Publication Date: September 21, 2021
About the Author
Mark Cushing is the founding partner and CEO of the Animal Policy Group and a Stanford honors graduate. He acts as Trustees Counsel for Lincoln Memorial University and has served as adjunct faculty and lecturer at Lincoln Memorial University, Lewis & Clark College, and the University of Oregon law school.
or
Not Currently Available for Direct Purchase