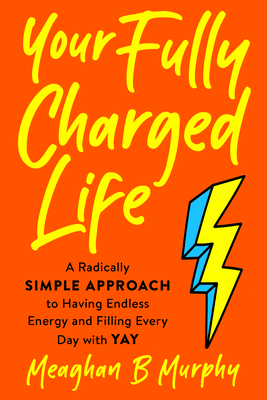 Your Fully Charged Life
A Radically Simple Approach to Having Endless Energy and Filling Every Day with Yay
Paperback

* Individual store prices may vary.
Other Editions of This Title:
Digital Audiobook (2/22/2021)
Hardcover (2/23/2021)
Description
A high-energy guide to living with presence, optimism, and joy--one yay at a time!

Ever wish you were one of those upbeat, positive people who embrace every day with a can-do mindset that motivates others and simply makes life more fun? Longtime magazine editor Meaghan B Murphy is one of those high-energy people--and she's here to share her secrets for finding more yay every day.

Your Fully Charged Life is Murphy's practical guide to bringing your best self to every moment, even when the pressures of daily life leave you feeling overwhelmed, exhausted, and wallowing in negative thoughts (and a pint of your favorite gelato). Spanning health, work, family time, and more, this book reveals small changes in outlook and habits that yield big results, without ever sacrificing who you are.

Informed by the latest research in neuroscience, positive psychology, and inspiring examples of women and men who live fully charged every day, the book presents simple ways to:


cultivate gratitude--and pass it along
make meaningful connections with the people around you
learn to say no--so you can fill your days with things that matter to you most
recharge when you need it
spread the positive charge to others to make the world a happier, healthier place

Going beyond platitudes and shallow Insta-inspiration, this inspiring and empowering book provides a blueprint for feeling less stressed and genuinely making the most of your every day.
Praise For Your Fully Charged Life: A Radically Simple Approach to Having Endless Energy and Filling Every Day with Yay…
"Meaghan feels like the best friend you've always wanted.  She's the positive, energizer bunny, confident ally pushing you to do better because she knows you can.  Her words and this book will inspire you to be the best version of yourself.  You will hear her message in your head, pushing you, believing in you until ultimately you're doing it yourself.  Magic!" 
–Kate T. Parker, New York Times bestselling author/photographer
 
"If you want more energy and focus, read this book now. You'll find simple, science-backed ways to feel better so you can achieve what matters most, while always staying true to who you are."
–Marie Forleo, #1 New York Times bestselling author of Everything is Figureoutable
 
"Your Fully Charged Life is a road map to a leveled up life on all fronts. I love how Meaghan's simple yet effective way of showing how to Live Fully Charged is as tactical as it is entertaining. Her spark for life is contagious and is exactly what is needed right now with so much negativity, stress, and anxiety in the world. Your Fully Charged Life reminds us to find the YAY in each day. This book is a must read for anyone looking to level up, live with more joy, and create more energy!"
–Brandon Farbstein, Global Empowerment Speaker & Gen Z Activist
 
"Meaghan Murphy's Your Fully Charged Life is a welcome guide in trying times. These inspiring ideas are encouraging and enlightening, and Meaghan graciously takes you by the hand to show you that it is never too late to make every day count."
–Joan Lunden, Award Winning Journalist
 
"Your Fully Charged Life is exactly what women need in crisis and beyond to untangle the realities of a world where everything collides - personal goals, work, family, and more. Meaghan lays out the groundwork for women to recognize and move beyond the day-to-day challenges to finding fulfillment, joy and happiness in a meaningful and exciting way." 
–Blessing Adesiyan, Founder & CEO, Mother Honestly
 
"I've always said I wish we could bottle Meaghan's positive energy and now we can—Your Fully Charged Life is that secret Meaghan sauce in book form. You are in for a treat!"
–Karena Dawn, Co-Founder of Tone It Up and best-selling author of Tone It Up: Balanced and Beautiful 
 
"In these frenzied and frantic times, it's more important than ever to tune into what matters most. Meaghan Murphy's book will show you how—by empowering you to tap into your source of strength—whether it's faith, family or simply making the most of every single day. Tune into her book and discover new ways to get and stay fully charged!" 
–Paula Faris, Journalist, Podcaster, Author 

"As someone who's mildly obsessed with energy management, I found this book to be a refreshing and practical blend of fascinating research and inspiring lived experience. If you want to feel more lit up by your life, look no further!"
–Kate Northrup, bestselling author of Do Less
 
TarcherPerigee, 9780593421444, 256pp.
Publication Date: February 22, 2022
About the Author
Meaghan B Murphy is a longtime magazine editor, writer, on-air lifestyle expert, podcaster, and certified trainer. Currently the Editor-in-Chief at Woman's Day magazine, Murphy is a media veteran who previously served as executive editor of Good Housekeeping. She lives with her husband and their three children and fur baby in Westfield, New Jersey.