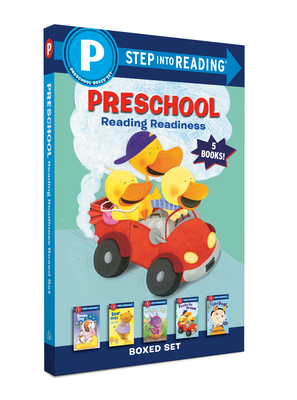 Preschool Reading Readiness Boxed Set
Sleepy Dog, Dragon Egg, I Like Bugs, Bear Hugs, Ducks Go Vroom (Step into Reading)
Boxed Set

* Individual store prices may vary.
Description
Help your preschooler learn to read with 5 books from the #1 early reader line, Step into Reading! Remember, a lifetime love of reading starts with a single Step!

Your child is taking the first steps on an exciting journey! This boxed set is perfect for sharing at home or in the classroom. All five Step 1 books are designed for children who know the alphabet. Emergent readers will be engaged by the simple words, rhyme, rhythm, and repetition, and picture clues that support word identification, while being entertained with dragons, bears, dogs, bugs, ducks, and more! The tried-and-true books chosen especially for your preschooler are: Ducks Go Vroom!; I Like Bugs; Dragon Egg; Sleepy Dog; and Bear Hugs.
Random House Books for Young Readers, 9780593425503, 160pp.
Publication Date: December 1, 2020
About the Author
Harriet Ziefert is the author of hundreds of children's books and the publisher of Blue Apple Books in Maplewood, New Jersey. Her books include the bestelling Sleepy Dog in the Step Into Reading series and the acclaimed A New Coat for Anna, a story of the devotion between a mother and daughter during hard times after World War II.  

Not only is Mallory Loehr a talented author, but she's also the Senior Vice President of Random House Books for Young Readers. She lives in Brooklyn, New York.

Margaret Wise Brown (1910–1952), best known as the author of Goodnight Moon, wrote countless children's books inspired by her belief that the very young are fascinated by the simple pleasures of the world around them. Among her many bestselling books are The Little Island, The Golden Egg Book, The Color Kittens, and The Sailor Dog.

Alyssa Satin Capucilli is one of the most recognizable names in the easy-to-read field. Her super-successful Biscuit books have sold hundreds of thousands of copies in multiple formats. Alyssa is also the author of Step 1: Step into Reading books Bear Hugs and Panda Kisses.

Jane Kohuth loves to write about goofy animals. She lives in Holliston, Massachusetts.