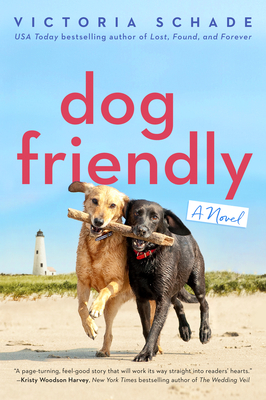 Dog Friendly
Paperback

* Individual store prices may vary.
Other Editions of This Title:
Digital Audiobook (6/27/2022)
Library Binding, Large Print (9/7/2022)
Description
"Perfect to read on the beach." –The Boston Globe

A burned-out veterinarian takes a much-needed beach vacation, where a charming surfer makes waves in her love life, and a unique foster pup renews her passion for her work.
 
Exhausted veterinarian Morgan Pearce is feeling overworked and under-thanked, so when two favorite clients ask her to watch their special needs senior dog in their Nantucket home, she jumps at the chance for a summer break. She hopes her time on the island will be a reset from the stress of her everyday life, but her chill vacation vibe takes a hit when she gets roped into fostering a challenging, anxious dog and helping plan the local rescue group's glittery annual fundraiser.
 
Her trip starts to feel more like a vacation when Morgan begins falling for Nathan Keating, an irresistible entrepreneur who thinks every problem can be solved on a surfboard. Just as the summer is shaping up to be the magical refresh she needs, thanks to a fling that feels like the beginning of something real and Hudson, the foster dog who reminds her how much she loves her job, a visit from her estranged brother and the discovery of who Nathan really is changes everything. Morgan finds herself at a crossroads, trying to determine if mistakes from the past must define the future, or if she should forgive, forget, and grab hold of a chance to finally rescue herself.
Praise For Dog Friendly…
"With huge heart, great tenderness, and plenty of unforgettable moments between dogs and their humans, Victoria Schade reminds readers that sometimes it takes getting away to find out where you are truly meant to be. Dog Friendly is a page-turning, feel-good story that—like a wet nose and a wagging tail—will work its way straight into readers' hearts. Add this literary gem to your TBR immediately!"
—Kristy Woodson Harvey, New York Times bestselling author of The Wedding Veil

"Pet lovers, eat your heart out. The latest novel from dog trainer and author Victoria Schade features an overworked veterinarian, Morgan Pearce, who escapes to Nantucket to recharge while taking care of her client's special needs dog. Unexpected romance is in store, however, when she meets a charismatic surfer."
—The Boston Globe

"I was happily caught up in Dog Friendly from page one. The dogs are adorable, of course, but there are very real and weighty issues for Morgan and Nathan to face and overcome. Readers are there, with them, watching the sunset from the sandy dunes, holding our breath as Hudson struggles with anxiety, and falling in love—the kind that lasts. Victoria Schade delivers an easy-breezy read, balancing emotional punches with warm fuzzies—for the humans and their canine compatriots."
—Sasha Summers, USA Today bestselling author of The Sweetest Thing

"You don't have to be a dog person to love this honest yet hopeful book, but the animal lover in me delighted in Victoria Schade's latest, with my favorite pups, swoon-worthy love interest, and the most memorable happily-ever-after to date. Dog Friendly will give you all the feels."
—Jenni L. Walsh, author of Becoming Bonnie and The Call of the Wrens

"This latest doggie tale from Schade is a great read, with descriptive style, beautiful flow, captivating characters, and an HEA."
—Booklist

"This book was a page-turner. The characters were so real and their problems so relatable, I was cheering for them through every twist and turn. Timely topics like career burnout and the long-lasting effects of childhood hurts were balanced by dogs and sun and surf. I didn't want this charming summer in Nantucket to end, but this is one of those books that leaves you with a sense of joy and hope long after you've read the last page."
—Caro Carson, author of The Colonels' Texas Promise

"Victoria Schade has done it again. Another feel good, dog friendly, tail-waggingly fantastic story! Victoria's books will always have a home on my keeper shelf!"
—Patience Griffin, award-winning author of the Kilts & Quilts ® series and the Sweet Home, Alaska series

"If you love pets and believe in rescues, fostering and adopting Dog Friendly should be at the top of your must-read list. Dog Friendly is that well-written and compelling."
—Fresh Fiction

Praise for Lost, Found, and Forever

"A perfect romance—charming characters, amazing chemistry, and a rescue dog that steals your heart!"
—Jennifer Probst, New York Times bestselling author of Our Italian Summer

"Like the proverbial dog with a bone, I devoured this book in almost one go. It's the adorable tale of a movie star dog at the heart of a rescue doggie custody battle...which is actually a love match rescue. Pure delight!"
—Julia London, New York Times bestselling author of You Lucky Dog

"The most charming love triangle of the season. It's a good thing one of them has dog sense. I especially loved the inside peek at movie-making with the cutest canine ever. Spencer will steal your heart."
—Shelley Noble, New York Times bestselling author of Imagine Summer

"Victoria Schade continues to dazzle with Lost, Found, and Forever. Fetch this adorable book for lighthearted romance and one of the best doggos, Spencer."
—Tif Marcelo, USA Today Bestselling Author of The Key to Happily Ever After

"For everyone who has loved a dog—or a human—this warm and fetching story is an absolute delight. With a charming and intimate small-town setting alongside Hollywood glamour, a winning romance, and one precocious pup, all wrapped up in a bighearted tale of a woman's journey toward passion and purpose, Lost, Found, and Forever is a real treat."
—Phoebe Fox, author of A Little Bit of Grace

Praise for Who Rescued Who

"Chock full of heart and humor, anyone who has ever been redeemed by the love of a dog will treasure this uplifting, big-hearted novel."
—Lori Nelson Spielman, New York Times bestselling author of The Star-Crossed Sisters of Tuscany

"Who Rescued Who is the perfect feel-good book with charismatic characters, swoony romance, family secrets, and snuggly puppies. Grab your furry friend and start reading now."
—Amy E. Reichert, author of The Kindred Spirits Supper Club

A funny, emotional story about finding yourself, finding family, and eventually, finding love. Who Rescued Who is one of my top reads for this year—a funny, emotional, swoon-worthy romance! This one had ALL the feels!"
—Jennifer Probst, New York Times bestselling author of Our Italian Summer

"Pet lovers will rejoice over this too-cute 'tail' about Elizabeth Barnes, who travels to her late father's family homestead in the English countryside."
—Woman's World

"A delightful romp through the English countryside...resplendent with sheep, dogs, cats, and lovely people. Beyond her irresistible story, Schade writes with beautiful descriptions. Readers will laugh, cry, and love this charmer."
—Booklist (starred review)

"You don't have to be a dog person to love this heartfelt book, but you will be by the time you finish it. Victoria Schade has written a timely, heartwarming story for everyone who longs to break free of the rose-colored filter of our Instagram age and rediscover the messy perfection of life, love, and the people—and pets—who shape us."
—Lyssa Kay Adams, author of The Bromance Book Club

"I loved it so, so much. It made me cry, but mostly it made me want to throw away my phone, buy some sheep and move to the English countryside to rescue dogs and live in a rom-com."
—Teri Wilson, Author of The Accidental Beauty Queen

"A charming, fish-out-of-water story about finding your heart and home in the place you least expect. After reading this book, I wanted to adopt a puppy and relocate to rural England. I absolutely adored it."
—Sarah Smith, Author of Faker

"As satisfying as a basket of fresh scones and as heartwarming as puppy kisses, I didn't want this book to end."
—Lindsay Emory, author of The Royal Runaway

"Once again, Schade comes at us with her trademark smarts and humor (or should I say, humour?) to deliver a story with everything to love...[T]he author uses her long career as a professional trainer to help us all understand our pets, and our bonds with them, as no one else can. A winner."
—Kristine Gasbarre, #1 New York Times bestselling author of How to Love an American Man: A True Story

"The engrossing, evocative prose whisked me away to an utterly charming British chocolate box village, where I would have loved to stay. Who Rescued Who is certainly a special treat for dog lovers, but also for anyone who enjoys a multi-layered story about finally finding a family in every sense."
—Evie Dunmore, Author of Bringing Down the Duke

"Victoria Schade knows how to tell a sweet story of finding love in the most unexpected places and discovering your dreams. You don't have to be a dog lover to enjoy…Well done, Victoria Schade. Who Rescued Who hit it out of the park!"
—Fresh Fiction

Praise for Life on the Leash

"Charming and heartfelt, Life on the Leash will delight readers. The perfect book for dog lovers!"
—Chanel Cleeton, New York Times bestselling author of The Last Train to Key West

"Even cat lovers will get wrapped up in this delightful story of girl, girl's best friend, girl's best girlfriends and a couple of guys. Cora's canines in training will steal your heart. I couldn't wait to see what happened next!"
—Shelley Noble, New York Times bestselling author of Lighthouse Beach

"Life on the Leash is the novel you've been waiting for all year—a strong, funny, big-hearted heroine to cheer for in life and in love, plenty of 'I've-been-there' dating moments, and adorable, endearing, sometimes mischievous dogs to love on every page."
—Nicolle Wallace, dog lover, author and MSNBC host

"A bighearted and witty debut from a writer with remarkable insight into the minds of dogs and those who love them. The winsome cast of characters will have you hooked on Life on the Leash from the first page."
—Meg Donohue, USA Today bestselling author of Dog Crazy
Berkley, 9780593437391, 352pp.
Publication Date: June 28, 2022
About the Author
Victoria Schade is a dog trainer and speaker. She lives in Pennsylvania with her husband, her dogs Millie and Olive, and the occasional foster pup.