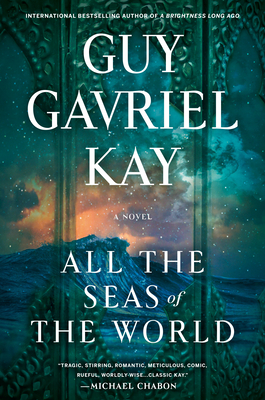 All the Seas of the World
Hardcover

* Individual store prices may vary.
Other Editions of This Title:
Digital Audiobook (5/16/2022)
Paperback (4/18/2023)
Description
Returning triumphantly to the brilliantly evoked near-Renaissance world of A Brightness Long Ago and Children of Earth and Sky, international bestselling author Guy Gavriel Kay deploys his signature 'quarter turn to the fantastic' to tell a story of vengeance, power, and love.  

On a dark night along a lonely stretch of coast a small ship sends two people ashore. Their purpose is assassination. They have been hired by two of the most dangerous men alive to alter the balance of power in the world. If they succeed, the consequences will affect the destinies of empires, and lives both great and small.  
   
One of those arriving at that beach is a woman abducted by corsairs as a child and sold into years of servitude. Having escaped, she is trying to chart her own course—and is bent upon revenge. Another is a seafaring merchant who still remembers being exiled as a child with his family from their home, for their faith, a moment that never leaves him. In what follows, through a story both intimate and epic, unforgettable characters are immersed in the fierce and deadly struggles that define their time.  
  
All the Seas of the World is a page-turning drama that also offers moving reflections on memory, fate, and the random events that can shape our lives—in the past, and today.
Praise For All the Seas of the World…
"Tragic, stirring, romantic, meticulous, comic, rueful, worldly-wise, and written in the intimate, deceptively nonchalant voice of a storyteller offering up his great gift, All the Seas of the World is classic Kay, and to this reader, at least, there can be no higher praise."—Michael Chabon

"A mosaic of captivating story lines within a mesmerizing narrative frame. . . . Kay constructs a rich world that easily draws readers in. Historical fantasy fans will be wowed."—Publishers Weekly (starred review)

"This is an immersive reading experience; readers will taste the dust in their mouths, see the high seas from the deck of a merchant ship, feel the bustle of the city market. What results is necessary sustenance for the starving reader. A masterpiece from a master of the craft." – Booklist (starred review)

"All the Seas of the World is as rich a tapestry as we've come to expect from Kay—perhaps one of the richest." – Locus


Praise for Guy Gavriel Kay

"[Read] anything by Guy Gavriel Kay....His strengths are strong characters and fantastic set pieces."—The New Yorker

"History and fantasy rarely come together as gracefully or readably as they do in the novels of Guy Gavriel Kay."—The Washington Post Book World

"Kay is a genius. I've read him all my life and am always inspired by his work."—#1 New York Times bestselling author Brandon Sanderson

"Guy Gavriel Kay has a wonderful talent. He tells stories in an invented world that is so rich in historical echoes that I found myself smiling with pleasure as I heard the echoes, while engrossed in the story. Warmly recommended."—Edward Rutherfurd 

"Kay is peerless in plucking elements from history and using them to weave a wholly fantastical tale that feels like a translation of some freshly unearthed scroll from a time we have yet to discover."—The Miami Herald
Berkley, 9780593441046, 528pp.
Publication Date: May 17, 2022
About the Author
Guy Gavriel Kay is the international bestselling author of fourteen previous novels, including the Fionavar Tapestry series, Tigana, The Last Light of the Sun, Under Heaven, River of Stars, Children of Earth and Sky, and A Brightness Long Ago. He has been awarded the International Goliardos Prize for his work in the literature of the fantastic and won the World Fantasy Award for Ysabel in 2008. In 2014 he was named to the Order of Canada, the country's highest civilian honor. His works have been translated into more than thirty languages.