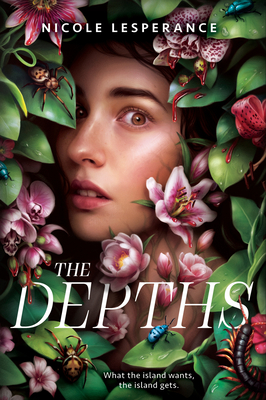 The Depths
Hardcover

* Individual store prices may vary.
Other Editions of This Title:
Digital Audiobook (9/12/2022)
Description
A tropical island full of secrets. Two Victorian ghosts, trapped for eternity. And a seventeen-year-old girl determined not to be next.

Eulalie Island should be a paradise, but to Addie Spencer, it's more like a prison.

Forced to tag along to the remote island on her mother's honeymoon, Addie isn't thrilled about being trapped there for two weeks. The island is stunning, with its secluded beaches and forests full of white flowers. But there's something eerie and unsettling about the place.

After Addie meets an enigmatic boy on the beach, all the flowers start turning pink. The island loves you, he tells her. But she can't stop sleepwalking at night, the birds keep calling her name, and there's a strange little girl in the woods who wants to play hide-and-seek. When Addie learns about two sisters who died on the island centuries ago, she wonders if there's more to this place, things only she can see.

Beneath its gorgeous surface, Eulalie Island is hiding dark, tangled secrets. And if Addie doesn't unravel them soon, the island might never let her go.
Praise For The Depths…
★ "Full of Victorian storytelling elements and tinged with drama and danger, this story will ensnare readers with its lush setting and mysterious air. Lesperance effortlessly builds a beautiful, menacing world into which readers will willing dive headlong." –Booklist, starred review

"Readers will dive in so deep they might forget to come up for air." –Kirkus Reviews

"This dark, lushly written story is beautiful enough to keep you completely mesmerized...right up until the moment when pulls you below the surface and leave you gasping for air." –Ginny Myers Sain, author of Dark and Shallow Lies

"The Depths is a horror gem that breathes new life into the gothic genre. With a resilient but shaken heroine, a vibrant setting that's both claustrophobic and expansive, and a plot with as many twists and turns as the tangled jungle around them, this enchanting novel holds your hand and guides you into its dark heart with ease. Lesperance's brilliant and terrifying novel is not one I'll soon forget." –Courtney Gould, author of The Dead and the Dark

"Perfect for fans of The Hazel Wood and Wilder Girls, The Depths weaves an enchanting and unsettling spell that will grip you like the most tenacious vine. Creeping, vibrant and insidious—I loved it!" –Kat Ellis, author of Harrow Lake

"A gorgeous, terrifying story. Eulalie Island is the perfect tropical getaway...just don't be surprised if it never lets you leave." –Katrina Leno, author of Horrid

"It's hard to think of another book as gorgeously written as The Depths. I was completely mesmerized by the beautifully haunting island and its eerie inhabitants. Utterly enthralling!" –Jesse Q. Sutanto, author of Dial A for Aunties and The Obsession

"Just like the island where it takes place, The Depths will lure you in with its spell-binding combination of beauty and peril. Mesmerized by the lush setting and vertiginous twists, you may never want to leave!" –Margot Harrison, author of We Made It All Up
Razorbill, 9780593465363, 368pp.
Publication Date: September 13, 2022
About the Author
Nicole Lesperance grew up on Cape Cod and graduated from Wesleyan University. She spent a few years in London and now lives near Boston with her husband, two kids, and two rambunctious black cats. She writes YA and middle grade books. Follow her on Twitter @niclesperance or visit her online at NicoleLesperance.com.