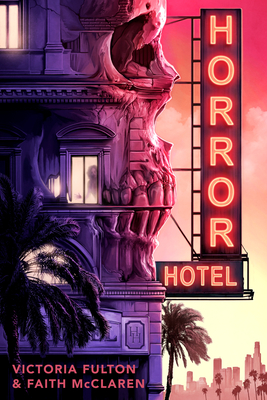 Horror Hotel
Paperback

* Individual store prices may vary.
Other Editions of This Title:
Digital Audiobook (1/31/2022)
Description
This addictive YA horror about a group of teen ghost hunters who spend the night in a haunted LA hotel is The Blair Witch Project for the TikTok generation.

"Fast-paced and freaky."—Kendare Blake, #1 NYT bestselling author of All These Bodies

Enjoy your stay...

When the YouTube-famous Ghost Gang—Chrissy, Chase, Emma, and Kiki—visit a haunted LA hotel notorious for tragedy to secretly film after dark, they expect it to be just like their previous paranormal huntings. Spooky enough to attract subscribers—and ultimately harmless.

But when they stumble upon something unexpected in the former room of a gruesome serial killer, they quickly realize that they're in over their heads.

Sometimes, it's the dead who need our help—and the living we should fear.
Praise For Horror Hotel…
Praise for Horror Hotel:

"Fast-paced and freaky, Horror Hotel is a fun, ripped-from-the-headlines ghost-hunting adventure, perfect for fans of true crime, and people who always check underneath their hotel beds."—Kendare Blake, #1 NYT Bestselling author of All These Bodies

"Spooky, grisly, suspenseful, and satisfying. An absolute thrill ride of a story!"—Eva V. Gibson, author of Where Secrets Lie

"Chilling and tightly plotted. I dare you to not hold your breath as you race to the finish of this spine-tingling debut."—Demetra Brodsky, ITW thriller award-nominated author of Last Girls

"Horror Hotel is an action-packed thriller sure to keep true-crime addicts on the edge of their seats." —Diana Rodriguez Wallach, author of Small Town Monsters

"[W]ill definitely keep you up at night."—POPSUGAR

"An engaging, and at times grisly mystery that will keep readers guessing."—Kirkus Reviews

"A ghost vlog turns murder mystery in Fulton and McClaren's layered horror debut."—PW

"I am all in...a paean to found footage films and the Scooby Doo gang."—CrimeReads

"The alternating perspectives of each character are clearly drawn, so there is no confusion while the ominous setting and true story tie-in will keep the pages turning."—YALSA

"A truly mesmerizing and thrilling ghost story, Horror Hotel can hold its own on a shelf next to a Christopher Pike book any day."—Independent Voice

"A deftly crafted novel that combines elements of fantasy, mystery, and suspense by effectively collaborative authors with a genuine flair for originality and narrative driven storytelling."—Midwest Book Review

Underlined, 9780593483480, 256pp.
Publication Date: February 1, 2022
About the Author
Victoria Fulton and Faith McClaren are an award-winning coauthor duo who write edgy rom-coms and frightening horror with plenty of smooching, friendship and movie references. Originally hailing from Ohio and Texas, respectively, they met in an online writing workshop where their friendship quickly blossomed into a partnership demanding they live in the same state. Now they both work and write in too-sunny Los Angeles, CA. Victoria lives with her fiancé and their two cat children and co-runs a PR agency with her other best friend in her spare time. Faith eats home baked goods made by her husband, raises a wolf-loving son, and wrangles two scruffy dogs, while also working as a book coach and developmental editor, and writing YA and women's fiction under her real name Rebekah Faubion.