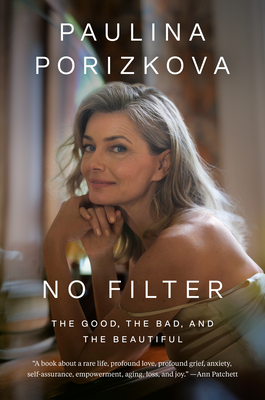 No Filter
The Good, the Bad, and the Beautiful
Hardcover

* Individual store prices may vary.
Description
"A book about a rare life, profound love, profound grief, anxiety, self-assurance, empowerment, aging, loss, and joy. It is nuanced, complex, insightful, helpful, and constantly surprising." —Ann Patchett, New York Times bestselling author of These Precious Days

Writer and former model Paulina Porizkova pens a series of intimate, introspective, and enlightening essays about the complexities of womanhood at every age, pulling back the glossy magazine cover and writing from the heart.

Born in Cold War Czechoslovakia, Paulina Porizkova rose to prominence as a model, appearing on her first Sports Illustrated Swimsuit Issue cover in 1984.  As the face of Estée Lauder in 1989, she was one of the highest-paid models in the world. When she was cast in the music video for the song "Drive" by The Cars, it was love at first sight for her and frontman Ric Ocasek. He was forty at the time, and Porizkova was nineteen. The decades to come would bring marriage, motherhood, a budding writing career; and later sadness, loneliness, isolation, and eventually divorce. Following her ex-husband's death—and the revelation of a deep betrayal—Porizkova stunned fans with her fierce vulnerability and disarming honesty as she let the whole world share in her experience of being a woman who must start over.
 
This is a wise and compelling exploration of heartbreak, grief, beauty, aging, relationships, re-invention and finding your purpose. In these essays, Porizkova bares her soul and shares the lessons she's learned—often the hard way. After a lifetime of being looked at, she is ready to be heard.
Praise For No Filter: The Good, the Bad, and the Beautiful…
One of TIME's 10 New Books You Should Read in November
One of Good Morning America's November Books to Pack for the Holidays
One of the New York Post's 28 Books You'll Want to Read This Fall

"Porizkova is uniquely positioned to write about the beauty industry, the fetishization of youth, aging in the public eye, and yes, feminism. No Filter consists of a series of essays covering everything from an increasingly toxic marriage to honesty online."
—TIME

"I absolutely loved this heartfelt memoir by former model Paulina Porizkova. Like anyone who was around in the '80s and '90s, I knew who Porizkova was (and her husband, Ric Ocasek, of the Cars). But it turns out I knew absolutely nothing about her. . . . Here is a woman who has considered aging, life, love, friendship, loss, and everything important. Here is a woman whom I would want to be friends with. Memoirs like No Filter that really let the reader in are a true gift."
—Good Morning America

"Porizkova's new book of essays, No Filter, gives readers a longer, deeper glance into her life's events and innermost workings. A heartfelt meditation on everything a woman can go through in her life—a successful career, raising a family, loss and tragedy, and betrayal—the memoir is as revealing as it is relatable." 
—Shondaland

"No Filter is a study in the concept of 'both/and' . . . The memoir truly comes alive—in style and substance—when Porizkova smashes the facade of her glamorous marriage to Ocasek. . . . Porizkova walks a delicate line, capturing their complicated marriage and its many conflicting truths."
—New York Times

"Model Paulina Porizkova reflects on the privilege that comes with being beautiful—and the obligation to wield it virtuously."
—Harper's Bazaar

"Paulina Porizkova explores how complicated aging can be, and how even supermodels sometimes find it tough to grapple with what they see in the mirror."
—Katie Couric Media

"She has become a voice for her generation thanks to her candor and vulnerability on social media, and now, Paulina Porizkova is pulling the layers back even further in her book, No Filter. The collection of nonfiction essays . . . is a way for the 57-year-old SI Swimsuit model to bare her soul even more. . . . [Porizkova] touches on love, heartbreak, and reinvention."
—Sports Illustrated

"Her book, aptly titled No Filter: The Good, the Bad, and the Beautiful, is meant to feel like 'a companion for you in recognizing aspects of yourself.' It not only tackles the physical experience of aging but the real-life indignities that all women face as they get on in years, from grief to shame to betrayal."
—The Cut

"Women in Hollywood have started a movement when it comes to aging. They are tossing out ageist societal standards and ushering in a fresh perspective on how great life is at 40, 50, 60, and beyond. Leading the way is supermodel Paulina Porizkova, whose new book, No Filter, discusses her decision to lean into the power of her age on not only a physical level, but also an emotional level."
—SheKnows

"In No Filter, [Porizkova is] delving deeper. A collection of essays on marriage, motherhood, heartbreak and so much more, the book, she says, is meant to serve as solace for those who need it."
—Next Avenue

"No Filter is a book about a rare life, profound love, profound grief, anxiety, self-assurance, empowerment, aging, loss, and joy. It is nuanced, complex, insightful, helpful, and constantly surprising. Do you think you know what kind of book a super model writes? Think again. Paulina Porizkova is in the business of defying expectations."
—Ann Patchett, New York Times bestselling author of These Precious Days

"I remained contentedly awake all through the night reading this book. Totally absorbed, sighing appreciatively. If you grew up already having an affinity for Paulina Porizkova, you will close this book with a smile, knowing she is even more remarkable than you thought. Porizkova is a brilliant writer and generous memoirist of a dazzling and fractured fairy tale life. It is when the fairy tale turns Grimm that Porizkova reveals the true depth of her innocence and wisdom. Whether you are someone who welcomes love at the front door, or someone who thinks to enter through the chimney first, you will be heartened to be living and aging in the time of Paulina Porizkova. I love this book."
—Selma Blair, New York Times bestselling author of Mean Baby

"Porizkova's obvious physical gifts are breathtaking, but her hidden gifts of the spirit are transformative. She is clearly beautiful, gracious, and elegant, but it is her rigorous honesty, poetic sensibility, and courage that strike to the heart and soul. As we encounter the vagaries of aging, we look for role models—not just models—and she is a powerful force for self-acceptance, a willingness to sit with pain and loss, and truth-telling."
—Rosanne Cash, New York Times bestselling author of Composed

"A candid retrospective about what Porizkova has learned and the many things she wishes she had known earlier. An honest and engaging writer, Porizkova comes across as wise, experienced, and relatable."
—Booklist (starred review)
The Open Field, 9780593493526, 240pp.
Publication Date: November 15, 2022
About the Author
Paulina Porizkova is a Czechoslovak-born writer. A former model, she was the first central European woman to appear on the cover of the Sports Illustrated swimsuit issue in 1984. In 1988, she became one of the highest-paid models in the world as the face of Estée Lauder. She has starred in sixteen movies and a slew of TV shows as an actress, and she served as part of the judging panel on cycle 10 of America's Next Top Model. Her debut novel, A Model Summer, was published in 2007. This is her nonfiction debut.