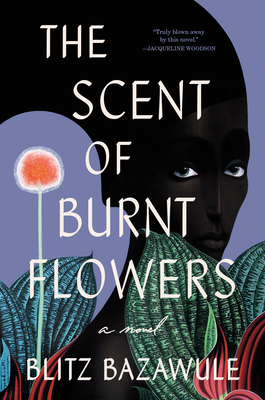 The Scent of Burnt Flowers
A Novel
Hardcover

* Individual store prices may vary.
Other Editions of This Title:
Digital Audiobook (6/27/2022)
Description
Fleeing persecution in 1960s America, a Black couple seeks asylum in Ghana, but fresh dangers and old secrets threaten their newfound freedom in this hypnotic debut novel.

"I am truly blown away by this novel."—Jacqueline Woodson, New York Times bestselling author of Red at the Bone

When the windshield of his Chevy Impala shatters in a dark diner parking lot in Alabama, Melvin moves without thinking. A split-second reaction marrows in his bones from the days of war, but this time it is the safety of his fiancé, Bernadette, at stake. Impulse keeps them alive, and yet they flee with blood on their hands. What is life like now that they are fugitives? Pack passports. Empty bank accounts. Set their old life on fire. The couple disguise themselves as a pastor and a reluctant pastor's wife who's hiding a secret from her fiancé. With a persistent FBI agent on their trail, they travel to Ghana to seek the help of Melvin's old college friend who happens to be the country's embattled president, Kwame Nkrumah.

The couple's chance encounter with Ghana's most beloved highlife musician, Kwesi Kwayson, who's on his way to perform for the president, sparks a journey full of suspense, lust, magic, and danger as Nkrumah's regime crumbles around them. What was meant to be a fresh start quickly spirals into chaos, threatening both their relationship and their lives. Kwesi and Bernadette's undeniable attraction and otherworldly bond cascades during their three-day trek, and so does Melvin's intense jealousy. All three must confront one another and their secrets, setting off a series of cataclysmic events.

Steeped in the history and mythology of postcolonial West Africa at the intersection of the civil rights movement in America, this gripping and ambitious debut merges political intrigue, magical encounters, and forbidden romance in an epic collision of morality and power.
Praise For The Scent of Burnt Flowers: A Novel…
"The novel is by turns rollicking, romantic and solemn, always acutely aware of the historical forces shaping its characters' destinies and fascinated with the culture shocks they experience as they move between continents."—Dave Itzkoff, The New York Times

"Blitz Bazawule is a phenomenal storyteller. The Scent of Burnt Flowers is at once deeply real and surprisingly magical. I am truly blown away by this novel."—Jacqueline Woodson, New York Times bestselling author of Red at the Bone

"Blitz Bazawule's debut novel is so alive, so cinematic. I am thrilled to have fallen into this—a colorful, delicious ride through the senses and beyond; a tale of danger, love, and all the small, true things that will not be named."—Yrsa Daley-Ward, PEN Ackerley Prize–winning author of The Terrible

"This story has magic, political conspiracy, and romance, along with the historical elements of the U.S. civil rights movement and Ghanaian colonization. It will appeal to readers of many genres who enjoy an eccentric cast of characters in a vibrant historical setting."—Library Journal

"In a transportive debut set in the mid-1960s, Ghanaian artist Bazawule charts the fallout of the violent confrontation of an African American couple by a racist gang. . . . Bazawule nails the atmosphere, loading it with cultural details on everything from palm wine to Highlife music. It's an engaging . . . period piece."—Publishers Weekly
Ballantine Books, 9780593496237, 256pp.
Publication Date: June 28, 2022
About the Author
Blitz Bazawule is a multidisciplinary artist born in Ghana. His feature directorial debut, The Burial of Kojo, premiered on Netflix via ARRAY Releasing. He co-directed Beyoncé's Black Is King, which earned him a Grammy nomination. Bazawule is set to direct the musical version of The Color Purple for Warner Bros. His artwork has been featured at the Whitney Biennial. He is also a TED senior fellow and a Guggenheim fellow.