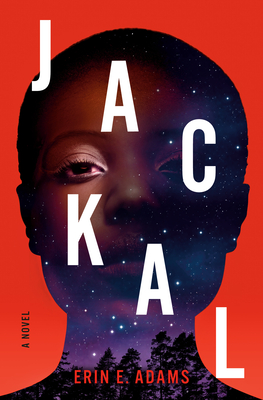 Jackal
A Novel
Hardcover

* Individual store prices may vary.
Other Editions of This Title:
Digital Audiobook (10/3/2022)
Library Binding, Large Print (3/8/2023)
Description
RECOMMENDED BY GILLIAN FLYNN ON THE TODAY SHOW • A young Black girl goes missing in the woods outside her white rust belt town. But she's not the first—and she may not be the last. . . .

"I read this thriller that is Get Out meets The Vanishing Half in one night."—BuzzFeed

"Extraordinary . . . A terrifying tale of fears and hatreds generated by racism and class inequality."—Associated Press

FINALIST FOR THE EDGAR® AWARD • A PHENOMENAL BOOK CLUB PICK • ONE OF THE BEST BOOKS OF THE YEAR: Esquire, Vulture, PopSugar, Paste, Publishers Weekly

It's watching.

Liz Rocher is coming home . . . reluctantly. As a Black woman, Liz doesn't exactly have fond memories of Johnstown, Pennsylvania, a predominantly white town. But her best friend is getting married, so she braces herself for a weekend of awkward, passive-aggressive reunions. Liz has grown, though; she can handle whatever awaits her. But on the day of the wedding, somewhere between dancing and dessert, the couple's daughter, Caroline, disappears—and the only thing left behind is a piece of white fabric covered in blood.

It's taking.

As a frantic search begins, with the police combing the trees for Caroline, Liz is the only one who notices a pattern: A summer night. A missing girl. A party in the woods. She's seen this before. Keisha Woodson, the only other Black girl in Liz's high school, walked into the woods with a mysterious man and was later found with her chest cavity ripped open and her heart removed. Liz shudders at the thought that it could have been her, and now, with Caroline missing, it can't be a coincidence. As Liz starts to dig through the town's history, she uncovers a horrifying secret about the place she once called home. Children have been going missing in these woods for years. All of them Black. All of them girls.

It's your turn.

With the evil in the forest creeping closer, Liz knows what she must do: find Caroline, or be entirely consumed by the darkness.
Praise For Jackal: A Novel…
"A heady, page-turning, all-too-relevant reinvention of the return-to-home horror story—truly gut-wrenching and frightening."—Paul Tremblay, author of A Head Full of Ghosts and The Pallbearers Club

"Real horror surrounds us in plain sight, nestled in the hearts of fiends who hide behind the barest of masks. Erin E. Adams takes you on a breathless ride with Jackal, revealing the courage it takes to stand up to monsters."—Alma Katsu, author of The Fervor and The Hunger

"A thrilling blend of detective story, turn-all-the-lights-on-in-your-house-while-reading horror, and social commentary about how often women of color, especially Black women, go missing and get little attention . . . It's an impressive and thoughtful debut."—Megan Giddings, author of The Women Could Fly

"Jackal is both a gripping thriller about missing girls and the dangers lurking in the woods, and a searing and brilliant dissection of what it means to be the 'only one' in a small town and a Black woman in the United States of America. Liz Rocher will stay with me for a long time."—Stephanie Feldman, author of Saturnalia

"Vicious, sharp, and inventive—Jackal grabbed me by the throat and wouldn't let go. Erin E. Adams lures readers deep into the woods with electric prose and then cuts through the dark with a monstrous and haunting tale."—Deb Rogers, author of Florida Woman

"Jackal is a visceral, poetic read of mythic proportions. Adams's no-holds-barred mysterious plunge into the shadows is both tender and thrilling, buoyed by her incandescent prose and an unforgettable hero. Don't miss it."—Meredith Hambrock, author of Other People's Secrets

"This book will raise your blood pressure. It's a searing and achingly raw exploration of what it means to be Black in white spaces, of the contortionist act we are required to perform, the innocence stolen, and the monsters among us, all wrapped up in a suspenseful thriller that will fill you with rage and leave you trusting no one. Adams has created a masterpiece that will keep your neck firmly beneath its foot long after its final word."—Lane Clarke, author of Love Times Infinity

"[A] stellar debut . . .an unforgettable gut punch of a horror thriller . . . This novel is a masterful and emotionally wrenching gem of Black storytelling."—Publishers Weekly (starred review)

"Harrowing horror with a side of searing social commentary . . . Plentiful twists, keenly rendered characters, and atmospheric prose keep the pages turning."—Kirkus Reviews
Bantam, 9780593499306, 336pp.
Publication Date: October 4, 2022
About the Author
Erin E. Adams is a first-generation Haitian American writer and theatre artist. She received her BA with honors in literary arts from Brown University, her MFA in acting from The Old Globe and University of San Diego Shiley Graduate Theatre Program, and her MFA in dramatic writing from NYU Tisch School of the Arts. An award-winning playwright and actor, Adams has called New York City home for the last decade. Jackal is her first novel.