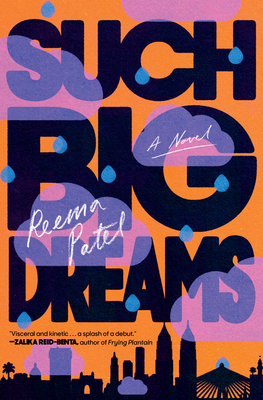 Such Big Dreams
A Novel
Hardcover

* Individual store prices may vary.
Other Editions of This Title:
Digital Audiobook (5/16/2022)
Digital Audiobook (5/16/2022)
Paperback (4/26/2022)
Description
A savvy former street child working at a law office in Mumbai fights for redemption and a chance to live life on her own terms in this "smart, haunting, and compulsively readable" (Amy Jones, author of We're All in This Together) debut novel about fortune and survival.
 
"A page-turner of a story that doesn't shy away from exploring hard and painful truths about the way people navigate the systemic conditions of society."—Zalika Reid-Benta, author of Frying Plantain

Rakhi is a twenty-three-year-old haunted by the grisly aftermath of an incident that led to the loss of her best friend eleven years ago. Constantly reminded she doesn't belong, Rakhi lives alone in a Mumbai slum, working as a lowly office assistant at Justice For All, a struggling human-rights law organization headed by the renowned lawyer who gave her a fresh start.

Fiercely intelligent and in possession of a sharp wit and an even sharper tongue, Rakhi is nobody's fool, even if she is underestimated by everyone around her. Rakhi's life isn't much, but she's managing. That is, until Rubina Mansoor, a fading former Bollywood starlet, tries to edge her way back into the spotlight by becoming a celebrity ambassador for Justice For All. Steering the organization into uncharted territories, she demands an internship for Alex, a young family friend from Canada and Harvard-bound graduate student. Ambitious, persistent, and naïve, Alex persuades Rakhi to show him "the real" India. In exchange, he'll do something to further Rakhi's dreams in a transaction that seems harmless, at first.

As old guilt and new aspirations collide, everything Rakhi once knew to be true is set ablaze. And as the stakes mount, she will come face-to-face with the difficult choices and moral compromises that people make in order to survive, no matter the cost. Reema Patel's transportive debut novel offers a moving, smart, and arrestingly clever look at the cost of ambition and power in reclaiming one's story.
Praise For Such Big Dreams: A Novel…
"Cynical, street-smart Rakhi . . . is a sharply drawn protagonist [who] gives this novel power and zest."—Kirkus Reviews

"An astonishingly gifted storyteller, Reema Patel writes with a confidence, insight, and skill that belies her status as a debut novelist. A smart, haunting, compulsively readable novel with tightly woven plot and an unforgettable narrator, Such Big Dreams is a gripping story you'll want to simultaneously race through at breakneck speed and slow down to savor every word."—Amy Jones, author of We're All in This Together

"From the very first page, Such Big Dreams grabs you by the throat and doesn't let go. Patel's prose jumps with energy, plunging the reader into a page-turner of a story that doesn't shy away from exploring hard and painful truths about the way people navigate the systemic conditions of society. With assured writing, Patel explores themes ranging from societal elitism to the nuances of interpersonal betrayal. Visceral and kinetic, Such Big Dreams is a splash of a debut."—Zalika Reid-Benta, author of Frying Plantain

"Such Big Dreams charts the ambitions, disappointments, and dreams of two people who are improbably thrust together as they try to find their way in—and make their mark on—a bustling Mumbai that's indifferent to their struggles. Unflinching yet written with compassion and insight, Such Big Dreams is a richly textured and powerful novel that, like Mumbai itself, pulsates with humanity. Patel is a writer to watch. I absolutely loved this book."—Bianca Marais, author of Hum If You Don't Know the Words

"Mumbai has inspired many great novels about the city, and now we can add Patel's Such Big Dreams to that list. Her portrayal of Mumbai is fresh, vivid, and personal, in part because of the book's charming and perceptive narrator, Rakhi. I finished the book with a sigh of regret, feeling already the loss of Rakhi and the gift of Patel's Mumbai."—Shyam Selvadurai, author of Funny Boy

"Debut novelist Patel vividly portrays the many strata of Mumbai, from the streets to the slums to the upper echelons, through the eyes of a young woman seeking control of her own future."—Booklist

"Patel's riveting debut examines the exploitive class structure in Mumbai and the pitfalls for those on the lower rung. . . . With a captivating arc . . . the story highlights the impact of greed in a poverty-stricken Mumbai. It's a powerful debut."—Publishers Weekly (starred review)
Ballantine Books, 9780593499504, 336pp.
Publication Date: May 10, 2022
About the Author
Reema Patel holds a BA from McGill University and a JD from the University of Windsor. After working in Mumbai in the youth non-profit sector and in human-rights advocacy, she has spent the past ten years working in provincial and municipal government. An excerpt from Such Big Dreams, her first novel, won the Penguin Random House Student Award for Fiction at the University of Toronto's School of Continuing Studies. She lives in Toronto, where she currently works as a lawyer.